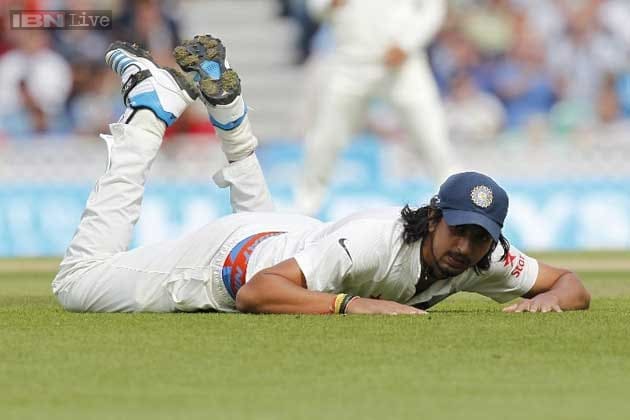 Delhi selectors have left Test bowler Ishant Sharma out of their Ranji Trophy squad due to very strange reasons. According to a report on ESPNcricinfo, Ishant wasn't picked in the squad because he didn't answer the calls or responded to chairman of selectors Vinay Lamba's messages.
Answering if Ishant had expressed his unwillingness to play, Lamba told the website, "He is our senior bowler, how can we say that about him? We tried to get in touch with him yesterday, but he didn't respond. I left a text, but didn't get a reply."
Ishant wasn't picked in India's limited-overs squad for South Africa series and was available to play domestic cricket until the four-Test series begins in the first week of November.
Ishant was in top form for the Test side on the tour of Sri Lanka; however, he was suspended for a Test after found guilty of breaching the players' code of conduct during the second and the third Test of the series that India won 2-1.
However, there are chances that the tall fast bowler may return to his state squad for their second game. Delhi play their season-opener against Rajasthan.
Rajat Bhatia, who is also an important allrounder in Delhi's team, was also left out of the squad that will be captained by Gautam Gambhir.
Also a surprise omission was allrounder Pawan Negi who got a call-up in the squad for India A's T20 squad for the warm-up game against South Africa but wasn't considered by his state side. He has been put in the list of four standbys.
The squad will be led by Gautam Gambhir with Unmukt Chand as his deputy. Ajay Jadeja is the new coach in charge after a lot of controversy surrounding his appointment.
Delhi squad: Gautam Gambhir (captain), Unmukt Chand (vice-captain), Pulkit Narang, Mohit Ahlawat (wk), Parvinder Awana, Sumit Narwal, Pradeep Sangwan, Pawan Suyal, Sarang Rawat, Vaibhav Rawal, Milind Kumar, Kshitij Rana, Yogesh Nagar, Dhruv Shaurya, Manan Sharma.