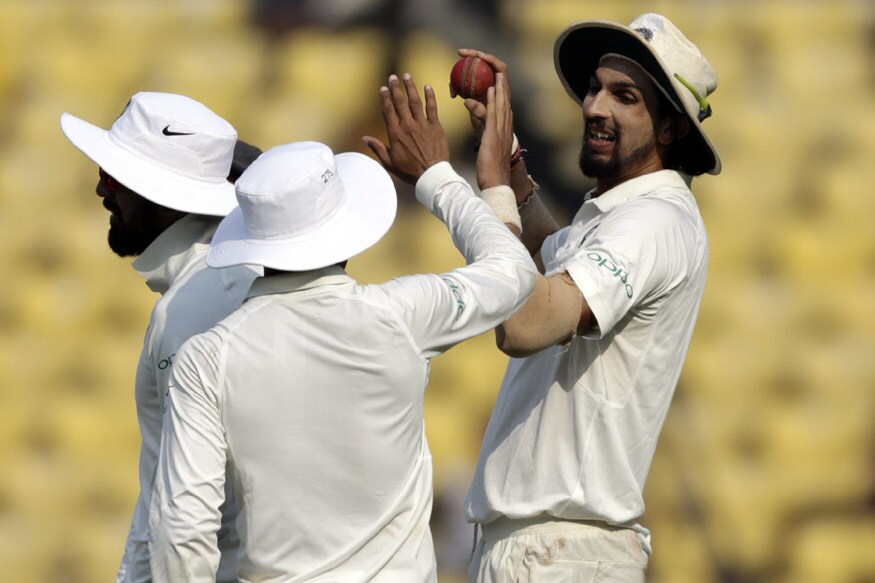 The best way to assess the strength in depth of a national side is to imagine it without its leading lights. Take out two leading batsmen and two frontline bowlers, and see how the team would cope.
In most conditions, India would struggle if you scratched Virat Kohli and Cheteshwar Pujara from the batting line-up. It's a rather different story with the bowling though. In Nagpur, India were missing Mohammed Shami (hip niggle) and Bhuvneshwar Kumar (missing the rest of the series to get married), their two most skilful pace bowlers. Despite that, they bowled Sri Lanka out for 205, inside 80 overs, on a pitch that was nowhere near as challenging as the surface at Eden Gardens for the first Test.
Ishant Sharma, the most experienced of India's pace pack, but now behind Bhuvneshwar and Shami in the pecking order, illustrated his value with a couple of superb spells. No matter what the pitch is like, Ishant can extract disconcerting bounce. But he also gets a lot of wickets on Indian pitches by bowling a fuller length, with that awkward trajectory.
He got a wicket in each session, on his way to exceptional figures of 3 for 37. Umesh Yadav didn't get a wicket, but was a handful in his opening spell, and helped maintain the pressure later as the four-man group bowled with tremendous discipline.
Make no mistake, this was a hugely important outing for R Ashwin and Ravindra Jadeja as well. Reduced to the role of bystanders in Kolkata, and with Kuldeep Yadav and Yuzvendra Chahal winning plenty of plaudits in white-ball cricket, the old stagers both stepped up to show why they're kings of the castle in India.
They finished with similar figures - 4 for 67 for Ashwin, and 3 for 56 for Jadeja - but couldn't be more different in the way they snare their victims. Jadeja is relentlessly accurate and the pace at which he usually bowls means that the pitch variations pose as much of a threat to batsmen as those his fingers conjure up.
Ashwin channelises his inner mad scientist. Even the first day of a Test is a laboratory for experiments. He varies the revolutions on the ball to get the drift that fools so many, bowls leg breaks, changes his angle of attack and trajectory, anything to keep the batsmen guessing.
They complement each other beautifully. And with the pacers also giving nothing away, the pressure on the batsmen never relented. Dinesh Chandimal and Niroshan Dickwella briefly threatened to wrest momentum away, but once Jadeja induced a false stroke from the ever-aggressive Dickwella, the innings subsided swiftly.
Just to put this into perspective, imagine England playing without Jimmy Anderson and Stuart Broad, or Australia taking the field without Mitchell Starc and Josh Hazlewood. That's not to say Bhuvneshwar and Shami are at that level yet, but they're definitely as important to India's game plan. And their absence was barely felt.
In Kolkata, Sanjay Bangar spoke of how India's bowlers had all bases covered. Right now, that doesn't seem an idle boast.