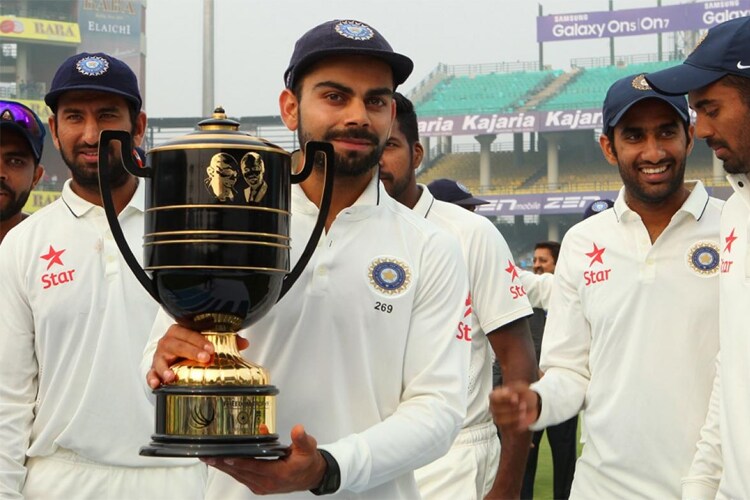 Beating Sri Lanka in Sri Lanka after 26 years, then ending South Africa's nine-year unbeaten overseas run, including bowling them out for 79 – the lowest by any Test team against India. Virat Kohli's 2/2 Test series wins as captain have in simple terms been – 'epic'.
"It means the world to me," Kohli told BCCI in an interview.
Certainly it should, especially the win in Sri Lanka, where India came from 0-1 down in a three-Test series to win it 2-1. It put on show the character of Kohli's team – that they learn from their mistakes, don't repeat those and get back on their feet with an even stronger will to fight.
Even against South Africa at home, India had lost both the T20I and ODI series. So it needed the team to not let their shoulders drop and keep the chins up to turn the tables, which they eventually did. The credit, however, didn't go the players in its entirety, as 'tailor-made' pitches played their part.
"It is a pity," Kohli responded to a question on the pitch controversy, which also led to ICC rating the Nagpur Test wicket as 'poor'.
"The series happened in our country and our own people are looking for weaknesses and areas of criticism, and not speaking enough about the kind of good cricket we played. They have been talking about the pitches and how that has been a factor," Kohli expressed his disappointment.
The India captain said it hurts even more when such criticism comes from former cricketers.
"It obviously hurts when people who have played the game themselves make such comments," Kohli rued. "I am not saying all of them do it. Some of them understand the mindset of the players, having gone through similar situations in their careers.
"And someone who hasn't played for the country has no right to comment on an international cricketer anyway," he added.
"You go to Australia or other countries, they keep showing a player's past good performances and talk about how good he is even when he is not in form. It helps the player gain confidence as well. It shows him that the whole system supports him. That's what we don't get."
Kohli said he and his team has started ignoring such unwarranted criticism, but those in responsible positions in the media should be careful as people and fans can form opinions based on what they hear and see on TV and then react accordingly.
"It is something we have started ignoring as a team, but it is important to put this out there because the public believes what has been said by those on the TV and in the media.
"The fans will form their opinion based on what they hear on the TV – the analysis done on a player and the comments made about him. And they will repeat the same thing to the player when they come across him anywhere. The player is subjected to snide comments wherever he goes on a daily basis, and it is a serious area of concern," the Test skipper opined.