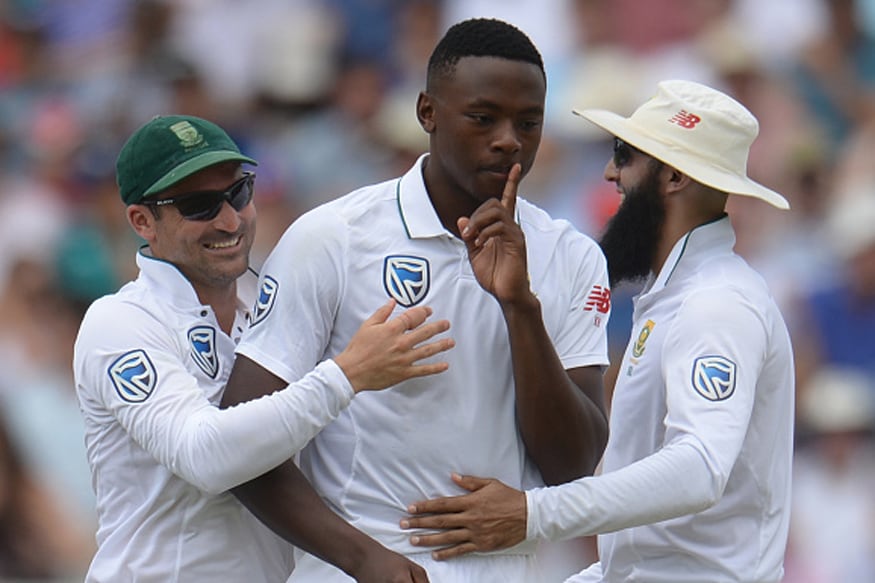 Pacer Kagiso Rabada felt it wouldn't be Test cricket if things came easy all the time after Pakistan put up a brave fight on Day 3 of the second Test with Shan Masood, Asad Shafiq and Babar Azam all crafting half-centuries.
"We had to show a lot of resilience, but that's Test cricket. We toiled. Today was a toiling day, but it wouldn't be Test cricket if it was too easy. What's important is that we showed resilience," Rabada said after the day's play.
Trailing by a mammoth 244 runs after South Africa amassed 431 in reply to Pakistan's meek 177 in the first innings, the visitors for once showed grit with the bat and held forte. While Masood looked compact during his 61, Shafiq was aggressive in his approach smashing 88 in just 118 deliveries. Azam too manufactured a quickfire 72.
However, the South African bowlers led by four-wicket hauls from Dale Steyn and Rabada ensured things never got out of hand as they bowled Pakistan out for 294 restricting the lead to just 40. The hosts will now come back on the fourth day to knock off the runs and seal the three-match series.
"Even though the run rate shot up and Asad Shafiq started playing shots and scoring quickly, that's where we needed to show the resilience," Rabada said.
"We needed to outlast them. Not breaking, and waiting for that breakthrough. Once it came, we were back in the game. It's very hard to get in on this wicket, and that's something Faf (du Plessis) kept reminding us about.
"Faf mentioned before we started this series that yes we want to win every single game, but at home, we want to be unbeaten. It's something that we want to take forward. Ultimately, our goal is to be the number one team in the world.
For Pakistan, on the other hand, Shafiq's knock would have applied some balm to their wounds as they face the prospect of yet another overseas series defeat. Coming in to bat with his side still trailing by 227 runs and facing a potential innings defeat the right-hander did not back down. He was positive in his approach and took on whatever came his way, especially the short balls which he dealt with precision.
In all, 46 of his 88 runs came against the short ball, a strategy he said he had planned while coming into bat.
"Yes, that was my plan, I wanted to take on the short ball and play the pull shot because there was no square leg," Shafiq said.
"If you want to score quickly you have to play the pull shot, so I had that in mind. I think the pitch was a bit easier today, the ball didn't hit too many cracks. The positive mindset helped me a lot to play my shots and the pitch was a bit easier today than the first and second day."
Shafiq admitted playing the South African pacers in their backyard was a real tough ask. He said that the surface in Cape Town was a tough one to start on but insisted once one got in, run-scoring became a slightly easier job.
"They have a great bowling attack that puts the ball into the right areas, so you have to be patient at the same time as you attack. It's not easy to bat against the South African bowling attack. They are world-class bowlers. I was trying to just play my shots if the ball is in the area," said Shafiq.
"You have to take a risk. Without taking risks, you cannot play your shots. Dale Steyn was bowling really well especially into his third spell, and the ball was swinging. You have to be attacking when you get the ball outside off stump. If you see your innings through past the first 20-25 balls, you can see the ball better and adjust according to the length of the ball better."