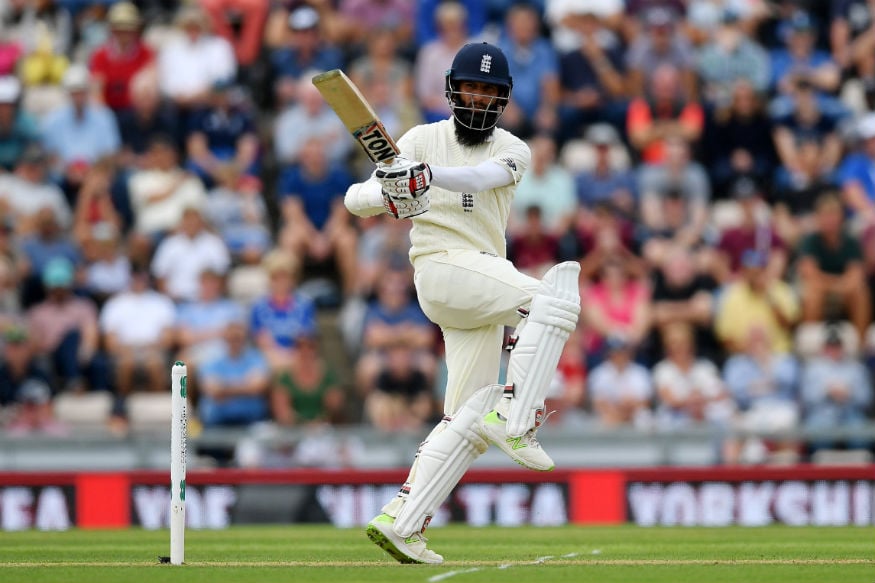 England all-rounder Moeen Ali said it was frustrating to be moved around the batting order during the three-match Test series in Sri Lanka. Moeen scalped 18 wickets in the series but wasn't consistent with the bat in hand.
Moeen batted at No. 3 in the opening Test in Galle, scoring 0 and 3, before being dropped down the order as the Joe Root-led side whitewashed Sri Lanka in their own backyard. Moeen then batted at No. 6 or 7 in the remaining two Tests, managing scores of 10, 10, 33 and 22.
"Yes, I wasn't quite sure actually because in the warm-up games I batted seven and nine and then I was told I was going to bat at three," he told Sky Sports Cricket. "Then after one game, I went down to six and seven. I've had that before so it's not new to me.
"It can be frustrating but when you think about the side and what the team needs at the time then you kind of get over it and try to move on and try to do the best you can as a cricketer for England.
"I think it's difficult to be consistent. I never had that match practice at three. The openers opened in the practice games, Joe Root batted four, I batted five or six and that can be quite frustrating because you haven't been that three in the first two practice games and then you're in the Test match and batting at three.
"It can be (frustrating) but the team was probably different to how they had it in the back of their heads at the start of the tour. We had to try and adapt to that as a team and I tried but it obviously didn't work out, but with the ball it was great."
Ben Stokes and Keaton Jennings batted at No. 3 in the second Test before Jonny Bairstow was brought back in the line-up as a specialist batsman for the final encounter. Bairstow scored a brilliant century in the first innings and helped England complete the whitewash.
Moeen said Bairstow has got all the ingredients to make that spot his own.
"Definitely, I think he can after the quality he has sown over the years," said Moeen. "He was always going to get a hundred that day.
"He's that sort of guy, he thrives in those situations. He was obviously a little upset he wasn't playing in the game before but that's what you want from a side, somebody that can step up and come in at three and score a hundred.
"I'm sure he's going to have challenges going forward but he's always stepped up to them and he's a quality player."