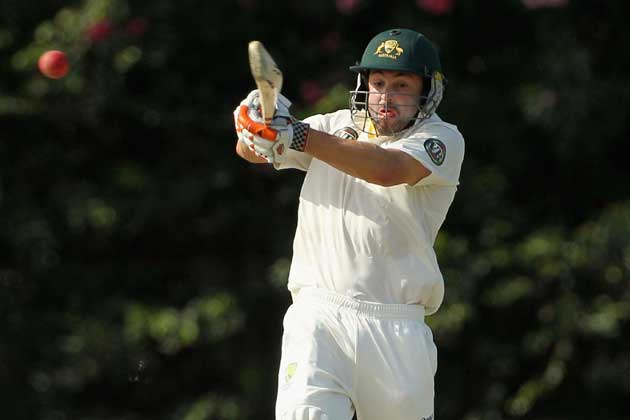 Canberra: The forthcoming India-Australia Test series could be decided by how the visiting batsmen fare against the young and enthusiastic host pacers, feels domestic opener Ed Cowan, who is in the shortlist to make the team for the opening Test in Melbourne starting from December 26.
"I don't think the Indians have had a good look at the Aussie quicks. That's where the series will probably be decided on - Indian batsmen vs Aussie quicks," said Tasmanian opener Ed Cowan, who is in the short mix of openers Australian selectors could be asking to open the innings with David Warner.
As opener Phil Hughes has regularly failed in Tests this summer, Australian selectors are looking for his replacement.
Shane Watson is a front-runner but if somehow the Australian vice-captain refuses to open the innings, then Cowan stands a chance to make his debut for Australia. Cowan has been the highest scorer in domestic competition this year.
"It will be a great Test series. India have some fantastic cricketers. But so does the Australian team. Ricky Ponting, Michael Clarke and Michael Hussey have all been world-class performers for a number of years, forgetting the last month about which a lot of people to rely heavily upon."
"People are forgetting they have been world-class performers for a number of years. They would be pretty pumped up, come Boxing Day. There is no occasion bigger than a Boxing Day Test."
However, Cowan feels that the Zaheer Khan-led Indian attack will be a far sterner test for the Australian batsmen than New Zealand - a daunting remark given the Black Cap bowlers were quite a handful against the home batters in the recent series.
"Indians are proven to be a better attack than the New Zealanders, who were inexperienced. Dough Bracewell was in his third Test; Trevor Boult was playing his first Test; Daniel Vettori was missing. The big question for our batters would be if Zaheer could get the reverse swing - if it is Sydney and Adelaide, then the answer probably is yes," Cowan said.
"We have seen in the sub-continent his skills with the reverse swing has been tremendous. It would be a big challenge as he would be with the new ball. I don't know much about the rest of the attack. I'm sure they would be a strong one."
Former India coach Greg Chappell is slated to address the Australian players before the opening Test, but Cowan wasn't sure if it could influence the thinking of Australian captain Michael Clarke.
"I'm not sure...I'm not on the same page in Australian set-up, so I'm not sure how much Greg Chappell would influence people like Michael Clarke and their planning. I'm not sure if Tugga (Michael Clarke) would take it (Greg's opinion) on board. But it would be silly not to, at the same time, given how much time Greg spent with India."
Even though Cowan is being spoken to as prospective opener for Australia, the Tasmanian has no doubt it would be Watson who would get the nod.
"It wouldn't come down to what I've done (recently). It's more a question of how Shane Watson is and whether he wants to open the innings. If he is fit, he sends someone out. If he doesn't want to open, they have to call out for someone else."
"I'm in the form of my life but whether I'm chosen or not, it's not up to me. There is no communication that he isn't going to be there on the Boxing Day. I've learnt over the years not to look too far ahead of self. I'm a big believer that great expectations lead to great disappointments. This (the warm-up) is the game I'm focused on."
"If so happens I get a chance to play in Boxing Day Test, the mind will start working. At the moment though, I don't feel close to being selected."