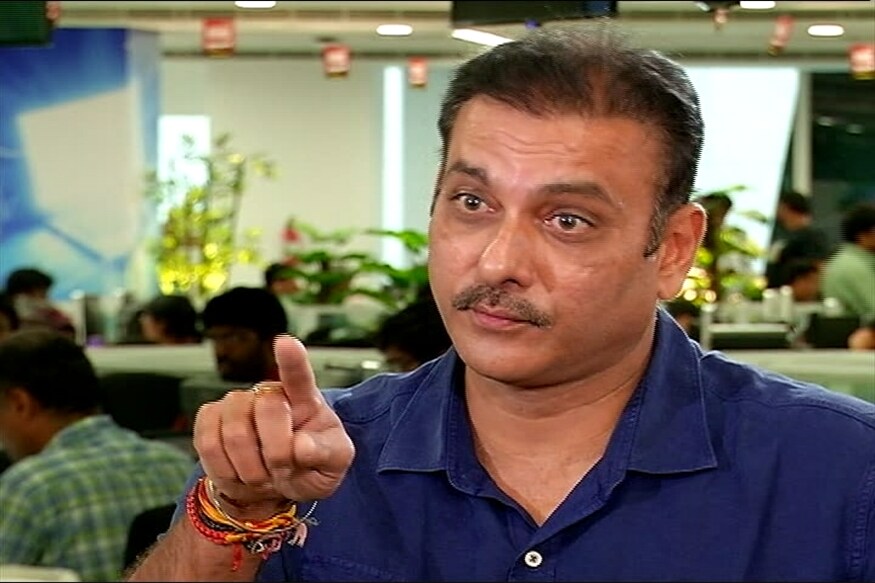 Hello and welcome to CNN-News18. I have got a special guest with me today - Ravi Shastri. Thank you for being with us, Ravi - Team Director, back to commentary, where exactly are you placed these days?
Ravi Shastri: Doing commentary. Doing commentary on the IPL. I think it's going along nicely. it's going to be a cracking tournament, with a lot of teams showing promise.
Ayaz Memon: And the assignment with the BCCI in terms of coaching or being involved with the team, is that part of agenda? Will that happen?
Ravi Shastri: Well, that's entirely up to the BCCI. I have had a chat with them, so let's see what happens in the coming months.
Ayaz Memon: A lot of things are happening within the cricket establishment. Let me just focus on two things which recently have had far-reaching implications. One is that we have heard possibly the 2017 IPL may be played overseas. I mean that's very drastic according to me because IPL is a domestic tournament.
Ravi Shastri: The IPL can go anywhere, it's a global product. I see no reason why it can't go overseas, or part of it. Ideally you want it to be played here because this is for Indians fan; this is where you get maximum crowds. It's an industry, it's not just the cricket part of it. The hotels are full, airlines get this thing, the number of people who get jobs around the IPL. It's massive, so why should it go outside? So I think IPL should stay in India. But then if there is no choice, for a couple of weeks, three weeks, why not! Because it went to South Africa - massive success. And when it went to the UAE, it was an even bigger success because no one expected that many people coming to every game in Dubai. It was simply outstanding and full marks to the authorities there. Sheikh Nahyan (bin Mubarak) was personally in charge of it. He did not leave any stone unturned. He made sure that everything was in place.
Ayaz Memon: But one of the purposes of the IPL, as put out by the BCCI, when it started was to nurture the young Indian talent. And if you take it away, there is some erosion, certainly in the purpose.
Ravi Shastri: But then if you have no choice, like you have had problems this year in shifting of venues, and it's a logistical problem that you are facing, to get the tournament to finish smoothly. Then you have no choice, you may as well go out for a couple of weeks. Why not!
Ayaz Memon: Let me ask you bluntly. Do you think the BCCI is getting hemmed in by a lot of by these issues and pushed into a corner?
Ravi Shastri: When I see it from the outside, it's unfortunate, because people are just harping on the negatives of the IPL, which I think are 5 per cent or 6 per cent. The positives of the IPL, which should be given importance as well, are not getting the same amount of importance. But that's the mindset of a certain section of people. But the positives are it produces damn good cricket and it gives youngsters a chance to showcase their talent. If you see India's recent success in one-day internationals, it's because of the IPL. You won the 2011 World Cup, a lot of players came through the IPL. You were in the finals, two semi-finals of World Cups. It's because you have a stable of youngsters who come through the IPL.
Ayaz Memon: So the impact of the IPL on Indian cricket I am going to talk about. But having said what you did that just 5-6 per cent is the negative part, and yet it has become a huge enough issue to be taken to the Supreme Court?
Ravi Shastri: It's because IPL is such a massive property.
Ayaz Memon: But also there might have been, why might have been, there must have been some neglect in the overall running of it.
Ravi Shastri: Oh, no question about it! When something gets that big, there will always be an underbelly, which needs to be improved upon. Everything can't be perfect, but as long as you show signs that you are willing to accept mistakes and you are willing to try and improve it, I think the people will understand that.
Ayaz Memon: So as an insider, as you were part of the governing council, you do accept or you do believe mistakes were made?
Ravi Shastri: Yes, nobody is perfect, but you have to learn. It's such a massive event. You might not pay attention to a thing which you think is not important, but in the end it becomes important. So you live and you learn. You learn from your mistakes and I am sure the BCCI and the (IPL) Governing Council, at the moment, are looking to do exactly that.
Ayaz Memon: There is also the appointment of a Chief Executive Officer, the first-ever CEO of the BCCI. There has been a clamour for this kind of a position for a while now. Do you think - and this is again a candid question – this is kind of a figurehead position, or do you think it was really needed?
Ravi Shastri: I think it's a step in the right direction. It should have been there some time ago, because I am a firm believer in professionalism and accountability.
Ayaz Memon: Professionalism and accountability are issues, which sometimes a lot of people feel are not really in sync with how the BCCI functions. That's a perception; I am not saying it is true.
Ravi Shastri: So probably that perception might change, now that a CEO has been appointed - because that's where the professionalism will come from, and he will be accountable.
And from what I have heard, it's a very good appointment. He comes with a lot of experience. I have not met the gentleman, but he comes with a lot of experience and he has been in the field long enough.
Ayaz Memon: So professionalism was not possible because people within the BCCI didn't pay enough attention to it, or is it because it wasn't allowed?
Ravi Shastri: No, I won't say that. The level of accountability, what you want to see, probably wasn't there. When you are doing honorary jobs, then it becomes very difficult. You are still giving your time to the game and ensuring that everything runs smoothly. But I think with professional appointments, that accountability will come, where, whoever is the bloke appointed, his job can be on the line if he doesn't do it properly.
Ayaz Memon: So the flip side, and this is one of the criticism that we have had in the past, is that say for an instance not as a team director but when you were a commentator, all the commentators were being paid money by the BCCI and therefore the BCCI wanted them to say only what the BCCI thought was right.
Ravi Shastri: That's the biggest load of garbage I have heard. Absolute nonsense! I was contracted for about six years, not once did the BCCI tell me say this or don't say this. I was free to speak on what I saw.
Ayaz Memon: You could say as you saw it?
Ravi Shastri: Absolutely, as I saw it. So if it came out to the viewers that the BCCI is smelling of roses, because I said it, so be it. But not once did they tell me don't say this or don't say that, neither was it part of my contract.
Ayaz Memon: Why hasn't the BCCI been encouraging – and it's not that they can't do it - but why it has not been encouraging a players' association? Not that they can force it, it's up to the players.
Ravi Shastri: I don't think it's needed. You go and ask any of the players. They are extremely happy with the way things have gone in last 10 years, 10 or 15 years. I don't think anyone is complaining. Because they get the money, there is the IPL that's come into play. There is an opportunity for a lot of youngsters to make a very good living and be secure for the rest of their lives. I don't think anyone is complaining. But there again, there might be areas which you could do even better. Because if you go and ask the players, they will say they are very happy but this can be done better, that can be done better. But it will be just one or two per cent, I would say. But most of them, they will be more than happy. Where do you do need associations? You need associations where there is no communication between the players and the board. When that comes to a standstill, like probably in the West Indies, then there is an issue. But when the communication is good between the BCCI and the players why do you need an association?
Ayaz Memon: To protect or safeguard their interests?
Ravi Shastri: For that you can have a committee of two players or three players or five players with integrity who are on that committee and who act as the buffer between the players and the board, if need be. You don't need an association.
Ayaz Menon: One of the fears has been, especially at the lowest-rung players, of almost like a class system, that the best-known players are the best-paid players. They are very secure, the others may not be. Is that a genuine concern?
Ravi Shastri: I don't think so. You got to earn your buck. You know the CEO of a company doesn't get paid the same amount as the guy who has just joined six months ago. He has to earn his stripes. He has to show his quality, he has to show his class and work up the ladder to command that kind of respect and the payment he gets.
Ayaz Memon: A couple of questions more about the IPL. One is the technical part, the cricketing part, and there are a lot of critics who believe that it has had a deleterious effect on the game. Do you agree? And on the face of it, guys like Virat Kohli seem to be maestros at all formats.
Ravi Shastri: I don't think so at all. I think it was the adrenaline or the injection that the game needed for it to evolve. I think the amount of money that comes through the IPL can be put back into the grass-root levels so that Test cricket and first-class cricket is sustained. I would look at it the other way round.
Ayaz Memon: What about players focusing only on T20s or the IPL and not having an ambition beyond that. Is that a problem?
Ravi Shastri: I don't think that. When I see the young Indian team, they all want to play Test cricket for India. You go and ask a Yuvraj Singh, you go and ask a Sehwag, you go and ask a youngster who is playing today, a Manish Pandey or anyone else. They will say we want to play Test cricket for India. That is the desire. But then, if you are not good enough, you have no choice but to fall back on either 50-over cricket or T20 cricket.
Ayaz Memon: What about mentoring of players, especially in the Indian context. You are 18, 20 or may be 21, and you run into megabucks. Pawan Negi gets eight and a half crore suddenly, and then mindsets change, attitudes change.
Ravi Shastri: I think it's a very good point, especially for a guy under 23. When he has not got the exposure and suddenly he gets that much money falling his way, I think it's not a bad idea for the BCCI to keep a certain amount of that, like a benevolent fund, and give it to the parents or the people concerned. Once the guy has seen a little more, post 25 maybe, give it to him, so that the money is safe. Plus he gets the interest on that and then he can do what he wants, and he would be a little more mature.
Ayaz Memon: Ravi, your association with the Indian team as Team Director is now almost 18 months, though it came in bits and pieces to start with. So how do you see your own performance? Are you happy with what has been achieved, or would you have liked something else to have happened? It's a self-appraisal.
Ravi Shastri: I think I am more than satisfied. If you told me at the start of 18 months this is what you will achieve at the end of 18 months, I would have taken it on day one. Because if you see where India were when I took over the job and if you see where India is today, not just the rankings but the brand of cricket they have played, the quality of cricket they have played across all formats, at home and away, has been outstanding. If anything, you might say a World Cup (because) we lost in two semi-finals. I would say one World Cup, because in 2015 I thought we played above our potential in Australia and lost to the best team. Okay! Here (ICC World Twenty20 at home), I thought we didn't play to our potential. We played at 75% of our ability. So that was a little disappointing. But you still made it to the semi-finals, you still lost to a team that went on to win it, and were destined to win it.
Ayaz Memon: Test cricket. You yourself keep saying that Test cricket is the ultimate benchmark for any cricketer. Are you seeing the Indian team head towards the No. 1 spot, not as a one-series wonder but more consistently?
Ravi Shastri: That's what we have strived to achieve, consistency. Because if you look here we were 18 months ago, we were five or six on the ladder. You are No. 2 now, you were briefly No.1 and you don't get there if you are not consistent. So you have had some good series, you lost 2-0 in Australia, but you beat Sri Lanka for the first time in 23 years in Sri Lanka after being one-zip down, then beat South Africa in India, a team that hadn't lost overseas in 10 years. So there have been positive results, but like you said, the endeavour would be consistency.
Ayaz Memon: One thing that hasn't changed much is India's performance overseas barring the mid-80s period where, I remember, the Indian team did very well - in 1986 we won in England and so on and so forth. This team, as talented as it may be, everybody was saying let's wait for the youngsters to come good and then we will do well overseas, that has not really happened.
Ravi Shastri: Since we took over the job, since I became the Director and our team, we played three Test series. We lost 2-0 in Australia, which I thought was fabulous, because in both those Test matches we lost, we had a chance to win. So I saw a lot of positives there. And what happened later, with the India one-day team and Test-match performances doesn't surprise me one bit, because I knew hard work was put in there. (With a) Little bit of luck, you could have won the Adelaide Test. And you had Australia on the mat in Brisbane after scoring 400, they were 240 for 6. So there are positives. The result will show 2-0, but I would say it shows 2-0 not 4-0, like in the past. So I see massive improvement there and that's why you won in Sri Lanka and then against South Africa.
Ayaz Memon: Since you mentioned that Australia Test series, I must ask you about Virat Kohli, because that seemed to be the turnaround series for him as a batsman - almost 700 runs. What's been the change? You saw him in England in 2014. He struggled a bit, and then suddenly...
Ravi Shastri: It's just mind over matter. It just goes to show how strong he is mentally, and you got to give him the credit for it, because of the work he put in. And I have said his work ethics are unmatched, and I mean it, because you have just got to see the way he prepares, the way he trains, the effort he puts into a performance and the passion which he brings to the table, which is unbelievable. His batting in Australia, I don't think I have seen batting of that sort ever by an Indian overseas. I saw Jimmy Amarnath in the West Indies in 1983 - which was a level above everything else - and Virat Kohli on the same page. Four hundreds in four Tests took you back to the days of Viv (Richards) at his prime.
Ayaz Memon: A lot of people say that he is like a soulmate, a kindred soulmate to Ravi Shastri in the way he lives his life or he approaches the game. Do you share that? There is a Bombay phrase which you must be familiar with, which is called the GTU – gire to bhi taang upar (Even if you fall, your feet are up).
Ravi Shastri: That should be the case. In our lot of billion people, that ought to be the case. It must be the primary quality.
Ayaz Memon: Is he also a GTU boy?
Ravi Shastri: No, no, I was a naughty boy. This guy is much more disciplined. He is passionate, he is aggressive. I just love the way he approaches a game. He looks you in the eye and he wants to play proper cricket. He doesn't want any freebies. He wants to earn it. He wants to earn his stripes. That kind of personality, it spreads around. That's why you can see a lot of other players in the team also wanting to emulate him.
Ayaz Memon: Are you living through him something that you couldn't have, or you couldn't get?
Ravi Shastri: I enjoy it.
Ayaz Memon: No, the captaincy, I mean, now that he is captain - because you captained in only one Test. Is that (Kohli's leadership) one kind of an outlet or expression?
Ravi Shastri: I won't say an outlet, but I am enjoying every bit of it in the dressing room with him around, because he has taken it to a different level. I see huge potential for this team. It's a young team in transition. But I see huge potential.
Ayaz Memon: Is Shastri living by proxy?
Ravi Shastri: No, no. I have been passionate about the game. There are very few who can say are more passionate than me. I am not Mr. Beaten in 35 years - either as a player, as a broadcaster, now as a Director. You have not missed a month of cricket in those 35 years. So, you are passionate about it, and when you see someone taking the game to another level and then helping his personality rub off on the other players, it's a great feeling. I am telling you the job satisfaction I got after 18 months, I haven't got in any other profession.
Ayaz Memon: I will come to that about the other profession also, but what's the mantra? A lot of them, almost everybody in this present team, have been singing your praises. So what's it? I mean is it buddy-buddy, spending time with them?
Ravi Shastri: No, no. It's one word – trust. The trust in one another is fabulous. If anyone has to say something, he will tell you on your face. There's no bitching, there's no pointing fingers or talking behind one's back.
Ayaz Memon: It's not four dressing rooms within one dressing room?
Ravi Shastri: Absolutely not. It's one, and they want to play as one, not as individuals.
Ayaz Memon: What is your advice to them?
Ravi Shastri: Making sure you instill that trust - where a person should know even when he is told something in a strong manner, it's constructive. It's not coming with any agenda. It is straight talk for your own good.
Ayaz Memon: This is something that interests me. How do you handle two alpha males? You have got two captains. You have got Dhoni, you have got Virat Kohli - and they are completely contrasting personalities.
Ravi Shastri: That's the job, but then there is tremendous mutual respect for each other, which is great. Virat knows how much of a help MS was when he started. MS is fully aware of the quality of player Virat is and what he contributes to the team, and the passion he brings to the table game after game. There is tremendous mutual respect there, very little problems.
Ayaz Memon: Were you bowled lock, stock and barrel when Dhoni announced his retirement from Test cricket?
Ravi Shastri: Absolutely, and if there is anything more than bowled, that also (laughs), because it came as a bolt out of the blue, absolutely.
Ayaz Memon: Not an inkling?
Ravi Shastri: Not an inkling. He just came into the dressing room and said, 'Guys, I just want to say something'. And that was it. But, that is MS. No one has to tell him when to go. That's why, you know, even I get irritated when people keep asking him 'are you going to carry on, are you going to retire' - because he is a kind of guy who will disappear when you don't even expect it. And he is a certainty in the side. If he wants to play all three formats, he will be a certainty in all three formats.
Ayaz Memon: Maybe he should. But my point is - is he what we see on the field, the cool guy, the unflustered?
Ravi Shastri: Absolutely, the same.
Ayaz Memon: And, in the dressing room?
Ravi Shastri: Absolutely the same.
Ayaz Memon: He doesn't throw the bat around or...
Ravi Shastri: That others can do, even I might do.
Ayaz Memon: Cartwheels when the team is not doing well?
Ravi Shastri: Absolutely, he is measured. What you see is what you get with him, and the same with the other alpha male. What you see is what you get.
Ayaz Memon: I think the important thing is that they both get along well.
Ravi Shastri: Absolutely.
Ayaz Memon: Coming to a few generic questions, as when you have been part of the ICC technical committee and stuff. One is why can't the ICC, and certainly with lot more support from the BCCI, push for cricket to be part of the Olympics. There was a move earlier - the Australians, especially Steve Waugh and Adam Gilchrist, were moving towards that.
Ravi Shastri: I think it's too early.
Ayaz Memon: T20 format lends itself?
Ravi Shastri: Yeah, but it can be done at the ICC stage itself. I feel T20 is the best way of spreading cricket. If there is any format where you can have 16 teams or 20 teams around the world, it's in T20. Yes, you will get those off matches. But T20 is the only place where you get teams that can upset anyone, like you saw Afghanistan beating the West Indies (in World T20), who eventually went on to become world champions, and the passion they bring to the table. Like that, there might be some other teams who must be encouraged to play this format, and then you see how it goes. After two or three World Cups, you have 16 or 18 teams. Then there could be a case to push it there.
Ayaz Memon: What about the toss, I mean Steve Waugh, Ricky Ponting, Michael Holding also say let's do away with the toss.
Ravi Shastri: What are you talking! Then I will have no job if you take away the toss. As a commentator, I will have no job. (laughs). Jokes apart, I think the toss should stay because it's part of the tradition, it is one of the great things in the game. I remember reaching a ground for a 10 o' clock start to make sure that you got into the Brabourne Stadium by 9:25 or 9:20, just to see the two captains getting out. It's something that has stayed with the game from the outset. And it adds to the picture. So I see no reason why it should be taken away. You win the toss, you win the toss. You lose it, you lose it.
Ayaz Memon: Do you think that a lot more players today, retired and recently retired, are getting engaged and involved – maybe because they are professionals at some cost – to, for instance, administration. You got Sourav Ganguly, Rahul Dravid with the under-19, under-25 team which is relatively below the radar but he is there.
Ravi Shastri: Fabulous! Why waste that knowledge, and if you can give it back, in whichever sort of way. Like for me, now doing this job is so enjoyable and gives you that much job satisfaction because you feel you are contributing. You have got that 35 years of experience, and if you can give back something to the game, nothing like it. The amount of goodwill you get from fans around the world is unbelievable.
Ayaz Memon: So I must ask you now which is your preferred position when the game is concerned?
Ravi Shastri: Job satisfaction?
Ayaz Memon: Team director or commentator? With those fabulous phrases that everybody seems to love, the 'tracer bullets' that you let out in front of the mic
Ravi Shastri: No, no, not like that. 'Into the fence like a tracer bullet' (emulating his own style). That's the way it should go. But (as far as) job satisfaction? Director. It's tough. Blood pressure levels go way through the roof, and the stress factor involved is tremendous. As commentator, zero stress.
Ayaz Memon: Zero stress, but there must be time when you got really..
Ravi Shastri: Yes, you will get butterflies for a big game, but nowhere near the kind of tension you see at the start of an India-Pakistan game, or on the eve of an India-Pakistan game. Unmatched!
Ayaz Memon: So what's been your most memorable moment as a commentator, because you have been actually on air during several fantastic moments in Indian cricket.
Ravi Shastri: Only one.
Ayaz Memon: Which one?
Ravi Shastri: Dhoni, the man on strike. Way she goes into the crowd, India win the World Cup, the party begins on Marine Drive. (Emulating his commentary after Dhoni's six won India the 2011 World Cup).
Ayaz Memon: Fantastic, I think that's a good note, that's a high note to end on. Thanks you so much Ravi for being with us.
Ravi Shastri: Pleasure.