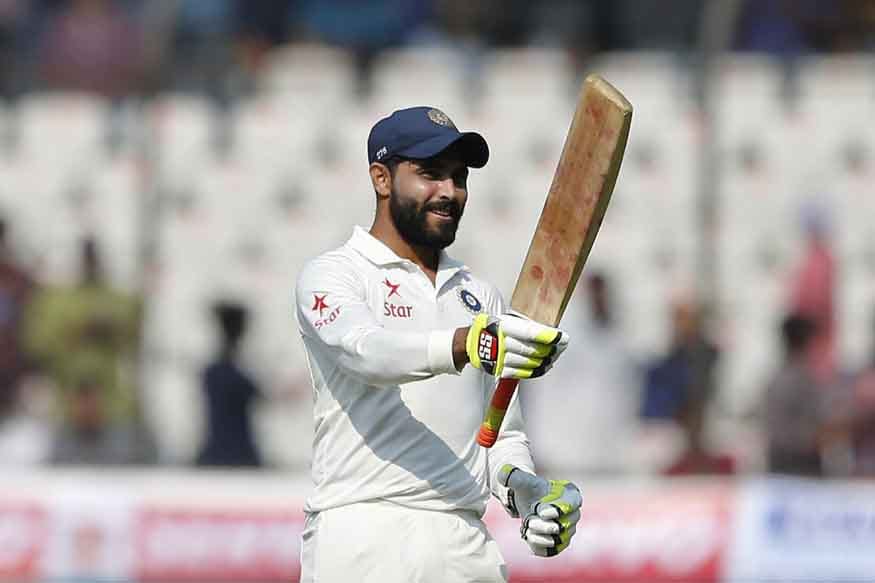 New Delhi: Ace India spinner Ravindra Jadeja is in with a chance to become top Test bowler, and also the top all-rounder, come the series against Sri Lanka that starts on Thursday. Jadeja, this year has been in top-form and had already become no. one Test bowler, in the previous series against Sri Lanka, but lost that spot to England's James Anderson.
Not just with the ball, Jadeja has shown decent skills with the bat too, that led him to the best Test all-rounder, a spot he lost to Bangladesh's Shakib-al-Hasan. Another India bowler, Ravichandran Ashwin will be looking to improve upon his no 4 ranking.
In the batting department, Virat Kohli is the highest-ranked Indian, at sixth spot. Other batsmen in top-10 are Lokesh Rahul (8th) and Ajinkya Rahane (9th). Meanwhile, in the MRF Tyres ICC Test Team Rankings, number-one-ranked India (125 points) leads sixth-ranked Sri Lanka (94 points) by 31 points.
The series permutations are:
• India wins 3-0 – India 127 (+2) Sri Lanka 92 (-2)
• India wins 2-0 – India 125 (-) Sri Lanka 93 (+1)
• India wins 1-0 or 2-1 – India 124 (-1) Sri Lanka 94 (+2)
• Sri Lanka wins 3-0 – India 117 (-8) Sri Lanka 101 (+7)
• Sri Lanka wins 2-0 – India 118 (-7) Sri Lanka 100 (+6)
• Sri Lanka wins 1-0 or 2-1 – India 119 (-6) Sri Lanka 99 (+5)
• Series draws 0-0 or 1-1 – India 122 (-3) Sri Lanka 97 (+3)
MRF Tyres ICC Test Team Rankings:
Rank Team Points
1. India 125
2. South Africa 111
3. England 105
4. New Zealand 97
5. Australia 97
6. Sri Lanka 94
7. Pakistan 88
8. West Indies 75
9. Bangladesh 72
10. Zimbabwe 02
MRF Tyres ICC Test Player Rankings:
Batsmen (top 10)
Rank Player Team Pts
1 Steve Smith Aus 936
2 Joe Root Eng 889
3 Kane Williamson NZ 880
4 C Pujara Ind 876
5 David Warner Aus 807
6 Virat Kohli Ind 806
7 Hashim Amla SA 795
8 Lokesh Rahul Ind 761
9 Ajinkya Rahane Ind 760
10 Azhar Ali Pak 755
Bowlers (top 10):
Rank Player Team Pts
1 James Anderson Eng 896
2 Ravindra Jadeja Ind 884
3 Kagiso Rabada SA 876
4 R. Ashwin Ind 852
5 Rangana Herath SL 833
6 Josh Hazlewood Aus 794
7 Nathan Lyon Aus 752
8 Dale Steyn SA 748
9 Neil Wagner NZ 745
10 Stuart Broad Eng 737
All-rounders (top five):
Rank Player Team Pts
1 Shakib Al Hasan Ban 438
2 Ravindra Jadeja Ind 430
3 R Ashwin Ind 422
4 Ben Stokes Eng 396
5 Moeen Ali Eng 378