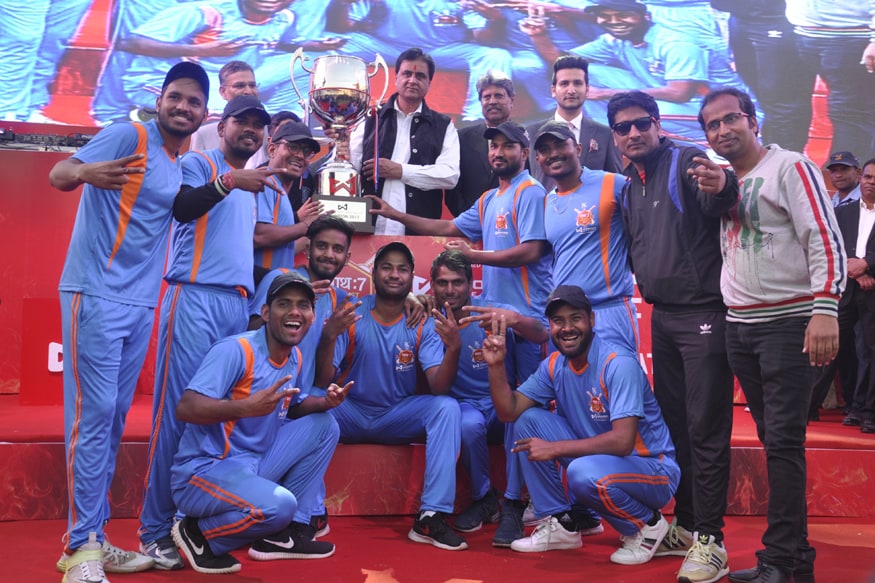 Udaipur: It was the occasion of Wonder Cement's Saath7 Cricket Mahotsav Finale at Udaipur, and after close to four weeks of cut-throat competition, Jaipur's Shri Shyam Cricket Club emerged as the deserved winners. The team from Jaipur beat Ahmedabad's PCA Eleven by 23 runs in the final.
The day started with a match between the girls of Udaipur and Jaipur, which the former won, after which the action moved to the men's event. The finale saw former India captain Kapil Dev as the Guest of Honour. His presence motivated young cricketers to perform to the best of their abilities.
Kapil Dev and Vivek Patni (Director- Wonder Cement) presented the Saath7 Champions Trophy to the Jaipur team along with a cash prize of Rs.3,50,000. The runners-up were given a cash prize of Rs.1, 40,000 and Rs.70,000, respectively. The champion team in women's category was awarded a cash prize of Rs.1,40,000. Divya from Udaipur was given a cash prize of Rs 35,000 for winning the best player in the women's category.
Sushil Meena was felicitated with a cash prize of Rs 1 lakh by Kapil Dev for being the best player of the tournament. He was also named as the man of the series for his great performance. Man of the match award was bagged by Lakhan from Shri Shyam Cricket Club, Jaipur. The best fielder and the bowler of the tournament awards went to Sanjay Bhadaniya and Kaushal Kaushik respectively.
Marking the final countdown, Vivek Patni, Director,Wonder Cement said, "Wonder Cement Saath7 Cricket Mahotsav 2017 has set a new precedent globally by being the first of its kind tournament in it's scale, reach and participation.
"I am glad that the goal of having this tournament has been largely achieved with the huge participation across the states and I hope that the sporting spirit generated through this event sustains to further benefit the states and the nation."
Talking about the Saath7 Cricket Mahotsav, Tarun Chauhan Managing Advisor of Wonder Cement said, "With this tournament we have broken all the shackles, as to who participates. We just wanted people to play cricket. That's all we have done. This tournament has taken place in just four weeks, and it's a miracle that we pulled it off. In the first week it was conducted in 300 tehsils. In each tehsil, there were 16 teams playing. Then the teams went on to play district, and then zonal matches. We got 17 hundreds, 80 fifties. This is a huge achievement.
"There'll be an increase in the number of teams that participate in the tournament next year, as the states, where we take this tournament will increase too. We plan to involve all the states where we sell our product," he added.
(This is a sponsored feature and does not necessarily reflect the views of Cricketnext, News18 or Network18)