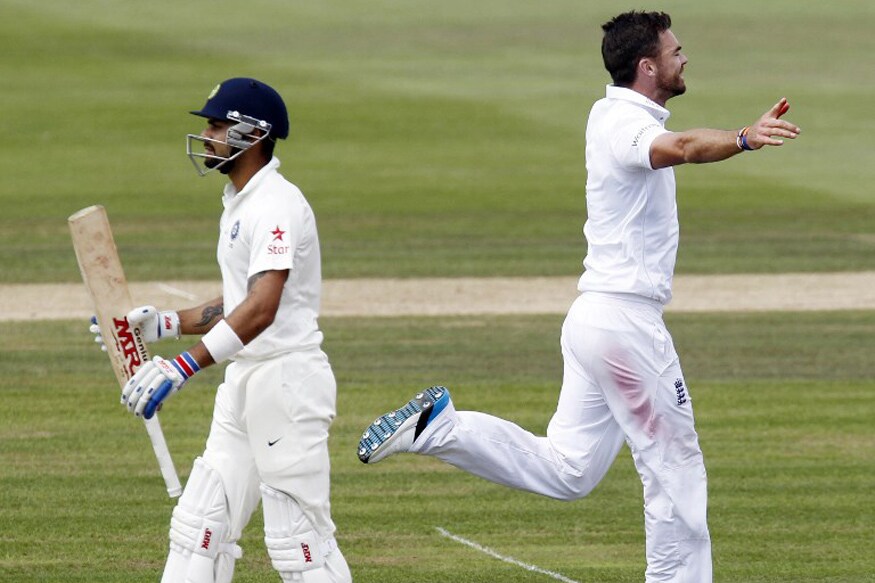 New Delhi: The upcoming Test series between India and England will be as much about the No.1 Test team trying to showcase their skills as a touring team as it will be about skipper Virat Kohli erasing the memories of a disastrous tour of England in 2014. The mind games have already begun and Kohli's arch-nemesis James Anderson has already said that the batsman will be desperate to score runs.
However, South Africa pacer Dale Steyn feels that it will have to be a fresh start and Anderson will have to look at new ways to dismissing the run-machine as Kohli would have definitely worked on his game to combat the weakness that the English pacer worked on during the 2014 tour.
"He has his weaknesses as well as his strengths. You try and feed on those weaknesses for as long as possible and hope he makes a mistake. You need to look at, say, Kohli's last ten dismissals and try and find if there is a pattern there. Maybe he was caught at mid-wicket last eight out of ten times. And when he walks in, I put a mid-wicket in there and I would say, "Ya, you know, I see you've been caught here eight times' and you play into his mindset. So those are the little tricks of the trade that a lot of teams would do.
"I am not a batting coach, but I can guarantee you that Anderson will continue to try and feed off those performances that he's had and he will continue those gameplans and will remind Kohli how he's gotten him out when he comes in and hopefully have a similar kind of field. But again, Kohli may have figured a way to combat that and Anderson will have to find a new way of getting him out and that's the great thing about Test cricket," Steyn told Firstpost.
"We've got five Test matches and you might see a new trend develop. He (Anderson) might get him caught in a completely different way, a new gameplan. That's the exciting thing. I don't know what his gameplans would be and I don't know what Kohli's mindset is, going into this but if I know him the way I know him, he will be very determined to score runs and If I know Anderson the way I know him, he will be very determined to take wickets. So it's going to be a great contest."
The Indian batsmen have forever been considered circumspect against the bouncers and their technique has been questioned on foreign soil. But Steyn feels it is a basic nature of being comfortable on pitches that you grow up playing on.
"If you are spending the bulk of your time at home, playing in home conditions, preparation becomes extremely key. And that's something that's engraved into your game. Because you are playing the bulk of your cricket at home, you are familiar with a certain way of playing. If a half-volley is bowled in India, you can hit the ball with an open blade 99 per cent of the time.
"If you got to South Africa or England and hit the ball with an open blade, it's going to get caught at slip. That is something which engraved in you. Coaching is also may be something else. The coaches that are coaching them are past ones that have had similar problems so the wheel just keeps going round. But the players are getting better and adjusting. And with a big heart, good game plan and a strong mindset like Kohli has got, I am sure they should be fine," he said.
The legendary Sachin Tendulkar recently made headlines when he said that there was a need for ICC to get back to having just one new ball in ODI cricket. Steyn feels that would help reverse swing return to the 50-over format and make the game slightly more balanced as compared to the current scenario.
"Look, I am not on the MCC or the ICC panel to change rules. But as a bowler, I would like to see certain things change in the game. I personally would like to see ODI cricket going back to one ball. It brings reverse swing back into the game. It's a great skill and it's fast becoming a dying skill and a lost art.
"I grew up watching the likes of Wasim Akram, Waqar Younis, Alan Donald, Shoaib Akhtar, who could bowl with pace and also reverse. I implemented that in my game and you can see that it's starting to fade away. We recently are in Sri Lanka where reverse swing is key but it just wasn't available. True there was preparation and everything from the Sri Lankan side but how do we get the game to even out between bat and ball is a big question and one thing I would suggest in One-day cricket is going back to one ball," he said.