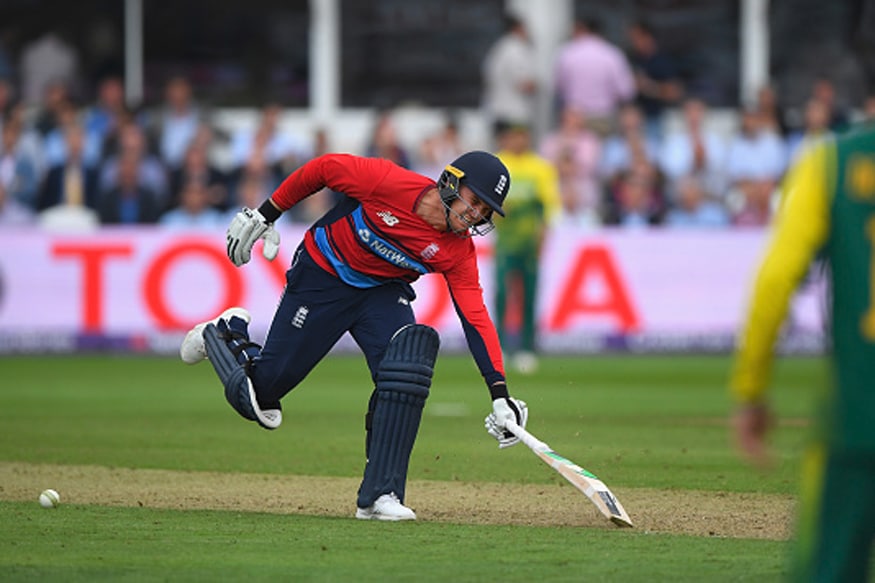 England opener Jason Roy has spoken about how he is leaving no stone unturned in ensuring that he is prepared to face spin bowling at the very start of the innings, on the team's current tour to Sri Lanka.
Predominantly a ploy used by teams in the sub-continent against touring teams which are perceived to be less adept at dealing with the turning ball, opening the bowling with a spinner often yields success, like it did on England's last tour of Sri Lanka in 2014 when the hosts opened the bowling with Tillakaratne Dilshan.
On England's current tour of Sri Lanka then, the possibility of the hosts opening the bowling with a spinner is high, even if that wasn't the case in the abandoned first ODI in Dambulla. Even though Roy lost his wicket to Akila Dananjaya later in the innings when he found mid-off with a simple catch while trying to heave the ball away, he believes that he is ready to face the spin test. "It is something we have been working on in the nets - the first thing I face is spin so I am ready for whatever they throw at me to be honest," Roy said.
"It's not anything new. Other teams have tried to do that in the past, it's the way they game is. In the Powerplay, bowling spin is quite a risky thing. I know I got out to a spinner in the Powerplay but it's a pretty risky technique, especially if the ball might be swinging a touch for the seamers."
Sri Lanka might have missed a trick by not starting with a spinner against Roy. He averages 62.25 against seamers in the sub-continent, while averaging just 35.20 against spinners. However, Dananjaya was only brought on after Lasith Malinga started going for a few runs.
Facing Malinga is a relatively new experience for Roy, having only faced him once before the first ODI. He has adapted to the Sri Lankan's round-arm action efficiently so far, and scored at a run-a-ball against Malinga in the 13 deliveries he faced against him, 12 of those runs coming in boundaries. Speaking about his experience of facing the Sri Lankan legend, Roy said, "He's very different. I've only faced him once before but he doesn't give you much angle to work with so you a have got to be set pretty early and wait for his bad ones.
"He almost did me with his slowie but we'll see - it is a long series. I'll probably do some work against the sidearm to try and combat that lack of angle. We're used to bowlers bowling wide of the crease to give you that angle but he doesn't give you a huge amount."
Overall, Roy averages better while playing in the sub-continent (46.10) than English home conditions (40.25). One area where he feels he needs to improve is in converting the 50s to 100s, his conversion rate being four fifties to one hundred across ten innings.
"Before in the subcontinent I have got 70, 80 and 90 and got out. Getting some scores in the subcontinent will put me in good stead for the next few years. In this series it's about batting as long as possible, learning different techniques, and learning different ways of going about my batting once I'm in," Roy said.