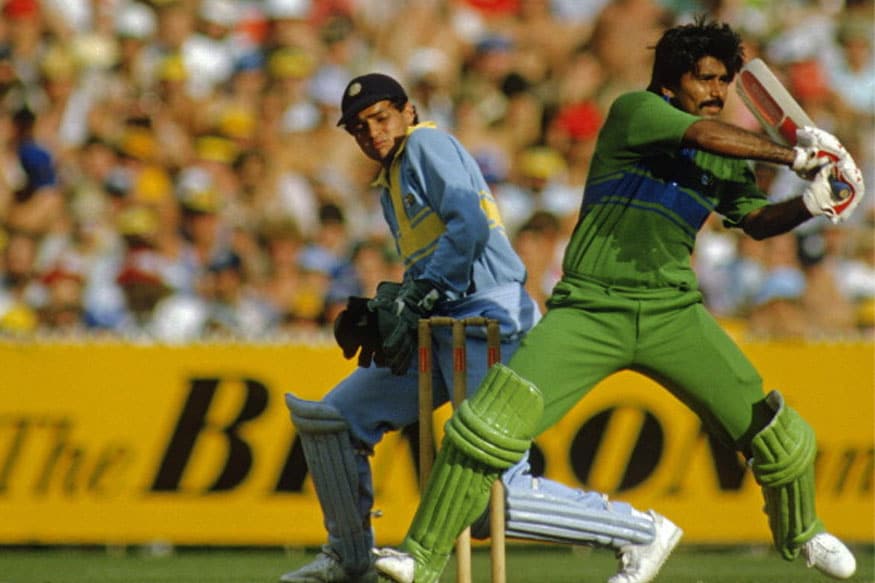 New Delhi: Arguably one of Pakistan's finest ever batsman Javed Miandad was born on this day in 1957. Though he was not one of those classical batsmen who had the perfect copy book cover drive, he was a powerful striker of the cricket ball.
He had a brilliant reverse sweeper too and was one of those rare cricketers who had the ability to hold his nerve in crunch situations.
He once famously hit Indian bowler Chetan Sharma for a six off the last ball of the innings to win his side the Asia Cup.
In the game, batting first, India rode on Kris Srikkanth's 80 ball 75, Sunil Gavaskar (92 off 134) and Dilip Vengsarkar's (50 off 64) to post 245 on the scoreboard.
In reply, Pakistan were off to a sluggish start as they lost three wickets for 61 runs.
Coming in at No. 4, Javed Miandad steadied the Pakistan innings and slammed a magnificent century. Pakistan needed four runs off the final ball to win the match.
Chetan Sharma astonishingly bowled a full toss which Miandad pumped into the stands helping his team lift the Asia Cup trophy.
Miandad in his auto-biography 'Cutting Edge: My Autobiography' has also mentioned that six, saying, "I knew that he would try to bowl a yorker, so I decided to stand just ahead of the crease.....poor Chetan Sharma."
Miandad now, 60 was also quite famous for his onfield antics.
During the 1992 World Cup, when India were taking on Pakistan in another high-voltage clash, Miandad got especially frustrated with Indian wicket-keeper Kiran More.
It all started when More appealed for a caught behind, on a delivery bowled down the leg side. The ball was clearly away from the bat. Miandad had a word or two with More, and even complained to the umpire of the excessive chatter coming from behind the stumps.
Then, on the next delivery, More whipped the bails off when Miandad was way inside the crease. More again appealed loudly. This time Miandad had enough, and he vent out his frustration by imitating the excited keeper - jumping on the spot with a bat in hand.
For the record, Miandad scored 8832 runs from 124 Tests averaging 52.57. He also amassed 7381 runs from 233 ODIs where he scored eight centuries.