It is a rare event in cricket history. It has happened just six times in 85 years. England's 3-0 sweep over Sri Lanka is only the seventh occasion when any overseas team has swept a series (two or more Test matches) against the three subcontinent giants – India, Pakistan and Sri Lanka – in their own backyard (we consider UAE as a home venue for Pakistan).
Series sweeps against India, Pakistan and Sri Lanka in their own backyard/neutral venue:
Pakistan in Sri Lanka, 1994
South Africa in India, 2000
Australia vs Pakistan, 2002 (Sri Lanka and UAE)
Australia in Sri Lanka, 2004
India in Sri Lanka 2017
Pakistan vs Sri Lanka, 2017 (UAE)
England in Sri Lanka, 2018
Sri Lanka has been whitewashed (minimum of 2 matches in a series) 5 times in their own backyard. India and Pakistan have faced this humiliation only once.
This is only the third instance in England's long cricketing history when they have swept an overseas series (three or more Tests).
England now have 14 sweeps (minimum of 3 matches in a series) in their history – 11 at home and three away. Prior to their 3-0 sweep in Sri Lanka, their last overseas away sweep came in New Zealand in 1963. The first overseas sweep came in the 19th century – in 1896 – in South Africa – that is how tough it is to win all matches in an away series!
Overseas series wins in Subcontinent/Asia by Non-Subcontinent teams: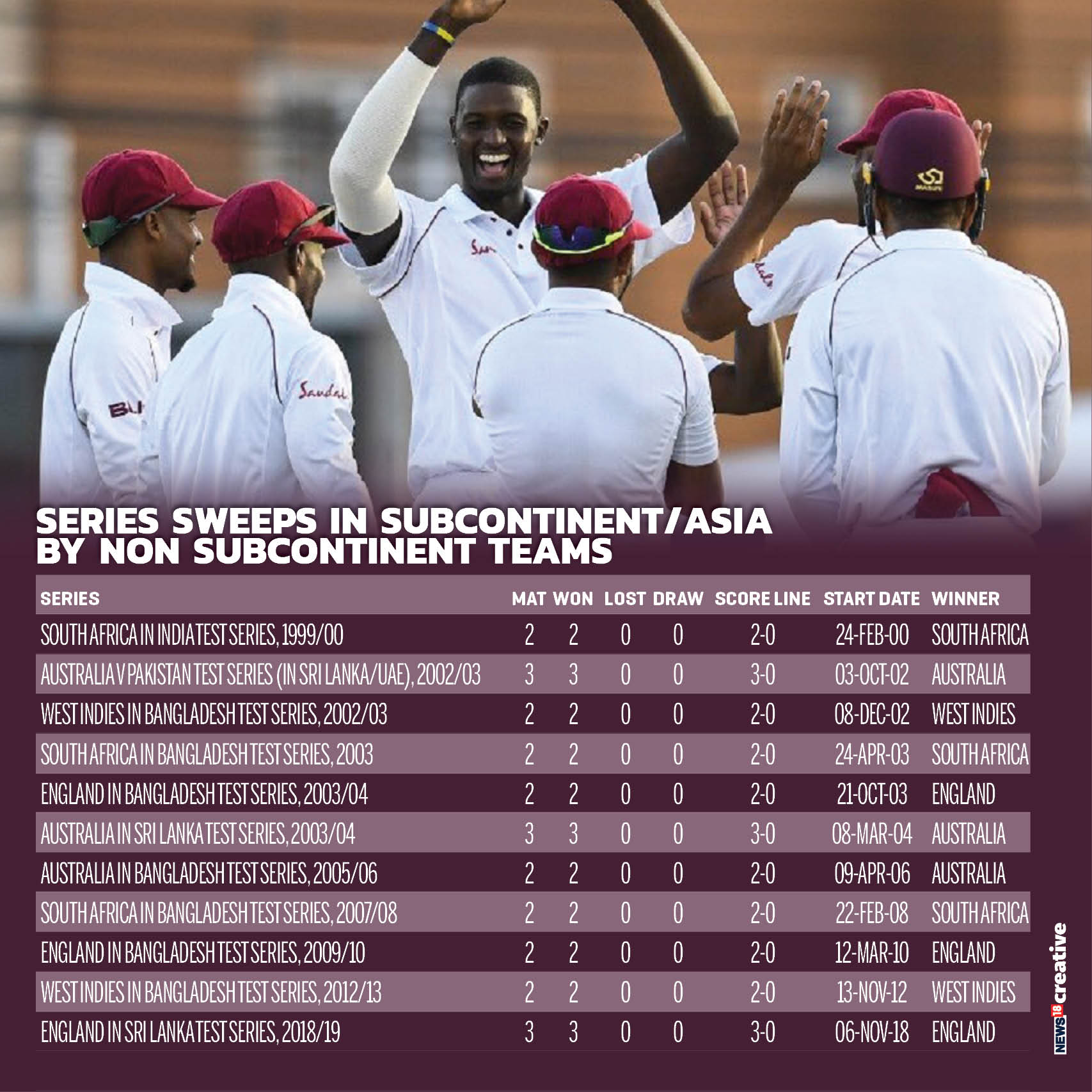 There have been only 11 instances of non-subcontinent teams sweeping a series (two or more matches) in the subcontinent/Asia. 7 of such wins have come against Bangladesh, two against Sri Lanka and one each against India and Pakistan. This was only the second occasion where Sri Lanka lost all the Tests of a home-series to a non-Asian team – the only other being against the champion Australian side in 2004.
Sri Lanka have been a champion side at home post their World Cup win in 1996. They have lost just 10 home series (and won 24) in 22 years since then. Even when they are going through their worst phase across formats, they whitewashed Australia 3-0 in 2016 and wiped out South Africa 2-0 in 2018 at home – that is how difficult it is to beat Sri Lanka in their own den. This gives us the magnitude of England's victorious sweep in Sri Lanka.
Home-Teams have dominated Test cricket in the last few years. Their win-loss ratio in the last five years is 1.982 – won 115 and lost 58. There was a significant increase in the proportion of home-wins from the previous five years – 2008-2013 – when the home win-loss ratio was 1.679 (won 89 and lost 53).
England have played 10 away-series since 2013. Their only other win (apart from Sri Lanka 2018) came in South Africa in 2015. They were decimated in Australia (twice) and in the UAE and India in this period.
Thus, this win is nothing short of historic.
England in Away series last five years: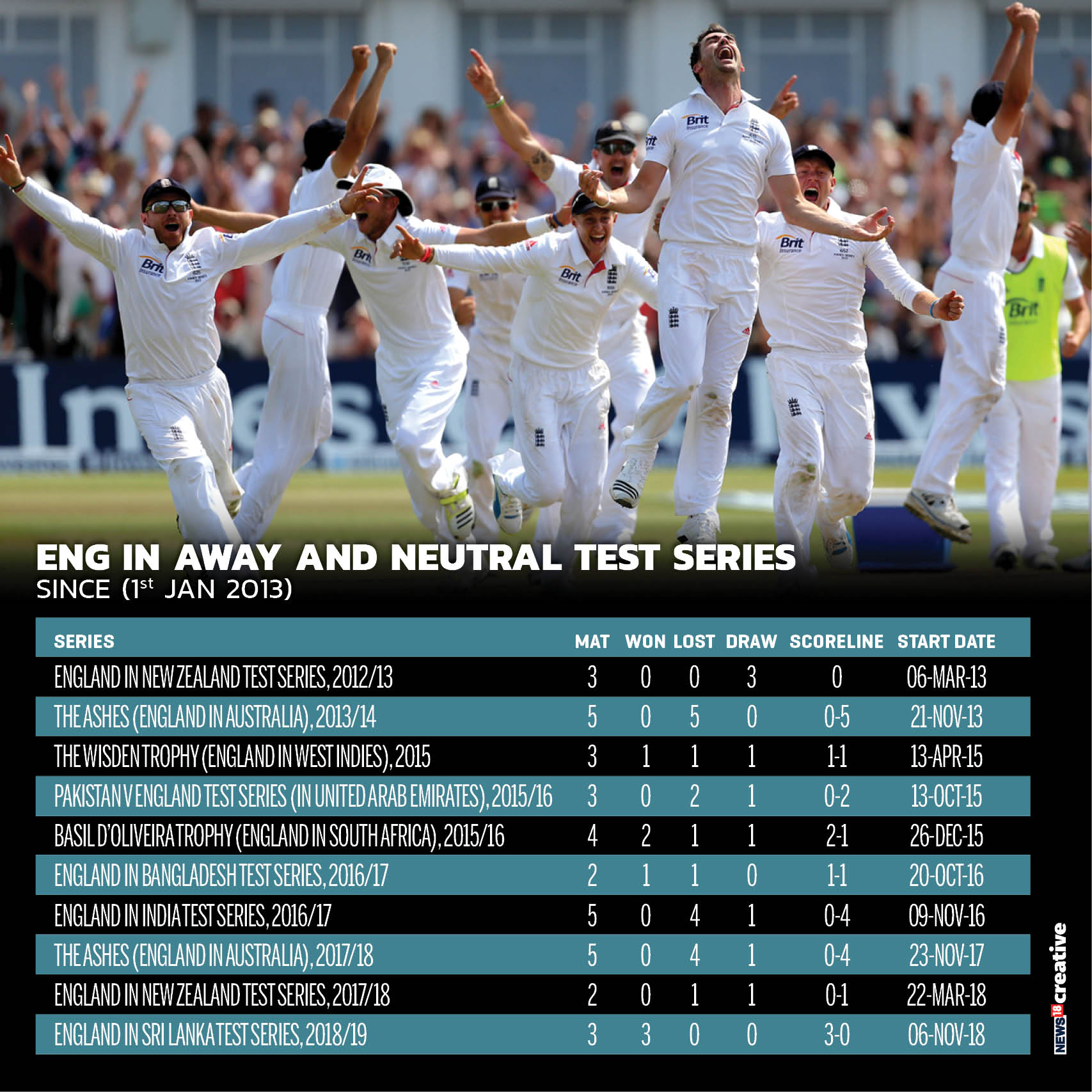 Most teams have been routed on away tours in this period. Australia have lost 8 of their last 12 away series, India 6 of 10, New Zealand 5 of 10, Sri Lanka 6 of 13 and West Indies 9 of 10.
Most teams have a massive negative batting average – bowling average differential on away tours in the last five years – indicating that their bowlers have conceded many more runs per wicket taken than their batsmen have scored per dismissal – India (-2.51), South Africa (-3.58), Australia (-4.33), Sri Lanka (-6.83), New Zealand (-9.46) and England, amongst the worst (-9.82).
Home-advantage has been at its peak last two years in Test cricket as indicated by the home win-loss ratio of 2.434 (won 56 and lost 23) in this period. Since the 1st of January, 2016, home teams have won 24 series while touring teams have just won 11 of the 45 series contested. It has been a difficult and challenging time for visiting teams.
In the light of the above, England's sweep in Sri Lanka becomes even more significant and is nothing short of a colossal achievement.
While four English batsmen – Foakes, Buttler, Jennings and Root were amongst the five highest run-getters and England scored 4 hundreds in this series – the maximum for any touring England team in Sri Lanka ever - the main reason for England's victory was the domination of the spin trio of Leach, Ali and Rashid – they combined to pick 48 of the 60 Sri Lankan wickets to fall in the series. Overall, the spin accounted for 49 Sri Lankan wickets – a record for England in any away series of three or less Tests.
Spinners accounted for 100 wickets in this series – the most in a three (or less) match series in Test history.
The English spinners outshone the Sri Lankan spinners conceding less runs per wicket (24.69 as compared to 31.56) and also bowling less number of deliveries per wicket (46.70 as compared to 53.10) than their counterparts.
England's batting average (32.21) – bowling average (27.08) differential for the series was positive – an indicator of the excellent all-round effort by the team. This is the highest differential for England in an away series in this decade since their 3-1 Ashes win Down Under in 2010-11.
England's bowling average of 27.08 and bowling strike rate of 51.7 (in this series) is their lowest in an away series in this decade – even better than the Ashes!
This was England's second whitewash in a series (three or more Tests) in this decade – the only other being the 4-0 drubbing of India at home in 2011.