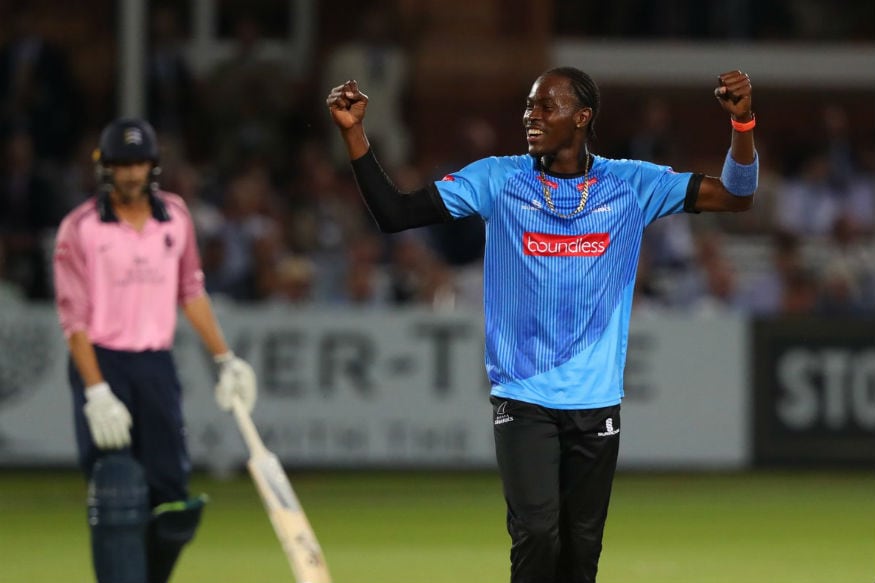 Jofra Archer helped Sussex to a 12-run win over Middlesex on Thursday after his hat-trick halted Middlesex's run chase in the last over of the T20 Blast match. Archer's feat prompted the authorities at Lord's to ask for his jersey to be put up in the historic stadium's museum.

Sussex were bowled out for 168 in 19.4 overs, and Middlesex started the chase well with captain Eoin Morgan hitting 90 in just 56 deliveries, his highest score in T20 cricket. Morgan took the chase till the last over of the match, with 16 runs to win.

However, Archer dismissed Morgan off the third delivery of the over to claim his first wicket of the day, followed by picking up the wickets of John Simpson and James Fuller in consecutive balls to complete his hat-trick.


⚡️ Magical from @craig_arch!

A masterclass in death bowling, and a hat-trick for Jofra! #SharkAttack pic.twitter.com/ZSTNV5gapX

— Sussex Cricket (@SussexCCC) August 2, 2018



Speaking after the match, Archer said: "I was more worried batting here than bowling, to be honest! To get a hat-trick, I can't really believe it – especially for a domestic T20 as well, it's not like it's an international game and I'm really honoured to hear that they want to put my shirt in the museum here at Lord's."

Archer has represented Barbados at the under 19 level, but is currently through three years of a seven year residency period which will make him eligible to represent England from 2022.

Eoin Morgan has previously spoken about the rule which would make Archer eligible to represent England in four years from now, and while he called him a "very impressive player", he pointed out that he had to qualify to represent England "Even though my mum is English and I've had a British passport since I was born."


First Published: August 3, 2018, 2:52 PM IST