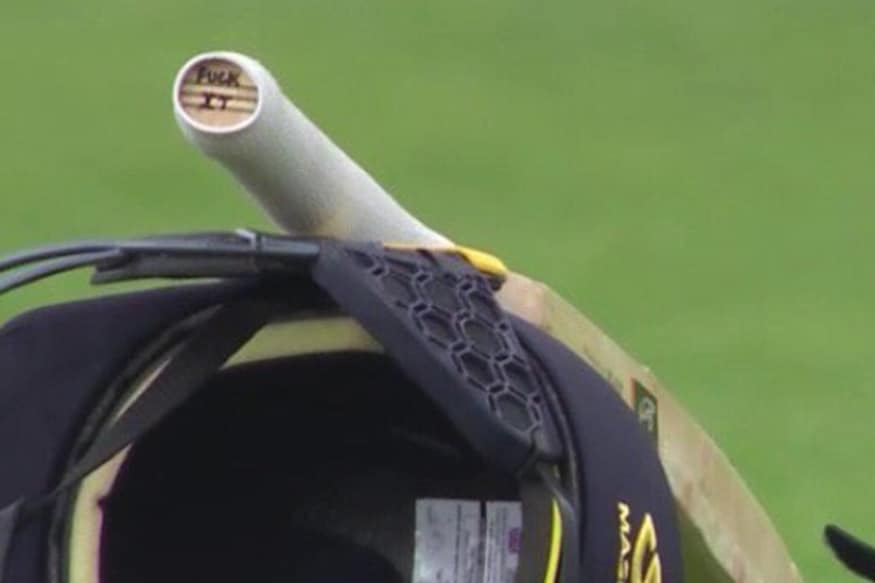 Jos Buttler continued his impressive form as he put in a man-of-the-match performance for England in the second Test against Pakistan, scoring an unbeaten 80 as the hosts registered a comprehensive innings and 55 runs victory to level the series.
However, what got Twitter talking was the inscription written on the top of Buttler's bat handle. Buttler wrote the 'F' word and when cameras zoomed in, it got the Twitterati talking.
Jos Buttler. Hero. pic.twitter.com/Bk4Z5pAeIW

— England's Barmy Army (@TheBarmyArmy) June 3, 2018
Jos Buttler's bat handle msg to himself. Like I said, my kinda cricketer. 👊 pic.twitter.com/eX6uyhGM8Y

— Piers Morgan (@piersmorgan) June 3, 2018
I often think players are now drunk on information, endless instructions, over coaching and meaningless jargon. Not @josbuttler he's got it down to two words #rejoice pic.twitter.com/TEq1pWpyfz

— Michael Caulfield (@SportingEdgeMC) June 4, 2018
100 per cent on board with the message on Jos Buttler's bat handle. pic.twitter.com/kmzoBGVDFR

— Andy Hoad (@HoadAndThat) June 4, 2018
We were thinking about this picture, wheather to post it or not? But then we thought f*** it!😂 Let's post it anyways. @josbuttler#josbuttler #engvspak #englandcricket #like #follow #comment #Cricketmic pic.twitter.com/g85aO0Y7VX

— Cricket Mic (@CricketMic) June 4, 2018
It was also England's first victory in a Test match since they beat the West Indies at Lord's in September, with the side having endured a winless run of six defeats in eight Tests coming into this fixture.
By sharing the spoils in this short campaign, England avoided a third successive series defeat after reverses in Australia and New Zealand. Jos Buttler's blistering 80 not out on Sunday saw England to a total of 363 and commanding first-innings lead of 189.
Pakistan then collapsed to 134, losing their last seven wickets for just 50 runs. Stuart Broad took three for 28 and off-spinner Dominic Bess grabbed his first wickets at Test level in a return of three for 33. The match ended when England captain Joe Root, on his Yorkshire home ground, held a sharp slip catch to dismiss last man Mohammad Abbas off the bowling of Broad.