New Delhi: Justice (retd) RM Lodha, who ushered in sweeping changes in Indian cricket post the spot-fixing controversy, is dismayed at the state of affairs within the Supreme Court-appointed body Committee of Administrators (CoA) that is in charge of running the Board of Control for Cricket in India (BCCI).

Just weeks after the public wrangling between the two members of the CoA — chairman Vinod Rai and former India women's captain Diana Edulji — over the selection on women's team coach, divisions between the two cropped up again over the quantum of punishment to be handed out to Hardik Pandya and KL Rahul for their comments on TV talk show 'Koffee with Karan'.

"This is not the way CoA was supposed to function," Justice Lodha told CricketNext. "It's a body appointed by Supreme Court and expected to act collectively. If there is no agreement on any issue, it should be bought to the attention of the SC, so a third member can be appointed and decisions can be taken by majority. So long as two members remain decisions have to be unanimous and on agreement, they can't be unilateral."

The CoA's functioning will in fact come up before the Supreme Court on January 17 in a petition filed by the Cricket Association of Bihar.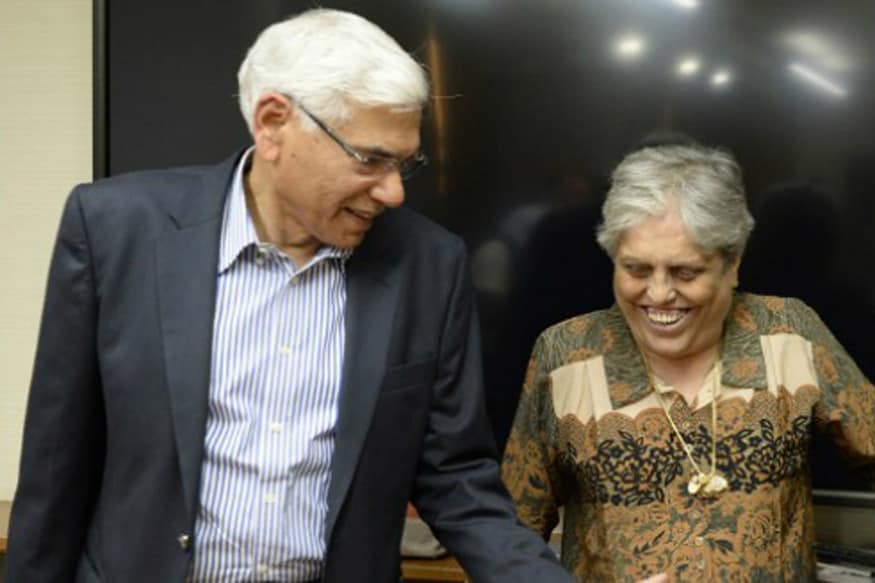 Vinod Rai and Diana Edulji. (PTI Image)

"If CoA is not able to take unanimous decisions, they have to bring it to the notice of Supreme Court. If both are not agreeing on anything, what administration are they doing because ultimately they are Committee of Administrators to oversee functioning of the BCCI. I fail to understand how they are able to discharge their functions," the retired Supreme Court judge said.

"Two members are only agreeing to disagree. Unfortunately they have made functions of CoA very controversial and not good in the public eye. Why can't they sit together and discuss the matter which comes up for resolution, exchanging e-mails and writing letters is unfortunate," he added.

The Justice Lodha-led committee formulated the recommendations based on which the new BCCI constitution was formed. The CoA has been appointed by the SC to ensure that the Lodha Committee recommendations are implemented by the BCCI.

"There are rules about conduct of players in place and any disciplinary action, the rules have to be followed. A disciplinary committee has be in place or should be constituted who can look into the allegations of indiscipline and misconduct and then take a call on the punishment. I don't think rules have been bought to their (CoA) notice. The conduct of players is always governed by rules that were already in place. Procedures have to be followed by CoA or BCCI," Lodha said, dismayed by the conduct of Pandya and Rahul on the TV show.

The Lodha Committee had also given very clear-cut guidelines about the role of player agents, which he believes aren't being followed.

"We have devoted a chapter on this (role of player agents) in our report. I don't know why they are not following it," Lodha said. "By and large every rule about player agents, player conducts are in place — only thing is you have to follow the procedure and act accordingly."


First Published: January 11, 2019, 5:51 PM IST