Having starred in New Zealand's historic triumph in the UAE against Pakistan, Kane Williamson has now returned to the more familiar climes of his home country for a series against Sri Lanka. That Williamson is an exceptional batsman is well established, but just how remarkable are his feats.
For one, while most batsmen have a distinct difference between their first innings and second innings averages with the first always higher, Williamson has nearly the same average.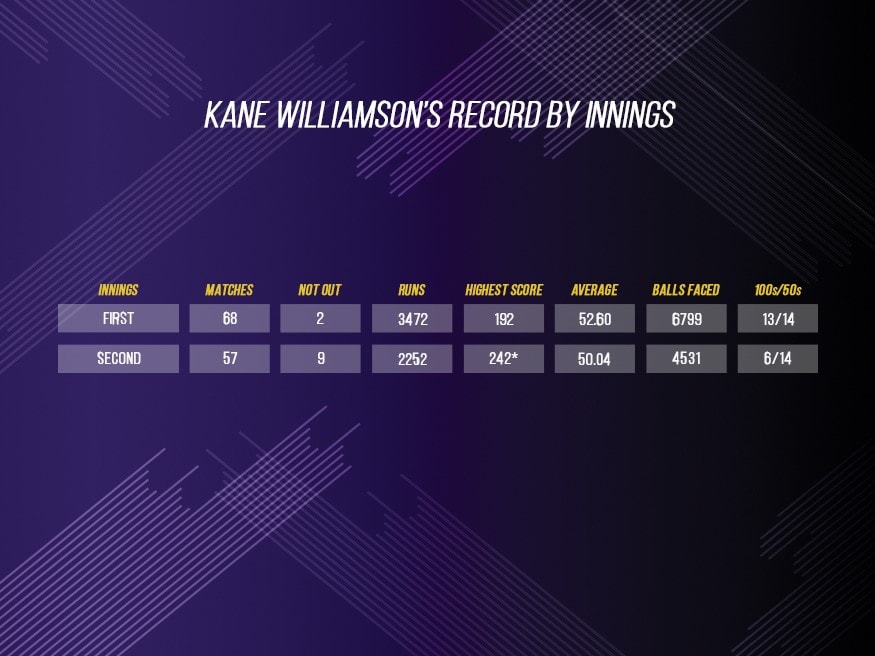 In 68 matches batting in the first innings, Williamson has 3472 runs at 52.6 including 13 hundreds. The count of hundreds is understandably less in the seocnd half of the Test but not his average which is just a shade below at 50.04. He even has a sensational 242* - his career best score - when batting in the second innings.
Overall, Williamson has 27 scores of 50 or more in the first innings while he has 20 of them in the seocnd, a remarkable achievement considering how batting usually gets tougher as the pitch wears out towards the second half of Test matches.
Take out the best batsmen in the third and fourth innings' of Test matches (second innings for one team as referred to earlier) and you find Williamson's numbers are incredible.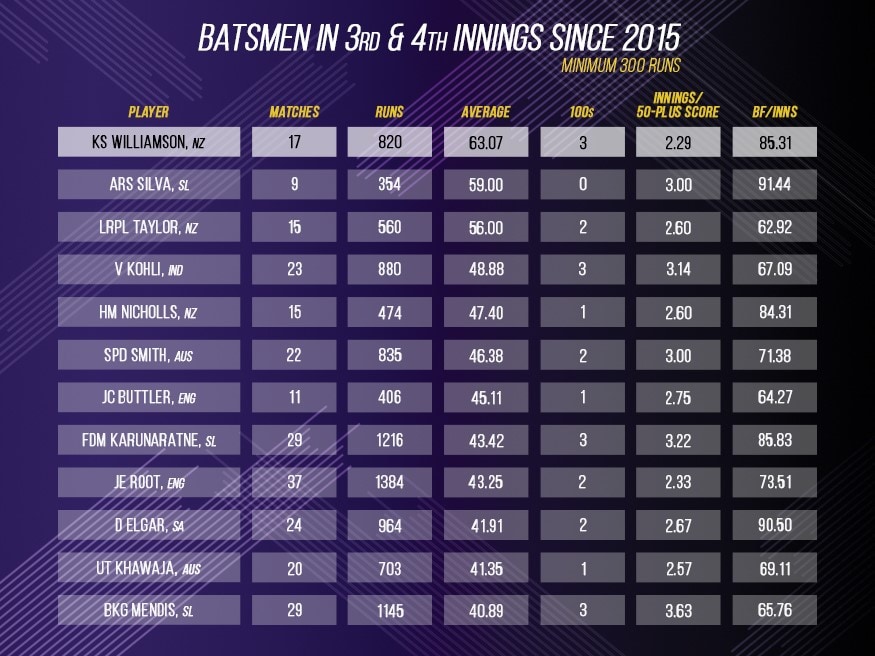 There isn't a batsman since 2015 who averages more than Williamson while making 300 or more runs in these innings'. In 17 matches, the Black Caps skipper has piled up 820 runs at 63.07 with three hundreds, a feat matched by only Virat Kohli and Sri Lankan pair of Kusal Mendis and Dimuth Karunaratne.
More importantly, Williamson makes a 50-plus score in the third and fourth innings as often as every 2.29th innings, a far cry lower than every other batsman on the list. He even faces an average of 85.31 balls every innings which ranks below a few other names but given his average, he gets what matters - runs - more often than the others.
Take a glance at his scores since 2015 in Tests in the 3rd and 4th innings and you get a sense of how consistent Williamsom is in breaking down the traditional barriers of second innings batting being tough.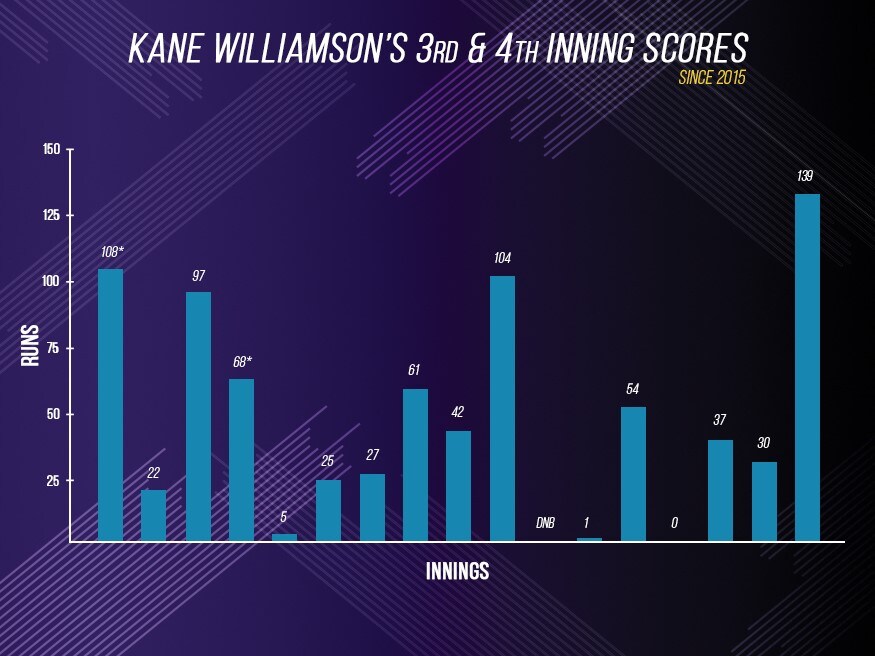 Williamson gave evidence of this unique ability only recently against Pakistan at Abu Dhabi, after New Zealand had conceded a big first innings lead.
When New Zealand coming out to bat for the second time, they were 37/3 and 60/4 while still trailing Pakistan. A loss appeared inevitable when Williamson stitched together a 212-run stand with Henry Nicholls and took the Kiwis to a position from which they could dictate terms, setting up a memorable triumph along the way.
Sri Lanka will know they have a modern day colossus to overcome if they are to triumph in New Zealand.