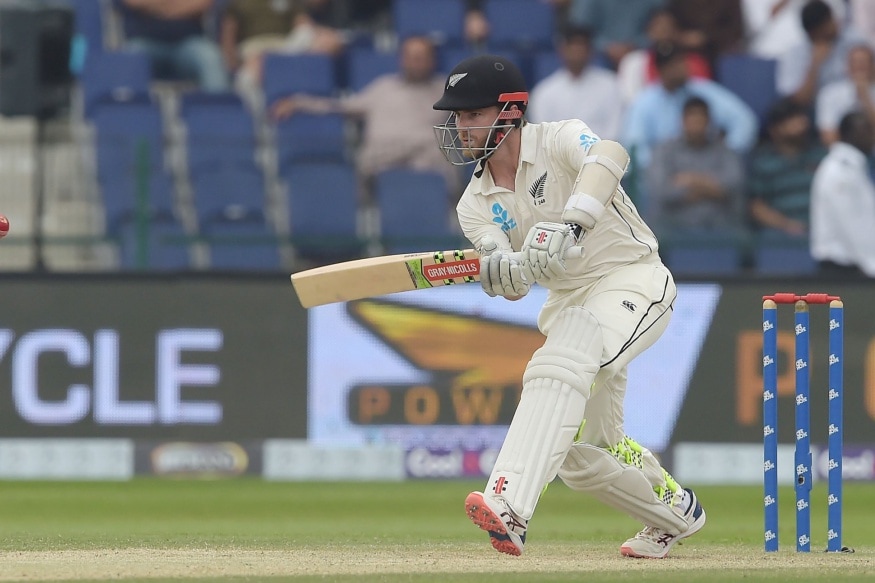 New Zealand beat Pakistan by 123 runs in the third and final Test in Abu Dhabi and with it took the series 2-1. Williamson was the chief architect of the win top-scoring in each innings with 89 and 139. It was a historic win for New Zealand – their first away series win against Pakistan since 1969-70 and also their first away series win against a major Test playing nation after 19 years (they won in England in 1999 and since then have only won in Bangladesh, Zimbabwe and West Indies).
Williamson is considered a modern great. But how good is he really? Where does he stand in New Zealand's history? How does he compare with other contemporary greats like AB de Villiers, Virat Kohli and Steve Smith?
THE GREATEST NEW ZEALAND BATSMAN
Williamson has scored 5724 runs in 68 Tests (122 innings) at an average of 51.56. He has 19 hundreds and 28 fifties in his career. Though Fleming, McCullum and Taylor have higher aggregates, there is a difference of more than five runs per dismissal between Williamson's average and the average of Taylor (46.08) – the second-highest for New Zealand. No one has a higher tally of hundreds for New Zealand than Williamson. No one has averaged more in their victories than Williamson (71.18) – that is how great Williamson has been for New Zealand. Williamson has scored 16.10% proportion of runs for New Zealand – the third-highest in their history after Sutcliffe (16.88%) and Turner (16.38%). Just for perspective, Crowe scored 15.14% of the total team runs during his career.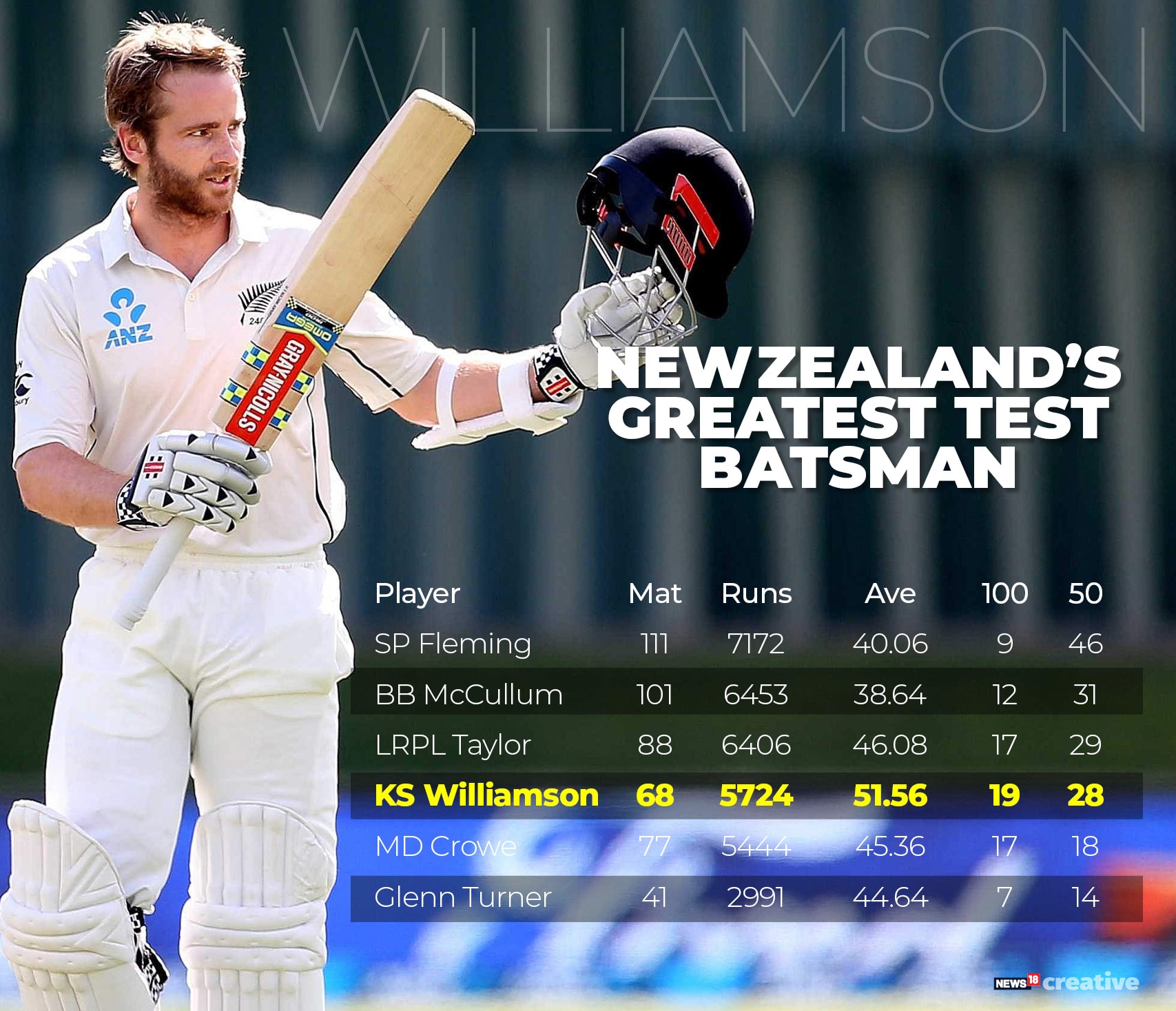 The period between December 2013 and December 2015 was one of the best for New Zealand in their Test history. They won five, drew two (against Pakistan in UAE and England away – in both cases coming back from behind to level the series) and lost just one (an away series in Australia). Williamson was the highest scorer for New Zealand in this period with 2260 runs in 19 matches, including nine hundreds. His average of 72.90 was the highest in the world (min. 20 innings) in this time-frame.
New Zealand have also lost just one series (to South Africa in March 2017) in the last two years. They have won five out of the six series they have played in this period. Williamson has been their highest-scorer in this period too (1196 runs) averaging 56.95 (best for New Zealand) in 14 Tests. No one has scored more hundreds for New Zealand than Williamson in this period (5).
Overall, Williamson has played 29 series (two or more Tests) for New Zealand and been the highest scorer in 8 of them.
PLACE IN HISTORY


Williamson is amongst the 32 batsmen who average above 50 in Test cricket (min. 50 Tests). His average is higher than greats like Sunil Gavaskar, Matthew Hayden, De Villiers, and Viv Richards.
In terms of runs per innings, Williamson (46.91), is higher than the likes of Ricky Ponting, Hayden, Javed Miandad, Rahul Dravid and De Villiers amongst other greats in the 50-plus average club.
Williamson has scored a hundred every 6.42 innings which is a higher frequency of registering a ton than the likes of Tendulkar (6.45), Hobbs (6.8), Lara (6.82), Ponting (7), Richards (7.58), Dravid (7.94) and AB (8.68) amongst other legends in the 50-plus average club.
AMONGST THE BEST NUMBER 3 OF ALL-TIME


Amongst the 25 batsmen who have at least played 40 Tests and batted one-down, Williamson's average of 55.16 is the sixth-highest after Bradman, Richards, Kumar Sangakkara, Brian Lara and Ponting. It is higher than the likes of Dravid, Younis Khan, Hashim Amla and Jacques Kallis amongst others.
Only five Number 3 batsmen have spent more time at the crease and faced more deliveries in Test history than Williamson – Dravid, Sangakkara, Ponting, Amla and David Boon.
THE BEST FOURTH-INNINGS BATSMAN AFTER THE DON
Williamson's fourth-innings average of 60.81 is the second-best in Test history only after Bradman (73.40). This is an absolutely staggering statistic. This suggests that Williamson is at his best when the pitch is at its worst – in the last innings of a Test. With wear and tear and bowler footmarks most pitches crumble and are difficult to bat on day 4 and 5 in the last innings of a Test – not only does a batsman require the technique and defense to combat the challenge of a wearing wicket but also the mental toughness and temperament needed in the fourth innings – where, either you are chasing a target or defending for a draw to save the Test.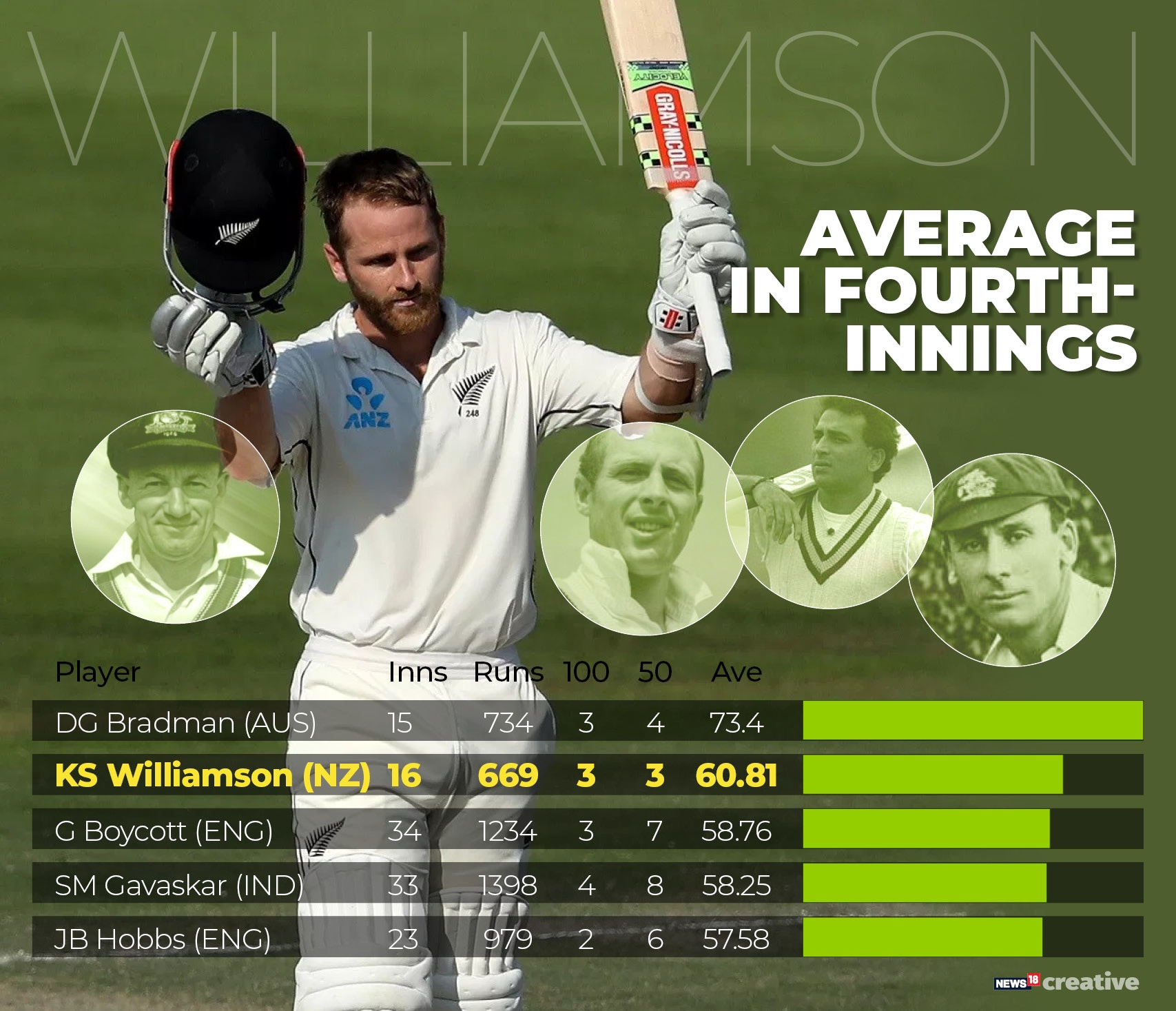 Williamson's average against spin – 48 – is another testimony of his brilliant fourth-innings record – spinners are at their most dangerous on a crumbling last innings wicket - he is an excellent player of spin who uses his feet and the crease, both.
Williamson saved the third Test against South Africa in Wellington in 2012 with a defiant 102 in 228 balls (327 minutes). He came out to bat with New Zealand tottering at 1/2, absorbed the pressure of falling wickets around him and denied South Africa a victory. New Zealand batted for 80.4 overs scoring 200 for 6, securing a hard-fought draw.
He hit a match-winning unbeaten 108 against Sri Lanka in Hamilton in 2015 to help his team chase 189 in the fourth innings with five wickets in hand. He had come out to bat at 4/1 which had soon worsened to 11/2. The second-highest score in the innings was 35.
SUB-CONTINENT SUCCESS


The sub-continent has been the biggest challenge for batsmen from SENA countries (South Africa, England, New Zealand and Australia). Williamson's average of 50.70 in the sub-continent (including UAE) is the ninth-highest for all SENA batsmen who have at least batted in 20 innings in Asia. Only Stephen Fleming, David Gower, Kallis, De Villiers, Allan Border, Gary Kirsten, Alastair Cook and Tony Greig have a better average than Williamson in Asia.
Williamson has five hundreds and seven fifties in 31 innings in Asia.


AMONGST THE BEST IN CONTEMPORARY TEST CRICKET


Williamson has been the sixth-highest scorer in Test cricket since his debut in November, 2010. His average of 51.56 in this period (min. 40 Tests) is the sixth-best too after Smith, Sangakkara, De Villiers, Younis and Kohli.
In terms of Actual Average (Runs Per Innings), Williamson (46.91) is again the sixth-best in this period after Sangakkara, Smith, De Villiers, Kohli and Younis. He is better than the likes of David Warner, Joe Root, Amla and Cook.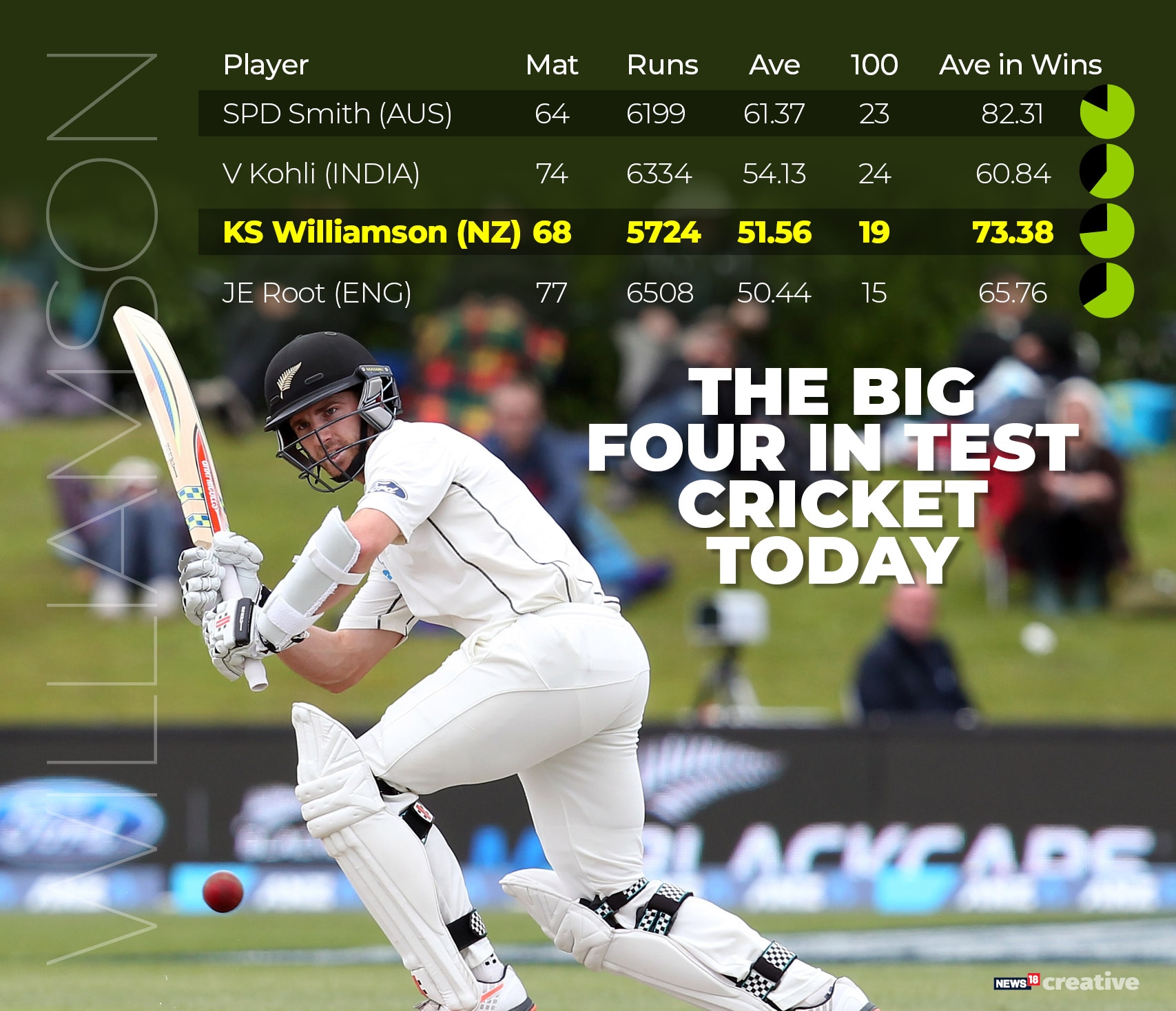 Williamson has a higher average than Root but it is lower than Smith and Kohli. But what is interesting is that Williamson's average shoots to 73.38 in wins for New Zealand. While Smith has a better winning average, Kohli and Root have a lower winning-average than Williamson. He is almost as crucial to New Zealand as Smith is to Australia but more than Kohli is to India or Root is to England.
Another statistic which further emphasizes the dependency of New Zealand on Williamson is the proportion of team runs scored. Williamson has scored 16.10% of the total team runs during his career. The corresponding percentage for Smith is 17.22, Kohli (16.03), Azhar Ali (15.36) and De Villiers (14.24).
Williamson has been in sensational form since 2014. He has scored 3930 runs at an average of 64.42 in this period, including 15 hundreds. Only Smith (71.63) has a higher average than Williamson (min. 30 Tests) in these five years.
While Kohli, Root and Smith are revered by the pundits and believed to be in a league above the rest, Williamson is not given his due.
Perhaps it is time to re-visit that belief.