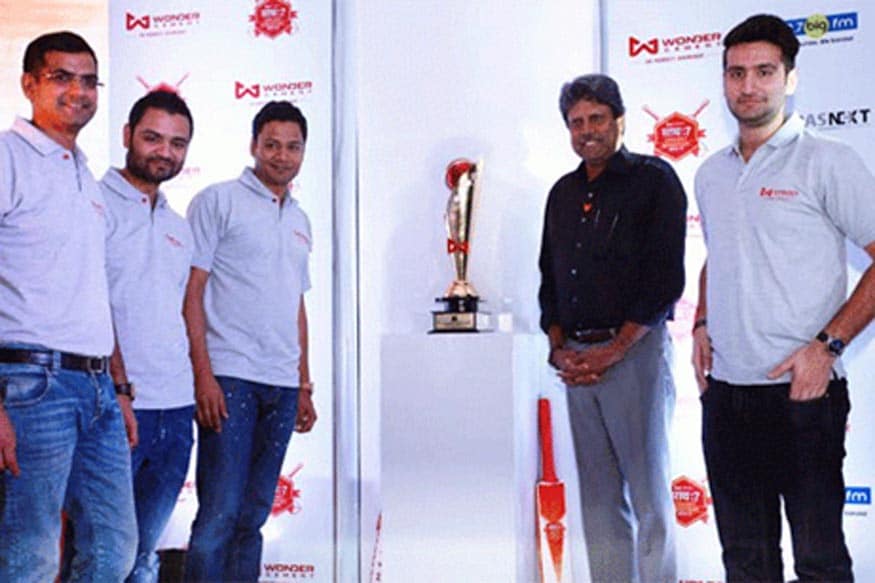 Ace cricketer and former captain of Indian Cricket Team Kapil Dev along with Director Vivek Patni of Wonder Cement launched the Saath:7 Cricket Mahotsav in which 39,840 participants from 249 tehsils will participate.
The concept of the tournament is that each innings will be for 7 overs with 7 players and the top two winners will receive Rs. 3,50,000 and Rs. 1,40,000 respectively.
"I feel delighted to be a part of the Saath:7 tournament. This is a fantastic way to dig out the hidden talents of the state. Not only will this help search for the best players but also aim to polish their skills," said Kapil Dev.
Director Vivek Patni said, "The tournament will run for 4 weeks starting from 19th December in which 3984 teams will participate. Free 7 runs will be included in the score if one of the team mates is a girl. Out of the 16 short listed teams, there will be 15 hit-out matches to bring out the winner team from the tehsil. These teams will compete at district level to make list of final teams from 33 districts that will compete again to take place of 6 zonal teams."
He further added, "The final zonal matches will be played in Udaipur on 10thJanuary 2016 after which the state winner of the Saath:7 Cricket Mahotsav will be declared and given certificates along with free bat and ball. The final 6 teams will be given cricket kits."
The tournament will also include awarding Man of the match, Man of the series, Additional Best Batsman, Best Bowler, Best Fielder and Best Girl of tournament etc. The interested players, who are 15 years of age and above can go to any authorized dealer of Wonder Cement and can register for free for this tournament.
Disclaimer: This is a sponsored article and News18 doesn't hold any responsibility for the content