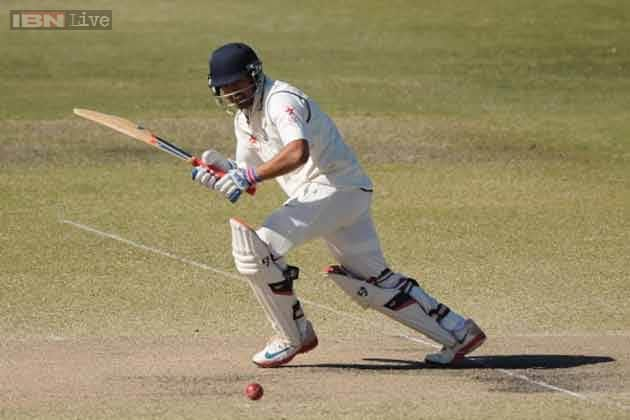 Karnataka defended their Ranji Trophy title successfully with an innings-and-217-run win over Tamil Nadu in the final at the Wankhede Stadium in Mumbai on Thursday (March 12), making them the second-most successful team in the 81-year history of the competition. Mumbai, the 40-time champions, remain ahead of them, while Delhi, with seven titles, have now fallen behind them.
Karun Nair's performance was the obvious highlight as he became the third batsman this season to score a triple-century, but R Vinay Kumar, Karnataka's captain, KL Rahul, S Arvind and Dinesh Karthik too notched up a few records.
We look back at some of the highlights from the last five days.
Nair makes history
Nair's 328 is now the highest individual score in Ranji Trophy finals, surpassing Gul Mohammad's 319 made for Baroda against Holkar in a timeless final in March 1947. Nair spent a total of 14 hours and 32 minutes at the crease, making it the fifth-longest innings in first-class cricket, and the third longest in the Ranji Trophy.
Rajeev Nayyar's marathon effort of 16 hours and 55 minutes for Himachal Pradesh against Jammu and Kashmir in the 1999-2000 Ranji Trophy remains the longest first-class innings. Rajasthan's Vineet Saxena, who spent 15 hours and seven minutes at the crease the last time Tamil Nadu played in a Ranji final in 2011-12, follows Hanif Mohammad. And Gary Kirsten once batted six minutes more than Nair.
Nair also became the third Karnataka batsman after Gundappa Viswanath (247 v Uttar Pradesh in 1977-78) and Rahul Dravid (215 v Uttar Pradesh in 1997-98) to make a double-century or more in a Ranji final. He also recorded the highest score for his state against Tamil Nadu, going past K Jeshwant's 259 not out in Coimbatore in December 1990.
Nair, Karnataka's second triple-centurion, fell ten runs short of surpassing the state's best individual effort - KL Rahul's 337 against Uttar Pradesh earlier this season.
Nair and Rahul have a party
Nair's stand of 386 with Rahul is the highest for the sixth wicket in Ranji finals, surpassing the 256 put on by Mohinder and Surinder Amaranth for Delhi against Karnataka in 1978-79, and at the Wankhede Stadium.
It is also Karnataka's best association for that wicket, ahead of the 328-run stand between Manish Pandey and CM Gautam against Odisha in 2010-11, and the season's highest, putting to shade the 379 runs that Mandeep Singh and Yuvraj Singh had added for Punjab against Saurashtra.
It was also only the fourth partnership of 300 or more this season, as Rahul and Nair became the 12th and 13th Karnataka batsmen respectively to make three-figure scores in the final.
Karnataka's century tally in finals now stands at 21, only behind Mumbai (64) and Delhi (29).
Rahul joins elite list
Rahul's 188 made him the seventh Karnataka batsman, after Brijesh Patel, Viswanath, Roger Binny, J Arun Kumar, Vijay Bharadwaj and Dravid, to score two or more centuries in Ranji finals. Rahul had made 131 last season against Maharashtra when Karnataka broke a 15-season title drought. Patel, interestingly, holds the distinction of making three centuries.
During the course of his innings, Rahul became the season's fourth-highest run getter with 838 runs, stopping behind Robin Uthappa, Abhinav Mukund and Karthik. What is remarkable is that Rahul played only five out of a possible 11 games this season because of his international commitments.
Vinay matches Hazare
Before Nair and Rahul took over, Vinay set up the stage with a five-wicket haul on the first morning to bundle Tamil Nadu out for 134. He then contributed an unbeaten 105, becoming the first captain and second player to record the double of a century and a five-wicket haul in Ranji finals. That he matched Vijay Hazare, who had achieved the feat in the same game in which Gul made that triple-hundred, on the legend's birth centenary (March 11), sprinkled a tinge of nostalgia to the proceedings.
Vinay also became the sixth pacer after Madan Lal (351), Ashish Winston Zaidi (348), Debasis Mohanty (337), Kailash Gattani (308) and NP Singh (305) to pick up 300 or more wickets in the history of the Ranji Trophy. His current tally stands at 303, as he finished the tournament with 48 victims following the seven-wicket haul in the final, making him the joint-highest wicket taker for the season along with Shardul Thakur.
762 and all that
Karnataka posted a mammoth 762, their second-highest first-class total (791 for 6 declared against Bengal in 1990-91 being the best) and also the second best recorded at the Wankhede. It was the season's highest total, as they surpassed their previous best of 719 for 6 declared against Uttar Pradesh, the game in which Rahul scored a triple ton. In fact, Karnataka were the only team to have posted a total in excess of 700 this season.
They fell two short of equalling the second-highest total in Ranji finals, which belongs to Bombay, scored against Holkar in the 1944-45 final. Baroda's 784 - in the Gul-Hazare game - is the best team effort in the final.
Karthik's fourth and Tamil Nadu's tenth
In Tamil Nadu's second innings, Karthik joined Himachal Pradesh's Paras Dogra in scoring four centuries this season. S Badrinath was the last Tamil Nadu batsman to have achieved the feat, back in 2010-11.
Tamil Nadu, who last won the title in 1987-88, finished runners-up for the tenth time.
Arvind tops 40
With three scalps, including the final one of the match, Arvind became the fifth bowler this Ranji Trophy season to pick up 40 or more wickets. With 42 victims, he ended behind Vinay, Thakur and D Siva Kumar, but ahead of Rishi Dhawan. Abhimanyu Mithun missed out on joining the list by one wicket.
Umpire swap
C Shamsuddin, the designated on-field umpire, left the ground after tea on the first day because of acidity, and reversed his role with Nitin Menon, the designated third umpire. Shamsuddin quit completely on the fourth day, and Rajesh Deshpande took up television duties.
Vinay's legacy
Karnataka unbeaten streak stretched to 28 matches as Vinay became only the 12th captain overall to win the title in consecutive years. Ajit Wadekar had achieved it twice, while Bapu Nadkarni won it for three seasons in a row between 1963-64 and 1965-66.
Vinay also became the 19th captain, and second from his state after Erapalli Prasanna, to win the title twice or more. CK Nayudu and Wadekar had done it four times. Hrishikesh Kanitkar was the last captain to do it twice, when he guided Rajasthan to victory in 2010-11 and then successfully defended the title the following season against Tamil Nadu.
At the end of the season
Highest run-getter: Robin Uthappa (Karnataka) - 912 from 10 matches
Highest wicket-taker: R Vinay Kumar (Karnataka)/Shardul Thakur (Mumbai) - 48 from 10 matches (Vinay heads the list because of a better bowling average of 18.72)
Highest individual score: 337 - KL Rahul (Karnataka) v Uttar Pradesh.
Best bowling figures in an innings: 8/29 - Swarupam Purkayastha (Assam) v Hyderabad
Best bowling figures in a match: 13/88 - Swarupam Purkayastha (Assam) v Hyderabad
Most dismissals for a wicketkeeper: Srikar Bharat (Andhra) - 46 from 9 matches