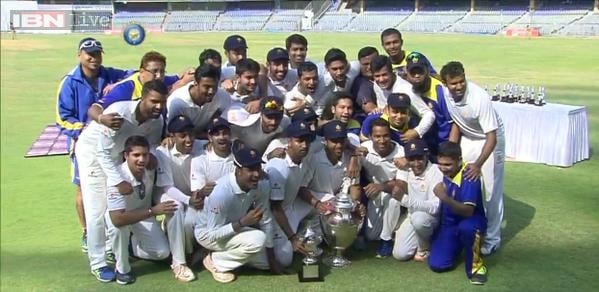 At 9.10 am on Thursday (March 12), Anil Chaudhary and Nitin Menon, the two umpires, started their walk to the middle, coming in from the Pavilion end. To their right, the Karnataka side had left their warm-up routines and gathered in a huddle. To their left, B Aparajith and Vijay Shankar, the overnight Tamil Nadu batsmen, were walking down the steps from their dressing room. Did they cast an envious, perhaps wistful, glance at the Ranji Trophy, prominently displayed beside the steps, as they entered the field?
We wouldn't know for sure, but it's reasonable to suppose they did. The trophy already had the imprints of Karnataka on it, and Tamil Nadu could only hope to end the fifth and final day of the title clash with some honour salvaged.
That it was finally achieved with trademark clinical precision spoke much for the champion side Karnataka are, with victory sealed by an innings and 217 runs shortly after tea, as Tamil Nadu were bowled out for 411 in 107.5 overs.
Vijay Shankar and Aparajith began the fifth day by giving Tamil Nadu their best batting day of the match so far. It was not too little, but it was far too late for the challengers, who had allowed the defending champions to run away with the match on Days 2, 3 and 4.
All it did was show the sparse crowd that had gathered at the Wankhede Stadium that Tamil Nadu weren't perhaps as abject as the performance reflected so far in the match. There were centuries for Vijay Shankar and Dinesh Karthik, who walked in at No. 6 after having spent half of the previous day indoors due to dehydration.
Tamil Nadu began the day with twin century stands, showing some belated fight that delayed Karnataka's wait for the celebrations. First Aparajith and Vijay Shankar, the overnight pair, stretched their stand to 112 runs. Aparajith, who has endured an up-and-down season, came good with a composed half-century, but threw it away when on 68, he nudged a legside S Aravind delivery too fine only for Robin Uthappa to complete an acrobatic catch behind the stumps.
That still meant Tamil Nadu had endured an entire session losing only a single wicket, the only time in the match they would do so. Going to lunch at 250 for 4, Tamil Nadu's prospects for a draw looked brighter, and Karthik's hand in the second session bolstered them further.
Vijay Shankar completed an impressive century, but suffered a painful blow to the forearm when a throw from R Vinay Kumar hit him flush while completing a run. There was a stoppage, and perhaps the hit affected how he could bat. There was the added factor of the second new ball being taken as soon as it was available, and Vinay soon had his man, top-edging a pull straight in the air for the bowler to complete a catch. Vijay Shankar had 103 off 164, a composed and fluent knock that didn't change the fortunes of his side, but would have helped him end a tournament in which he has been among the biggest driving forces for his side, with a happy memory.
R Prasanna didn't last long, putting HS Sharath in the wickets column with an edge to Manish Pandey at second slip, but, all the while, Karthik had cut loose. Scoreless for the first 20 balls he faced, Karthik went from battling-to-save-the-match mode to hitting-as-if-it-was-IPL mode in quite literally the blink of an eye.
Three fours in a Shreyas Gopal over were followed by five fours in an over shortly after, and Karthik was away. He reached his century off just 95 balls, the range of strokeplay evident when you consider the initial scoreless period.
At tea, Tamil Nadu were 378 for 6. Seven balls into tea, Karthik threw away the good work with an ambitious inside-out drive off Shreyas that found Aravind at the cover fence. With Prashanth Parameswaran injured, Tamil Nadu were effectively two wickets away from defeat with only the tail left.
Aswin Crist was stumped, nifty work by Uthappa complementing good turn by Shreyas, and the end came when Malolan Rangarajan edged Aravind to Pandey, triggering joyous celebrations for the newly crowed eight-time Ranji champions.
"It's a big moment for us to retain the trophy. It is a complete team effort," said Vinay. "Winning the toss was important because on the first day till lunch the pitch in Mumbai assists the seamers. We have a very special bunch of players. We want to keep performing and dominate the domestic circuit."
Vinay, whose two wickets took him to 48 for the season, had equalled Shardul Thakur at the top of the wicket-taking tree, coming on the back of his Vijay Hazare-matching heroics on Wednesday.
"They bowled really well on the first day. We could have batted better, but that's history now," said Mukund. "With their nightwatchman out early on Day 2, we were in the game, but KL Rahul and Karun Nair played two chanceless innings and took the game away from us."
Over the past two seasons in domestic cricket, Karnataka have been an irresistible force. They're yet to encounter an immovable object.