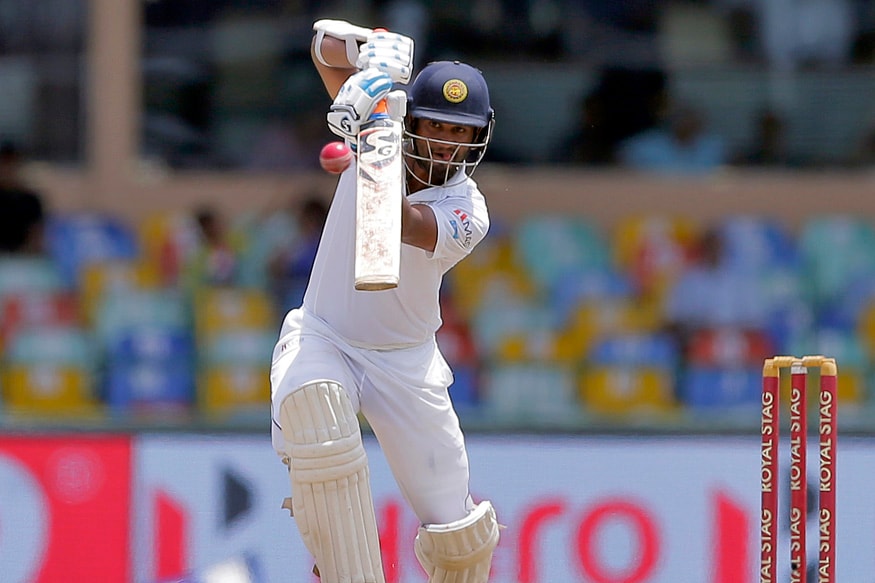 Dimuth Karunaratne, the Sri Lanka opener, suggested that the secret to doing well as a batsman in Sri Lanka was to get on top of the spinners straightaway and not let them call the shots.
The first Test between Sri Lanka and South Africa in Galle didn't last terribly long, because South Africa only batted 54.3 and 28.5 overs, scoring 126 and 73. Karunaratne, who scored 158* and 60, alone scored 19 runs more than what the visiting batsmen did.
Even among the Sri Lankans, Angelo Mathews' 35 in the second innings was the next best effort, highlighting Karunaratne's abilities with the bat on tricky surfaces.
"If you give spinners a chance to dominate you, they will step all over you. To avoid that I use my feet, and I'm trying to create scoring opportunities by doing as much as I can," said Karunaratne, the Player of the Match, after the game.
"What I'm trying to do is make them bowl in areas that are good scoring zones for me. If you move around the crease and take a little risk when scoring those runs, you can get the bowlers to bowl where you want them to."
The runs in Galle took Karunaratne's tally up to 3404 from 50 Tests. He has scored 1534 of those in 21 Tests at home, at 39.33, a superior average to his 30.35 when on the road. Five of his eight centuries have also come at home.
"On pitches like this, I am always looking for runs and trying to bat positively. Often my strike rate is in the 70s – like it was in this match [71.17 and 75]. That's the biggest thing. When you are playing spin you need to have a defence, but more than that you have to dominate the spinners before they dominate you," said Karunaratne, whose heroics in Galle helped him break into the top 10 – at No.10 – of the ICC Test Player Rankings for batsmen for the first time.
Karunaratne, 30, has been one of Sri Lanka's stars in recent times. In the last 12 months, he has averaged 46.75 in Tests, and scored three of his centuries along the way.
"I think I've matured since I first came into the team. But I'm not complete yet. The more I play, the better I will become," he said. "When I go to bat, I'm thinking of the first 15 overs, because it's in those 15 overs that an opener has it toughest.
"If you can get through that, then you should know how to carry on. Rather than doing all the hard work and passing the job on to someone else, it's better to build the innings yourself. If an opener that wants to score runs, that's really important."