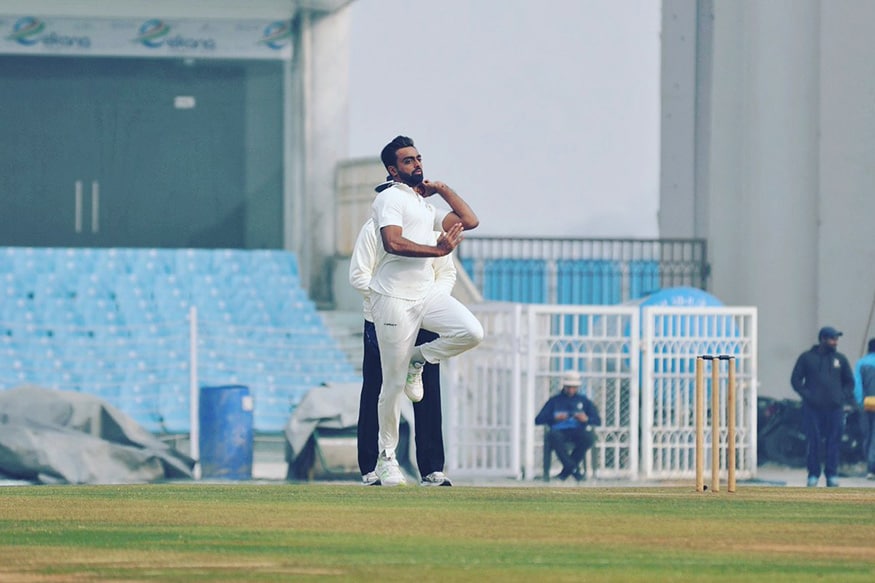 Captain Jaydev Unadkat's misfortune could have so easily worked against his Saurashtra team. Batting fourth at the M Chinnaswamy Stadium in Bangalore isn't the easiest of tasks, making the toss very crucial. Unadkat lost it and was promptly asked to bowl to a side that was boosted by the return of Mayank Agarwal.
Thus Saurashtra's situation went into the realm of cliches: crucial first hour, bowl in the right areas, stick to basics. That was perhaps Saurashtra's only chance in the game, for things could have so easily gone out of control had Karnataka's top order settled in.
That's when the bowler Unadkat stepped up to support captain Unadkat, setting up the game with a beauty of a spell that accounted for R Samarth, K Siddharth and Agarwal leaving Karnataka wobbling at 19 for 3. It's not the first time he has done that this season, for Unadkat has 32 wickets from 11 innings at a brilliant average of 17.03.
The only time in the day there was some assistance for the bowlers was in the first hour. Unadkat used that to the maximum, getting the ball to nip both ways. It showed in the manner of dismissals - Samarth and Siddharth were trapped lbw while Agarwal was caught behind nicking an away-swinger.
The in-form Indian Test opener was beaten multiple times and struggled to put bat on ball before Unadkat eventually had him for a 30-ball 2.
"For Mayank, I had a set plan to bowl in the fourth stump line. There was movement, so I just had to bowl in the areas and wait for him to commit an error," Unadkat explained after the day's play. "We were bowling straight and didn't give boundaries, so he didn't really get his shots. He pushed at a good ball and edged it, because it was swinging at that time.
"We thought the wicket was a bit damp. A bit of moisture on the wicket so we had to bowl in the right areas, on the top of off stump. That's what we talked about. We'll keep off stump line and wait for them to make the errors. That was the only plan and we're happy that we got wickets. Sometimes you bowl to the plans and you don't get wickets. The spinners also capitalised later."
Unadkat took himself off after seven straight overs (7-3-19-3) and never bowled again till lunch. Karnataka utilised that period and recovered through Manish Pandey and Shreyas Gopal's 106-run stand. The pitch began to flatten out and the bowlers struggled to get the sort of help they got initially.
Unadkat, though, returned immediately after the break and delivered the big blow of Pandey. The way he set him up was a work of beauty too; knowing Pandey's weakness to balls that nip in, Unadkat went around the wicket and slipped in an outswinger that beat him, before producing an in-swinger that went through the gate to hit the stumps.
"I love to bowl around the wicket. My angle creates a difficult angle for the batsmen to play, from around the stumps. That's something I look to do after the ball gets old," he explained.
"For Manish, after lunch, there wasn't much movement in the air. I was trying to get something out of the wicket and was bending my back. The ball before that I bowled an outswinger and had him beaten. I just had a feeling that if I could bowl an inswinger, I could get him lbw or bowled and it happened. Very happy that it worked."
Karnataka yet again recovered and then threw it away late in the day to eventually end up with 264 for 9 at stumps. Unadkat was happy with the situation and hoped his batsmen would capitalise on the efforts.
"Happy with the score. It was a good batting wicket once it settled down. The old ball wasn't doing much - we tried to get some spin out of it but nothing dangerous was happening," he said.
"Pretty happy with the score. Probably days 2 and 3 will be the best time to bat on this wicket. If we can get an early advantage by not losing wickets early, and if we can bat through the third day, nothing like it. Given the confidence we have after the last game, I'm sure we can do that. That will be our plan for sure - to bat at least four to five sessions and capitalise on the old ball once it settles down."
If Pujara and co do manage to do that, they would be thankful for the efforts of their skipper in the first hour of the game.