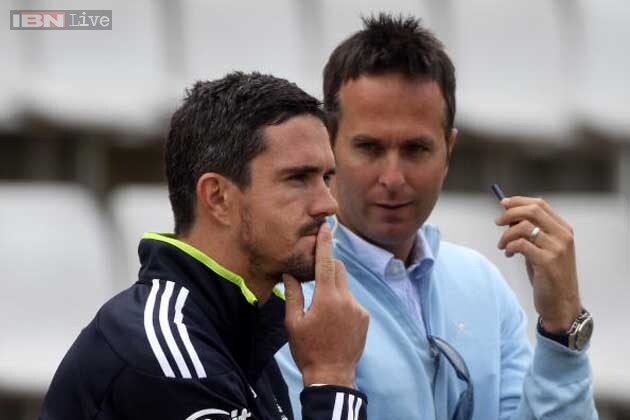 London: The England and Wales Cricket Board announced the new position of director of cricket on Wednesday as Paul Downton lost his job as their managing director of cricket, with his current post also scrapped.
Vaughan was immediately linked to the role, with new ECB chief executive Tom Harrison eager to have Downton`s successor concentrate solely on cricket performance rather than administration.
Downton's 15 months in charge came to be defined by his controversial decision to end the international career of star batsman Pietersen, England`s leading run-scorer in all international formats, following the 2013/14 Ashes whitewash loss in Australia.
Vaughan, the captain of the 2005 England Ashes-winning side in which Pietersen played a key role, has been installed as the early favourite to succeed Downton.
Pietersen, who didn't speak to reporters at county side Surrey's media day on Thursday, told BreatheSport: "He (Vaughan) is close enough to the game to make changes which need to happen for the good of English cricket.
"The way he captained shows he'll change the brand of cricket currently being played, which we need."
In his role as a media pundit, former Yorkshire batsman Vaughan has been highly critical of England`s inability to handle match-winners such as Pietersen.
Incoming ECB chairman Colin Graves offered an olive brach by saying the South Africa-born batsman could force his way back in to the England set-up through sheer weight of runs in county cricket.
That led the 34-year-old Pietersen to abandon his Indian Premier League contract and re-sign at The Oval.
Surrey and England fast bowler Chris Tremlett, who played alongside him in the victorious Ashes-winning side that toured Australia in 2010/11, said Pietersen`s prospects of an international recall had been bolstered by Downton`s exit.
"Maybe that`s the case that those changes open a door," said Tremlett. "They were the guys who were in place that I guess made those rulings that he wasn`t going to come back and play for England.
"People have heard things from Colin Graves the last few weeks that he might have a chance of coming back.
"I think Kevin knows he's got a chance if he goes out there and scores runs," Tremlett added. If Vaughan took up the England director of cricket post, he would likely have to abandon his extensive media and business interests.
However, he wrote in his Daily Telegraph column on Thursday: "For the first time since retiring six years ago I am open to a conversation with the ECB.
"I am passionate about English cricket. I love the game and I always want England to move forward and be successful.
"I have a vision for the game... The brief has to be wider and more powerful than Paul`s to have any real impact on England."
But he is not the only ex-England captain being touted for the new job with Alec Stewart, Pietersen`s director of cricket at Surrey, another possible contender.
"The first question is what does the job entail? What is the job description?" said Stewart. "It would certainly be a job, if it`s the right job, where you`d be silly not to listen to them (ECB)."
Downton's exit has increased the pressure on national selector James Whitaker and England coach Peter Moores, ahead of the team`s upcoming three-Test series in the West Indies.