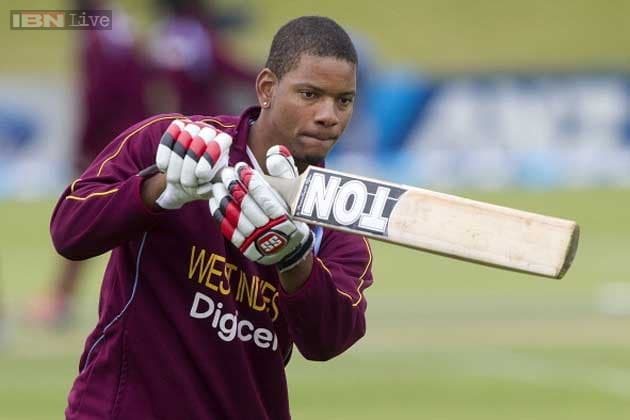 Bridgetown, Barbados: Embattled opener Kieran Powell says mixed signals from the West Indies cricket authorities left him "deflated and confused" and foiled his attempt to return to international cricket, following a self-imposed break from the game.
In a statement issued on Thursday, the 24-year-old left-hander confirmed he had taken a break from cricket "to deal with a personal issue" and had received support from then coach Ottis Gibson, team manager Richie Richardson and then chairman of selectors Clyde Butts, reports CMC.
Powell said he also spoke to West Indies Cricket Board (WICB) president Dave Cameron who also pledged the board's support.
However, three months after stepping away from the game, Powell said he revisited his situation and decided to make himself available for the tour of India, which was eventually abandoned following a players strike.
He said he subsequently had a "positive" conversation with West Indies coach Stuart Williams about his decision to return, with Williams asking him to ensure the "relevant measures" were taken to facilitate his comeback.
However, after speaking to Cameron and Director of Cricket Richard Pybus, along with the new selection panel chaired by West Indies legend Clive Lloyd, Powell said he was left confused about his immediate future with the squad.
"During my conversation with Cameron, I communicated my wishes to make myself available for international cricketing duties again," Powell said.
"This time there was an awkward hesitancy throughout the conversation - less than four weeks after our initial conversation where he had been extremely encouraging about my return to international duty.
"He stated during our conversation that I had not been practising, which was assumed on his part. He then asked me to contact Pybus, which I immediately did."
Powell said that in his subsequent conversation with Pybus, he was accused of "walking off the job" and was told that he needed to return to grassroots cricket in order to make his way back into the regional squad.
The Leeward Islands batsman, who has played 21 Tests and also captained the West Indies A team, said the conversation left him "confused and flabbergasted" as he felt he was being unfairly targeted.
"During my conversation with Pybus, he stated that he had made numerous attempts to contact me but had been unsuccessful," Powell explained.
"I responded that various people from both the board and team management had by then contacted me several times, including the President of the Board and the coaches and manager of the West Indies team. Therefore, I was baffled as to why Pybus would have been unable to contact me."
"Furthermore, he claimed that I had simply 'walked off the job' when this was utterly untrue. I had explicitly made my unavailability known to both the team managers and the then coach."
Powell continued: "Pybus insisted that I write a letter to him outlining my plans to return to cricket. He also pressed me to divulge details of my personal issue which I did not wish to discuss. He then went on to imply, in my opinion, that my future position in the squad would be compromised if I was not willing to disclose this information, which I felt was coercive, intrusive and unjust."
"He went on to suggest that I return to grassroots level cricket, in my bid to make a comeback. In my mind, I immediately compared this to other situations in the recent past, in which senior players in the West Indies team, had not been expected to follow same protocol and I wondered: why me?"