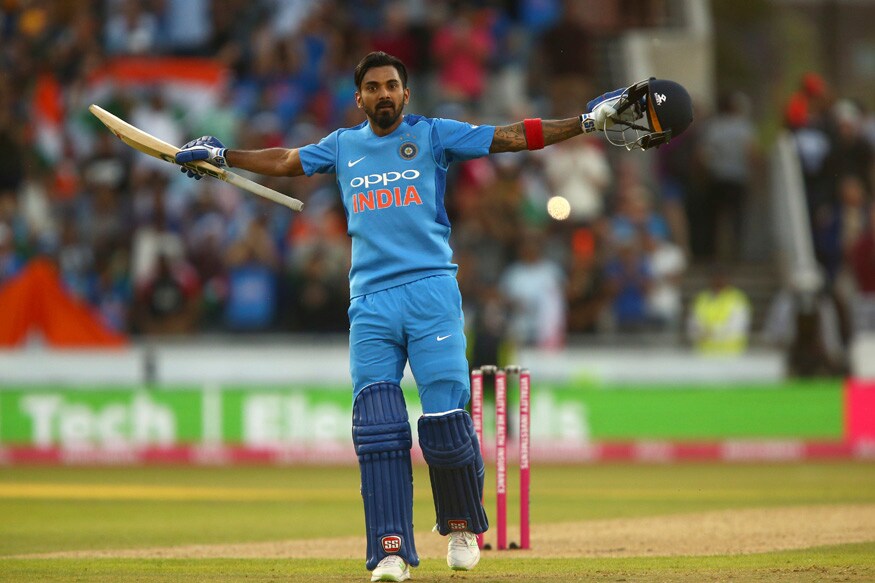 KL Rahul has only given us glimpses of his talent in ODI and Test cricket. But in the shortest format of the game he has already established himself as one of the best contemporary batsmen in the world.
Rahul has scored 782 runs in 22 innings in T20I cricket at an average of 43.44 and strike rate of 148.38. These exploits include two hundreds and four fifties.
Although he has not played too many matches, his average is the third-highest (after Babar Azam and Virat Kohli) in T20I cricket history (min. 20 matches and 500 runs).
Amongst the 31 batsmen who average above 30 (and have played at least 20 matches and scored a minimum of 500 runs), Rahul's strike rate of 148.38 is the fifth-highest in T20I cricket history after Evin Lewis (163.75), Colin Munro (161.99), Glenn Maxwell (156.57) and Aaron Finch (156.29).
Just for perspective, Rahul's strike rate is higher than the likes of Chris Gayle, Kevin Pietersen, Rohit Sharma, Alex Hales and Brendon McCullum to name a few all-time greats in the format.
It is second only to Finch if we increase the minimum batting average to 35.
Rahul is the only batsman in T20I cricket history who has an average of above 40 and a strike rate of above 140 – that is how good he has been in the format.
Rahul is amongst the nine players in T20I history who have registered two or more hundreds in the format. His century against the West Indies in Lauderhill in 2016 is the joint fourth-fastest ton (in 46 balls) in T20Is.
It is interesting to note that Rahul has only scored 25 or more on eight occasions in T20I cricket (in 22 innings). This suggests that he has a tendency to get out early in his innings but if he does not, he goes on to make it count and score big runs for his team.
Also, in seven of these eight innings (where Rahul has scored 25 or more) India have ended victorious – this highlights the contribution he has made to his team's success.
Amongst all the batsmen who have aggregated at least 500 runs since his debut (18th June, 2016), Rahul's average and strike rate product is the fourth-best in the world after Maxwell, Munro and Azam.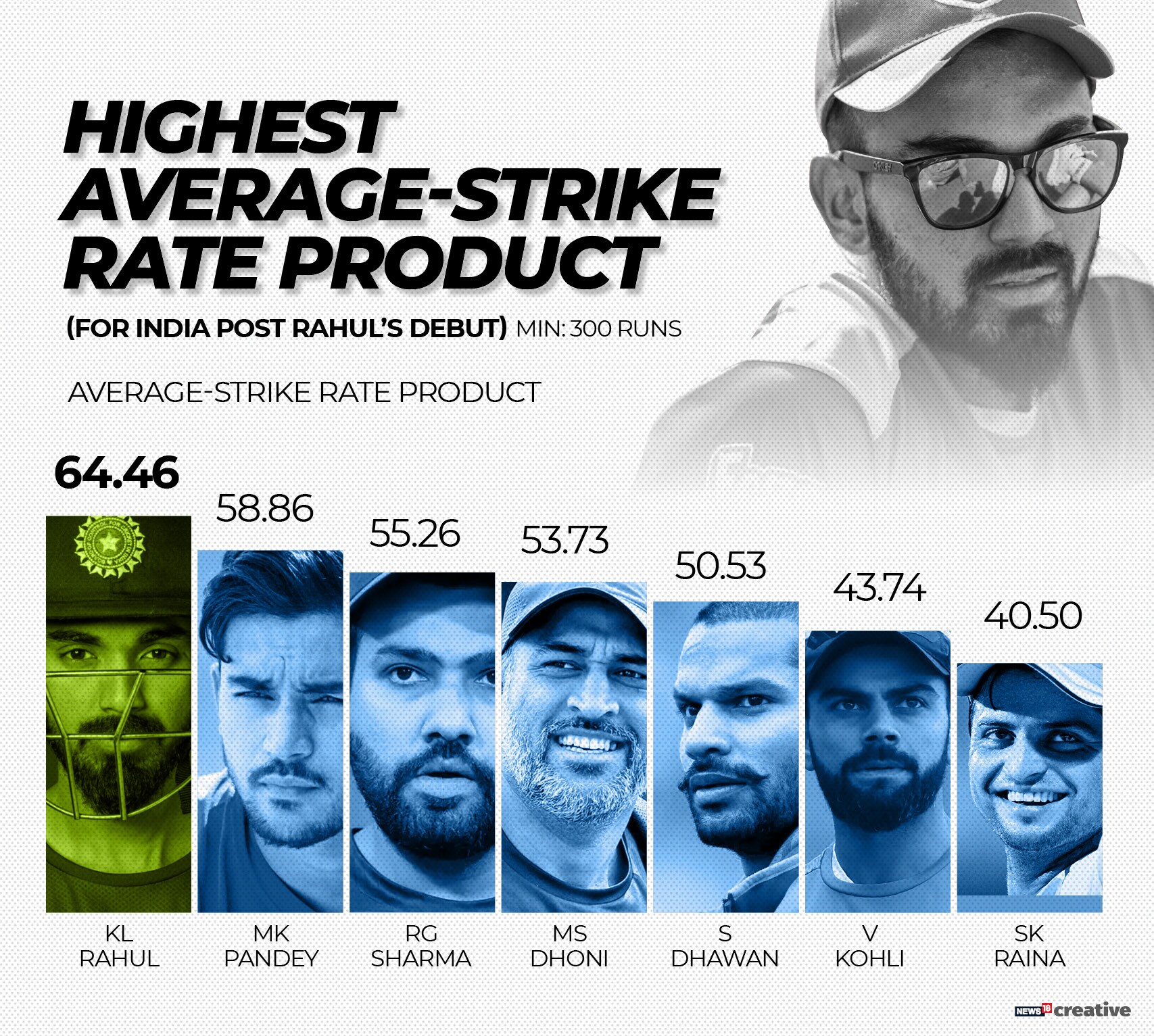 Great IPL Record
Rahul has a great record in the IPL. He has scored 1384 runs in 44 innings at an average of 38.44 and strike rate of 139.37.
His average places him at Number 9 on an all-time list (min. innings 30 and runs 500) after Kane Williamson (42.44), Gayle (41.17), David Warner (40.54), MS Dhoni (40.16), Shaun Marsh (39.95), JP Duminy (39.78), AB de Villiers (39.53) and Michael Hussey (38.76). Only three batsmen from this list – Gayle, Warner and AB have a higher strike rate than Rahul.
Rahul has been in scintillating form in the last two IPL seasons he has played – in 2016, he scored 397 runs in 12 innings at an average of 44.11 and strike rate of 146.49. In 2018 (playing for Kings XI Punjab), he was even better and aggregated 659 runs in 14 innings at a staggering average of 54.91 and strike rate of 158.41. He was the third-highest scorer of the season after Williamson and Rishabh Pant. His average was the highest and his strike rate the second-highest amongst the ten-highest scorers in the tournament.
During the course of the season, he registered the fastest 50 (off just 14 deliveries) in the history of the IPL.
Overall, in T20 cricket (domestic and international), Rahul has scored 2491 runs in 80 innings. His average of 37.74 places him at number 7 (min. 40 innings and 1000 runs).
His strike rate is the second-highest (after Gayle) in the 10 highest averages list.
Rahul has the third-best average and strike rate product after Gayle and Kohli on this list.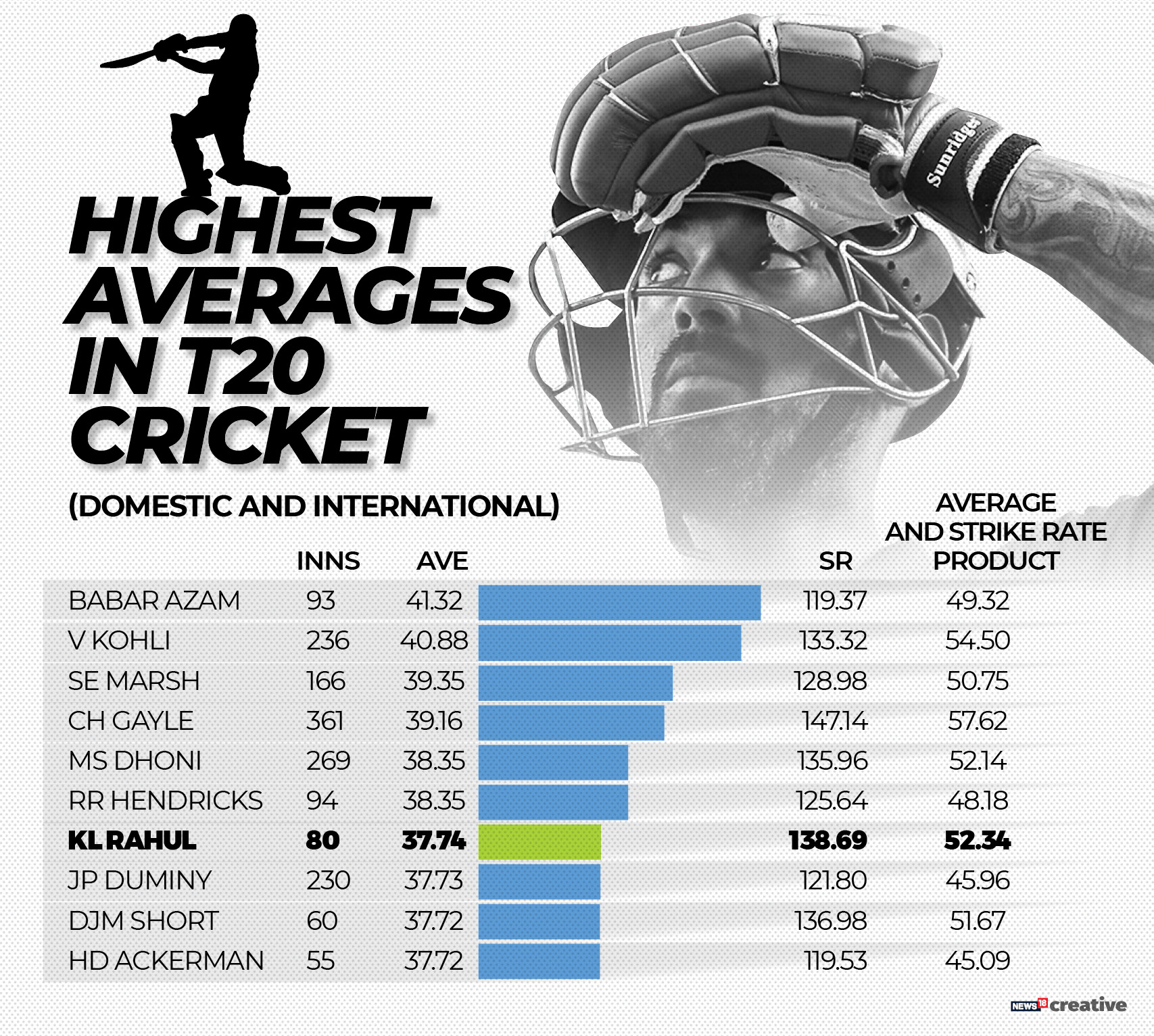 Rahul has gone through a bad run for India lately – he hasn't managed to reach 30 in his last 7 T20I innings.
With the IPL and World Cup around the corner, the series against Australia provides him with a perfect opportunity to find his form and make a strong statement.