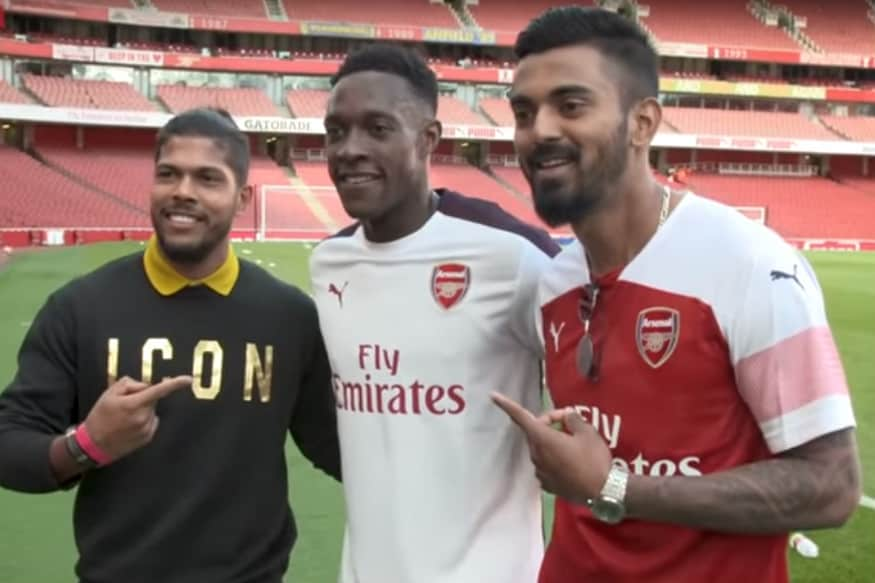 The Indian team's tour to England was not the happiest one as they were handed a 4-1 drubbing in the Test series by the hosts, but KL Rahul and Umesh Yadav ended their trip on a good note as they visited the Arsenal FC in London.
Opening batsman Rahul had a kick about at the Emirates as well. The two cricketers also watched Arsenal play West Ham United where the hosts picked up their first points of the Unnai Emery era with a 3-1 win.
Speaking to Arsenal TV, Rahul said, "I used to play a lot of football in school and wanted to be a footballer too, first. But then I got injured a couple of times and my father was against me playing such a rough sport, and injuries are so common, which is when I moved to playing cricket. Not that cricket is any easier, but still.
"I have always loved football. I grew up by the beach, so we used to play a lot of football by the beach. Even now, if you throw me a football I will not be able to hold myself back and go ahead."
Both the Indian cricketers spent some time meeting the Arsenal first team footballers and also spoke to the English forward Danny Welbeck. The former Manchester United man told them, he had played cricket only during his days of school and college. "I can't get the bowling technique right to be honest and I am not really good at cricket either," Welbeck said.
Previously, Rahul had taken to Instagram to post about his exclusive meeting with World Cup winner N'Golo Kante. The two had talked about cricket and football among other things with the French star. The Indian batsman had jokingly also said that Kante was not happy about the fact that he didn't support Chelsea.