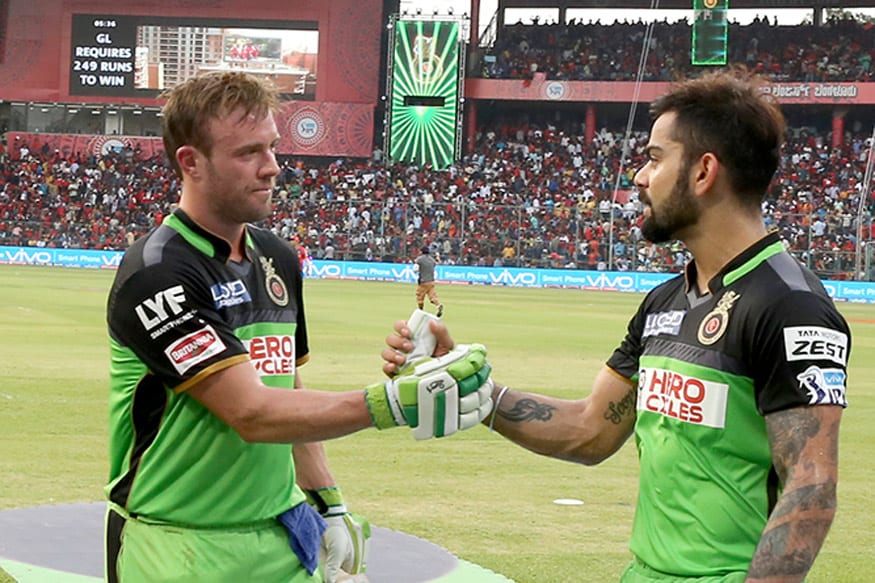 Chris Gayle termed Virat Kohli and AB de Villiers 'Batman and Superman' of cricket. After their rousing partnerships in back-to-back victories in tight matches, nobody can accuse the West Indian, usually a terror for bowlers himself, of being facetious.
Gayle didn't specify who was which among the comic book superheroes, now widely celebrated in a Hollywood flick together. I suppose it isn't important to differentiate either, for the effect each has had on the opposition has been similar: each has been in monstrous form and when they've clicked together, it's been devastating.
Between them, Kohli and De Villiers are numbers 1 and 2 in the list of run-scorers this season, plundering 1349 runs between them in 12 matches. Kohli wears the Orange Cap, De Villiers is a distant second (159 runs behind) but has the higher strike rate and the more six hits.
When the two have batted together – which has been often this season, they've caused mayhem. The law of averages has been dissipated as they've come good in every match; if anything, getting better with every inning, leaving behind a trail of wrecked bowling figures and demoralised opponents.
However, the analogy with Batman and Superman finds credence not just in the number of runs they've scored, rather how they've been made: at frenetic pace, with awe-inspiring strokes, and backed up by superb running between the wickets.
While batsmen play in tandem in cricket, batting is an individual pursuit. Only occasionally does one see a pair bat in harmony, as if one is an extension of the other, as Kohli and De Villiers have shown this season. It's been a 'jugalbandi' that has had fans mesmerized.
While the strokeplay of both has been dazzling, the combined might of their effort in my opinion has been best exemplified by the understanding that has turned ones into twos and twos into threes, leaving the fielders – and I dare say fans, although for different reasons – gasping for breath.
This aspect, taken in conjunction with their fielding (both have been in the thick of the action even when not batting and De Villiers has the most catches too), becomes crucial in understanding the success of these two players. I link it to supreme toughness – of body and mind.
This is what separates De Villiers and Kohli from the others in the IPL – perhaps in the sport today. They are not just fantastic players, but also remarkable athletes and psychologically driven to success. This is reflected in their every move on the field as well as the short recovery time they need to be ready for the next match.
Sport is unsparing of those who are not constantly evolving. Those with technical deficiencies are soon found out. Even those with good technical aptitude but lax in physical and mental toughness may remain at the same level, or slump fast. Those mentally very strong, but without the technical suzerainty and physical fitness will also find themselves constrained over a short period of time.
At the highest level, there is not much to choose between the top players. Temperament and physical fitness become key determinants in what makes a champion. This is what has made Novak Djokovic, for example, surge ahead of the competition in contemporary men's tennis; and Martina Navratilova in women's tennis a couple of generations ago.
This is where, I believe, Kohli seems to have quickly transcended other cricketers of this era. His talent was never in doubt. He is a quick learner and after rubbing shoulders with the best has worked out the technique that makes his batting productive.
In the mental aspect, it appeared initially that he was short-fused, tantrum-prone and therefore vulnerable. He has gotten over that through self-actualisation, realising that controlled aggression pays the best dividends. Cricket has become an extension of his personality.
However, it is the rise in his physical fitness over the past couple of years that has made Kohli such a formidable batsman today. The puppy fat has gone, he is now sinewy with a superbly toned body that can take on enormous amounts of workload without complaint.
Superb fitness has made him faster (as comes through in his footwork), he is more supple (playing forward, he is stretching a good 6 to 9 inches more than he would earlier, which messes up the length of bowlers), has more strength and overall that fraction of a second more instinctively decisive.
In honing his fitness, I believe Kohli has drawn from De Villiers who he has seen at close quarters as team-mate and rival for the past 5-6 years, though he has had to work much, much harder. The South African is a natural athlete who could have played one of several sports that he excelled in as a youngster.
Kohli has always stuck with cricket. But the big learning from De Villiers was that sustained excellence in any sport is the consequence of hard work and discipline off the field, not just intrinsic talent, or a couple of good seasons depending on form and some luck.
How to train and how much, what to eat and how much, when to rest and how much, are fundamental to the success of sportspersons. The way to becoming a topnotcher is not just in knowing all of this, but putting it in practice.
This is where it gets difficult. Many gifted sportspersons can get consumed by the `superstar' lifestyle and fail to actualize their true potential: some, like De Villiers and Kohli, acknowledge the work ethic they have to subscribe too, and follow it diligently because they have an unquenchable ambition and desire to excel.
These are the kind of people who become bionic sportspersons. The best of their generation.