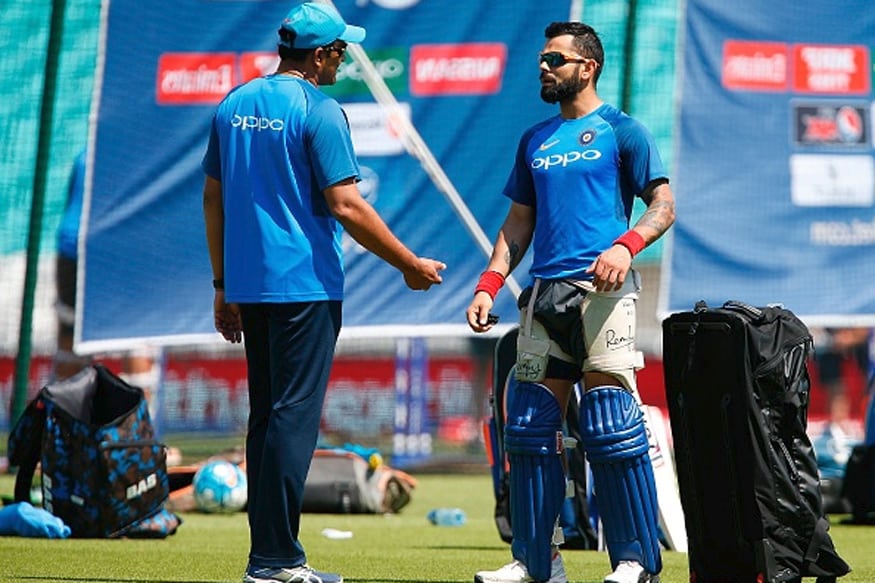 Tuesday was a dramatic but sad day in Indian cricket with Anil Kumble officially stepping down as chief coach. What a mess! And so far, we've only got half the story.
Frankly, I didn't expect Kumble to go to West Indies as coach unless his acceptance by the team - and especially captain Virat Kohli - was unconditional for he would then be a lame duck. That assurance obviously did not come through.
There was the offer I believe to Kumble from the CAC and BCCI that his tenure would be extended till the end of the tour to West Indies which gets underway this week, and after that see if a longer extension was possible.
But that was no more than a sop which somebody of the stature of Kumble would (rightly) never accept. It was buying time for things to smoothen out which effectively would push Kumble further into a corner.
In his Facebook post on Tuesday, Kumble opened up about why him continuing in the job had become untenable after Kohli had expressed (privately to BCCI officials) that he did not like his style of functioning.
Even the Cricket Advisory Committee of Tendulkar, Ganguly and Laxman failed to broker peace, which shows the extent to which the relationship had soured.
The CAC members themselves(as well as Kumble) in the past had rallied against coaches they didn't like so Kohli's reluctance to budge had them stumped. In any case, when it comes to a choice between coach and captain in cricket, the latter prevails unless he is a weak personality or vulnerable in form as a player.
Unlike in sports like football, hockey, rugby etc where the coach/manager becomes paramount, the captain's writ runs in cricket. He is the decision maker, the boss on the field, the supremo.
In his FB post, Kumble accepts the "role boundaries" of the coach and captain and says that while the BCCI "attempted to resolve the misunderstandings between me and the captain, it was apparent that the partnership was untenable..."
What I found astonishing is that the BCCI should have officially spoken to Kumble about Kohli's reservations only on Monday. If the captain had spoken to them earlier -- even informally -- it was incumbent on the Board to address it as soon as possible. After all Kumble was their own appointee.
The conflict between captain and coach was known for a while. Even if not officially disclosed, it was an open secret. Ramchandra Guha mentioned this in his resignation letter from the Committee of Administrators, and traced it back to at least three months earlier.
So, it's not that Kumble had not sensed the mood. But the BCCI owed him that much grace to discuss the issue officially much earlier rather than let it fester till the Champions Trophy was completed.
In the meantime, the Board also asked for applications to the post of head coach which clearly looked like an attempt to corner Kumble rather than work aggressively for a rapprochement between him and Kohli.
So, between the series against Australia and the Champions Trophy, the situation worsened instead of getting better. The BCCI was in the know (informed by Kohli), the COA knew (as highlighted by Ram Guha), and the CAC (Tendulkar, Ganguly, Laxman) got to know some while back.
This rigmarole shows the utter absence of leadership and crisis management ability all round. I attribute this largely to multiple power centres functioning currently in Indian cricket. Even the CAC's locus standii is violently shaken.
The BCCI's official press release after Kumble stepped down paid him compliments and also expressed "...Indian cricket needs his continued contribution in various capacities...". Does this mean they could they consider him as Director of Cricket Operations I wonder. For the immediate, would the Supreme Court make him a member of the Committee Of Administrators which stands seriously depleted!
All told, there is no easy explanation as to why things transpired as they did. The simple binary of villain and victim (and opinion on this is divided down the middle) is simplistic.
As a lover of India cricket, this is among the saddest chapters. But as a student of life, also deeply intriguing how a partnership that looked perfect, almost made in heaven, should have crumbled so soon.
Kohli and Kumble are two proud cricketers driven to chasing excellence and success. Their falling out so badly shows how fascinatingly complex human nature is.
That's my only solace.