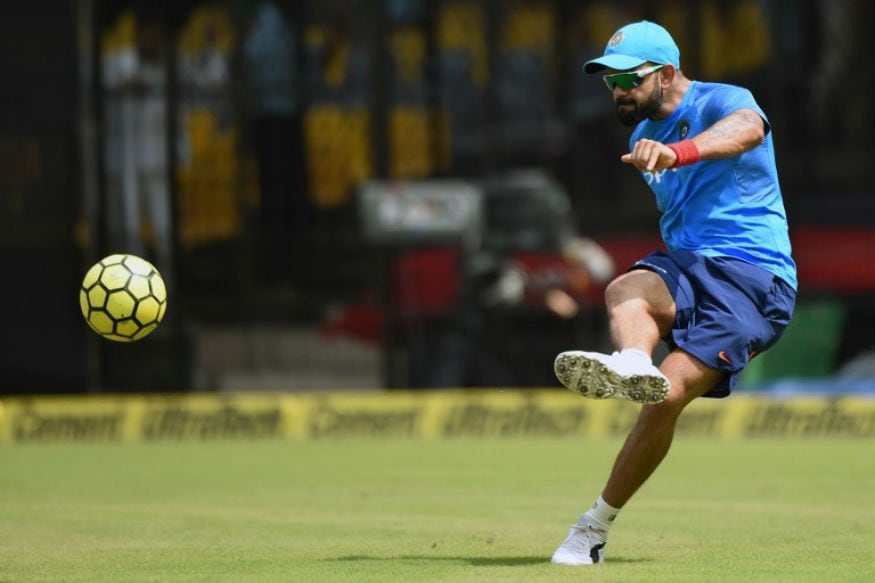 After Indian football captain Sunil Chhetri appealed to the nation to come out and support the team at the stadiums, his counterpart from cricket, Virat Kohli took to social media asking everyone to make the effort in putting in the support.
Kohli, who is recovering from an injury currently, took to Twitter and in a video message asked fans to support the Indian football team and make it a point to support all sports to help the process of building a sporting nation.
Kohli, who wrote, 'Please take notice of my good friend and Indian football skipper @chetrisunil11's post and please make an effort,' asked the people of India to go to the stadiums and support athletes.
Please take notice of my good friend and Indian football skipper @chetrisunil11's post and please make an effort. pic.twitter.com/DpvW6yDq1n

— Virat Kohli (@imVkohli) June 2, 2018
In his video message Kohli said, "In support of what my good friend and Indian captain Sunil Chhetri posted sometime back, I want to request everyone to go and watch Indian football play. Anyone who loves any kind of sport, go and cheer for the team in the stadiums because they are working hard, they are a talented team and I have seen these players evolve and learn over the last few seasons and get so much better at their game."
"This also will go down a long way in contributing towards creating a sporting culture which is the vision for all of us in the country. And we want to be called a proud sporting nation, we need to accept and support all sports equally. Because tomorrow you never know your children might be playing sports as well and they might need support from people coming and watching them play."
Virat Kohli is one of the ambassadors of the Indian Super League side FC Goa.
Earlier on Saturday evening, Sunil Chhetri who is one game short of his 100th for the Indian team took to social media and asked fans to come to the stadiums, even if they want to criticise as this is an important time for Indian football.
This is nothing but a small plea from me to you. Take out a little time and give me a listen. pic.twitter.com/fcOA3qPH8i

— Sunil Chhetri (@chetrisunil11) June 2, 2018
Chhetri in his message to critics of Indian football said, please abuse but make the 'Blue Tigers' feel relevant.
"I mean it's not fun to criticise and abuse on internet. Come to the stadium, do it on our face, scream at us, shout at us, abuse us, who knows one day we might change you guys, you might start cheering for us. You guys have no idea how important you guys are and how important your support is," the skipper appealed.
India will face Kenya on June 4, which will incidentally be Chhetri's 100th international match.