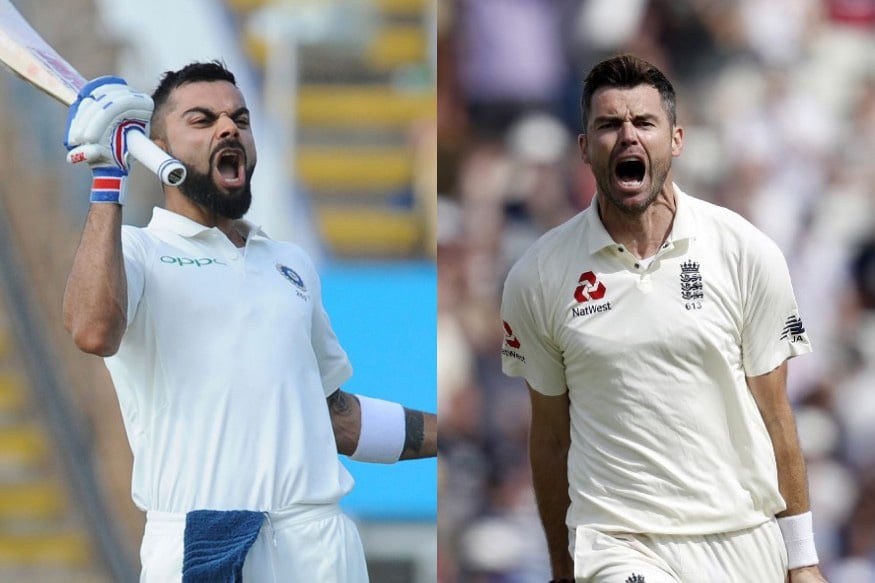 Perched on the podium, they covered their mouths with hands that clasped floral tributes and, from behind these improvised screens, they shared a private joke and exploded into giggles.

Carolina Marin, aged 25, had just won an unprecedented third gold at the World Badminton Championships in Nanjing. PV Sindhu had claimed her second silver, to go with two bronzes in five tries for the biggest prize in world badminton — and she is just 23.

Less than five minutes after the latest instalment in the compelling reality show that is their personal rivalry, you couldn't tell the winner from the loser as the two stood there, shaking with the exuberance of shared mischief. Nozomi Okuhara, who had defeated Sindhu in a legendary final a year ago and who Sindhu had beaten into third place here, looked at her two rivals with a vicarious grin splitting her face. Between them, with aid and abetment from world number one Tai Tzu Ying and number two Akane Yamaguchi, they are scripting an epic battle for sovereignty that has seduced spectators and relegated the men's game to a sideshow.

Sport, said the sportswriter par excellence Gary Smith, comes to us in boxes — "the perimeters of our TV screens or the boundary lines of fields and courts." And the bloodless numerals of scoreboards and statistical tables, he could have added.

The scoresheet says Sindhu flattened Okuhara in straight games at Nanjing to level their rivalry at six wins each. It does not tell the story of how, a year ago, Okuhara deployed an omnipresent defense to run Sindhu ragged in that storied final, and how here in Nanjing Sindhu responded with an ultra-aggressive game that provided no scope for her rival to lure her into endless energy-sapping rallies.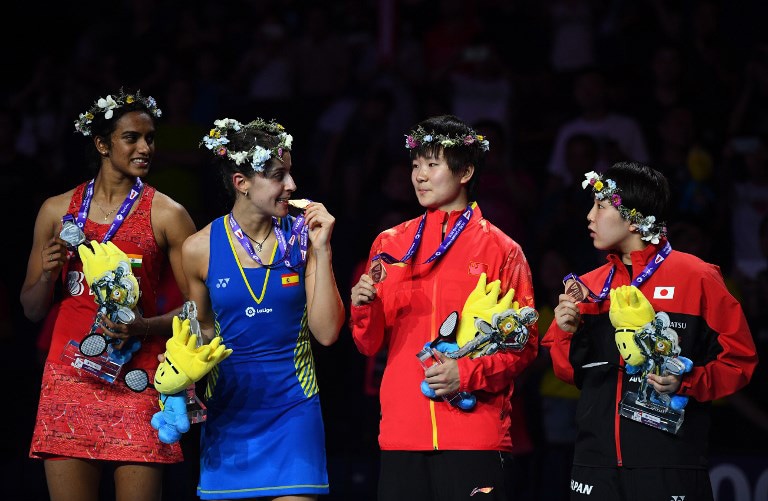 (L-R) P.V. Sindhu, Carolina Marin, He Bingjiao, Akane Yamaguchi (IMAGE: AFP)

Statisticians record that Marin and Sindhu have faced off 13 times, with the former leading by seven wins to six including the two most prestigious encounters, in the Rio Olympics final of 2016 and the WBF final here at Nanjing. On the perimeter of that box lurks a vivid narrative, of how a little over a month earlier at the Malaysia Open, Sindhu had blended speed with strength to reduce Marin to leg-weary impotence, and how a month later at Nanjing, Marin found the answer by getting her aggression in first, laced with well-timed gamesmanship, to deny her rival space on court, and in the mind.

That is why the sight of Sindhu and Marin shaking with mirth was special. We reduce sport to death battles, we chose gladiators to be our proxies and we bleed in the aftermath, for our concern is with the quotidian calculus of wins and losses. They, however, can shrug off the immediate outcome and share a laugh, for they are engaged in scripting a joint epic in which every encounter is a coda in the call-and-response that animates the best sporting rivalries.

The days leading up to this column have been fecund with stories of sportspersons rising to that call. Novak Djokovic — it had to be Nole — shrugged off a career-threatening injury to end the hegemony of Roger Federer and Rafael Nadal, winners of the last six Slams, and to remind the two contending GOATs that there were still questions to be answered. Serena Williams shook off the strains of new motherhood and a basement ranking to claim the runner-up's silver plate at Wimbledon.

Smriti Mandhana, who looked to have plateaued, found she had more gears in her box. She scored a record-equalling half century in 18 balls followed by a 60-ball century, then a 36-ball 56, to put the 'storm' in Western Storm's domination of the Women's Super League in England. For perspective, Stephanie Taylor topped the scoring in the 2016 edition with 289 runs, and Rachel Priest in 2017 with 261.

Mandhana has already outscored her two stellar teammates with an aggregate of 338, and there is more to come. Tiger Woods took us back, thrillingly albeit briefly, to a time when, to paraphrase a wit, a dozen white men chasing a Black man across a field meant the PGA Tour and not a Ku Klux Klan rampage. And speaking of call and response, Jimmy Anderson and Virat Kohli put on a show for the ages.

You could bottle a supercut of the opening passages of their renewed rivalry under the label 'Essence of Sport'. A 36-year-old champion bowler, sighting his personal red rag as he neared the end of an exhausting seven-over opening spell, found the will to start all over again. A driven, egotistical batsman walked out with the memory of previous humiliations weighing him down, determined to show that history is so yesterday.

The rivalry produced a passage of play, interrupted by lunch, that spanned 43 balls of which 41 were not scored of and only six runs accrued, including four off an unintended edge. On unnumbered occasions, Kohli read the bowler's intent and refused to bite; on an equal number of occasions Anderson beat the bat; on four discrete occasions he found the edge he had sought with an almost religious intensity.


(Image: Reuters)

There was one Homeric passage between the two antagonists, each determined to be the last man standing. It began in the 25th over, which produced a hard edge for four and a soft edge for an almost-chance to second slip. It continued through the 27th, 29th, and 31st over, all maidens. The edge eluded Anderson; Kohli failed to find the single that could help him escape. The passage ended with the last ball of the 31st, which produced yet another edge, this one dropped at second slip. When it began, Kohli was batting 17 off 31 balls. When the 24-ball sequence ended, he was 21 off 55.

Cricket is played alternately from either end of the pitch, and features 13 players at any point in time. At the other end, Ben Stokes found a rich vein of form, turned Ajinkya Rahane's game inside out and found his edge. He opened Dinesh Karthik up and sliced through his defense. But these incidents, crucial in terms of the overall outcome, irritated the imagination in the way an ill-timed item number does in a suspense thriller. For the space of that magical half hour, attention focussed on one end, on two players — one, a predatory bowler who hungered for another kill and the other his natural prey, who ducked and weaved and dodged and would not be consumed.

"I've always had the feeling," wrote Gary Smith, "that the most compelling and significant story was the one occurring beyond the game — before it, after it, above it or under it, deep in the furnace of the psyche."

Kohli semaphored Smith's meaning when, on reaching his century, he took off his helmet, turned to the dressing room and pointed at his temple. It was on his mind, the memory of his previous fallibility. The answer, too, came from the mind, from an inner strength that gave him permission to be fallible, to struggle, to subsume a desire for dominance to the need for survival. To watch a sportsman battle his weakness is a beautiful thing, and Kohli's innings at Edgbaston was a thing of terrible beauty.

Kohli the batsman did not come with the supreme technical skills of a Gavaskar, a Tendulkar or a Dravid nor the effortless artistry of a Laxman, an Azharuddin, or a Ganguly. But nature compensates for what it denies; Kohli is blessed with an overabundance of pride, an ego that does not permit him to be second best at anything he sets out to do. To be the best, for he accepts nothing less, he has had to invent his game piecemeal over time, imbibing the grammar of batsmanship and subverting its tropes to his particular needs. Defiance is his signature, as is a refusal to accept either his own limits or the superiority of another.

In her seminal book On Boxing, Joyce Carol Oates said of a young Cassius Clay that "he seemed determined that he would not be a passive participant in his image-making, like most athletes, but would himself define the terms of his public reputation." The words apply to Kohli, whose bloody-mindedness refuses to allow others — the pundits, the fans, the opposition — to determine his limits.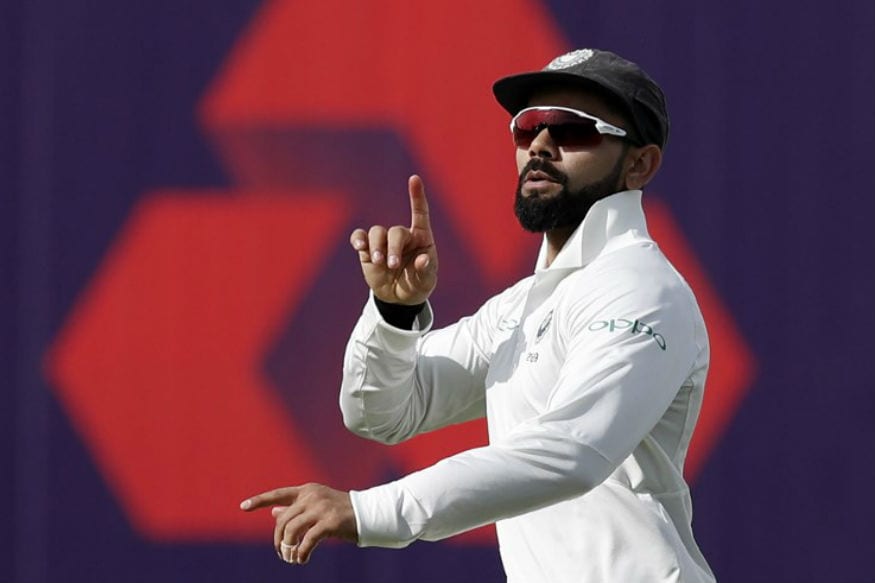 Virat Kohli (AFP)

On the field Kohli is pure camp, with his graceless mic-drop mockery of Joe Root and his potty-mouthed celebrations of even a tail-end wicket. But equally, Kohli on a cricket field is sui generis — a man who believes that even in a team game involving 22 players, he can by sheer strength of personality and force of will bend events to his desires.

Witness his run out of Joe Root — when his bowlers couldn't do what he needed them to, he did it himself. Witness, too, the way he played once the last of the recognised batsmen had fallen at the other end: with just Ishant Sharma, Shami and Umesh Yadav for company, he shrugged aside his earlier struggles and faced 116 of the 153 deliveries that were bowled, scoring 92 runs while the other three scored a grand total of eight. He did that, as he has done similar deeds numberless times, because he is Kohli -- he writes his own scripts, sculpts his own myth, defines his own reputation.

Sport asks existential questions of its high priests. Of one who had turned 36 just three days earlier, it asked if he was man enough to dig deep, to find in aching limbs and a tired mind the wherewithal for one titanic effort. And of another it asked, are you good enough to shrug off the crushing weight of remembered failures? Both put their hands up, and produced a saga that made the rest of the game a footnote.

That is why an Edgbaston crowd that had booed Kohli to the crease stood for him when he vacated it -- because sport at the highest level compels you to confront your prejudices, to acknowledge achievement no matter what you think of the achiever. And that is why Anderson, alone of the English eleven, did not join in the applause led by Joe Root as Kohli walked off at the end of his epic. The veteran's mind was already focussed on the next chance, the next encounter, the next hunt.

First Published: August 9, 2018, 9:54 AM IST