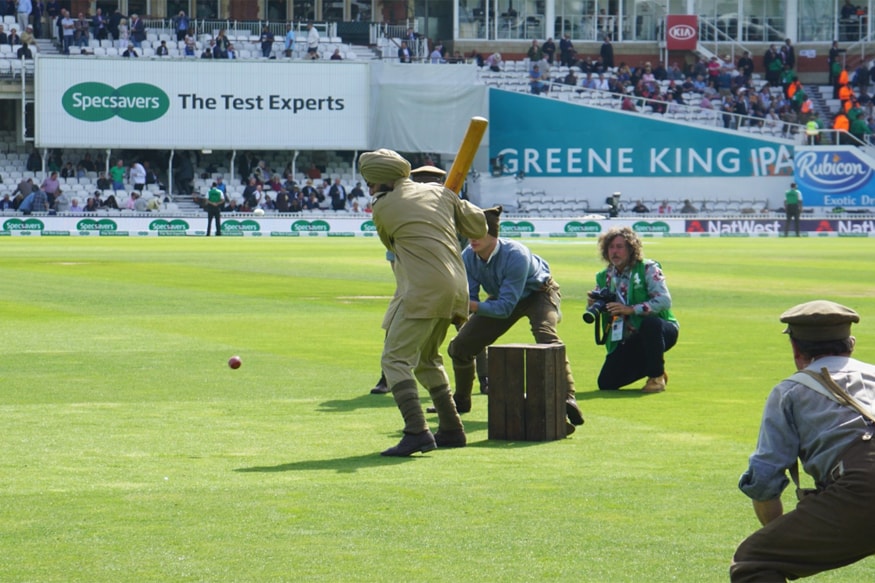 To commemorate India's contribution in World War 1, the Royal British Legion along with Surrey Cricket Club played a game of cricket during lunch on day 5 of the fifth Test between India and England.
The match was a reenactment of a cricket match played on the Western Front between the Royal Manchester Regiment and the Sikh Regiment of the Indian Army. Earlier, both the captains - Virat Kohli and Joe Root - were the first people to wear the special khadi poppy at the start of the Test match.
Today at @surreycricket England & India's Cricket teams are saying Thank You for the British & Indian contributions to #WW1. England captain @root66 & India Captain @imVkohli are pictured here wearing the Khadi Poppy, a fabric made famous by Mahatma Gandhi. #ENGvIND #ThankYou100 pic.twitter.com/NWvMMTbgat

— Royal British Legion (@PoppyLegion) September 9, 2018
Chief Executive of Surrey County Cricket Club, Richard Gould, said: "Surrey are proud to be partnering with The Royal British Legion to help commemorate the 100th anniversary of the end of the First World War.
"Our country owes more to the sacrifices of this generation than it is possible to express and this anniversary seems a particularly appropriate time to say 'Thank You'. Through 'The 48' and the events being held during the Test Match, the club is honoured to be doing its bit to help a very important national campaign."
At the outbreak of #WW1, The Empire covered ~¼ of the 🌍 & 👨‍👩‍👧‍👦. From the Raj there was a massive outburst of support. 🇬🇧🇮🇳🇵🇰🇧🇩🇱🇰🇲🇲

Join us in saying #ThankYou100 to the @Commonwealth_Sec & recognising those from #SouthAsia. 🙏

▶️ https://t.co/XGKvHkThvZ pic.twitter.com/1xrQ0tG3ke

— Royal British Legion (@PoppyLegion) September 7, 2018
Director General of The Royal British Legion, Charles Byrne, said: "The First World War left so many legacies that positively impact our lives today, from ground-breaking social change to pioneering innovations.
"This Centenary of the ending of the First World War is a chance for us all to thank the British Armed Forces who fought and gave their lives, but also to the thousands who fought alongside them from India and across today's Commonwealth, and the many men, women and children who played their part on the home front.
"I am very grateful to Surrey County Cricket Club for commemorating the Legion's 'Thank You' movement during such an important game of cricket between England and India."