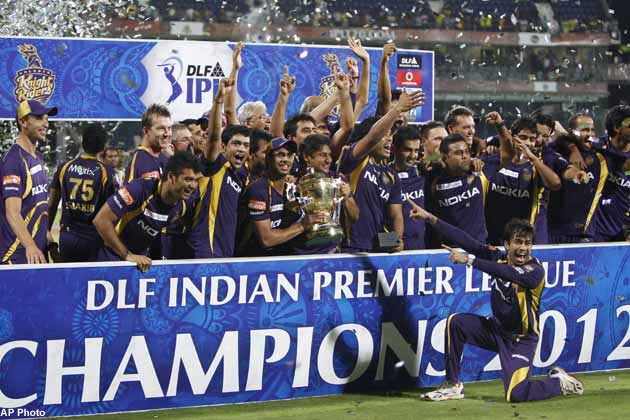 We have a new IPL titlist. Inspired by Manvinder Bisla and Jacques Kallis' divergent half-centuries in a cracker of a final at the MA Chidambaram Stadium, Kolkata Knight Riders roared to their maiden IPL trophy with a memorably tense chase of 190 against the defending champions Chennai Super Kings.
There were three charismatic innings of contrasting styles on show at Chennai's home ground and, ultimately, it was Bisla's fluency and Kallis' unflappability that helped KKR overcome the challenge set by Suresh Raina's display of bottom-handed slog-sweeping. Following the loss of Gautam Gambhir in the opening over, Bisla kick-started Kolkata's run-chase by hitting Albie Morkel for four boundaries and kept the pace going through to his highest IPL score of 87. Kallis was restrained during his half-century, brought up off 39 balls, and his 136-run stand with Bisla helped end Chennai's superb run in the 2012 playoffs in dramatic fashion and denied them a hat-trick of trophies. Chennai didn't give up and took the match into the final over, but Manoj Tiwary finished the deal with two leg-side hits with two balls remaining.
Kolkata's chase of 191 started poorly, with Gambhir bowled in the opening over by Ben Hilfenhaus. Bisla took four boundaries off the fourth over bowled by Morkel, each slapped fiercely through the offside, and Kolkata had 36 on the board. R Ashwin was then driven for consecutive sixes, down the ground and over mid-on, and the chase was on. With the 50 up in the sixth over, Bisla accelerated further in the next by driving Dwayne Bravo for six over mid-off. MS Dhoni tried the left-arm spin of Shadab Jakati after the time-out, but Kallis greeted him with an edged four. Bisla reached his half-century in 27 balls in the same over, and in Bravo's second he collected his fourth six.
By the halfway mark, KKR were 100 for 1, meaning they needed 91 from 60 balls, and Bisla's intensity and strike-rate did not relent. In Jakati's second over, he hit two more fours, then collected a sixth six by slamming Ashwin over extra cover.
Kallis' contribution was vital too, for his 69 off 49 balls eased the pressure on Bisla. Kallis relied mainly on dabs into the offside, but opened up once Bisla slapped a simple catch to point. Jakati was pummeled over the in-field for consecutive boundaries as Kallis reached fifty off 39 balls and then perfectly bisected two men in the deep for a boundary after Laxmi Ratan Shukla ate up six balls for three runs. Kallis was given a moment of luck, too, when Michael Hussey held a leaping catch on the boundary but fell across to concede six.
The tension was ratcheted as Yusuf Pathan got a leading edge off Ashwin, at which point KKR needed 27 off 17. Kallis then cramped up to add to the excruciating mood, which also meant that singles and doubles were tough to handle. With 20 to defend off 12 balls, Hilfenhaus sent down two full tosses in a row – the first Kallis slapped straight to sweeper cover to be out for 69, but the next was deemed to be above Shakib Al Hasan's waist. The result? Three runs and an extra ball, which Shakib excellently scooped to fine leg for four. The error proved costly for CSK.
Needing nine from six balls, Shakib and Tiwary exchanged singles before Tiwary swung Bravo over short fine leg for four. Tiwary finished it with another pull through the same region, and then pumped his firsts in celebration as the adrenaline flowed and his team-mates raced from the dug-out in joy.
Such a chase had been difficult to envision after Chennai surged to 190. Having been given first use of the batting deck, Hussey and Murali Vijay launched an 87-run stand in 10.2 overs. That start provided the impetus for Raina to come out blazing, and he collected his first fifty of the season to push the defending champions to a strong total.
After two tidy overs that cost 12, Chennai took 48 off the next four. Brett Lee was taken for two boundaries in the third over, Shakib was hit for six first ball, and Lee's third over went for 19 as each opener struck a fluent six. There were plenty of shots that flew wide of fielders, but such was Chennai's attitude that they weren't going to hold back. Following Vijay's dismissal, Hussey was a bystander as Raina tore into the bowling. The left-hander employed the slog-sweep against spin and pace, staying in the crease and muscling five sixes. After heaving Kallis for a six off his fourth ball, Raina tucked into Yusuf for two fours and another six. Lee and Sunil Narine were thumped for big sixes, the massive 105-metre shot off Narine giving Raina his half-century off just 27 balls.
Hussey was eventually bowled for 54 attempting a heave against Kallis in the 17th over; his contribution to a 73-run stand had been just 13. Narine was swung for another six by Raina, after which Shakib bowled an eight-run final over that ended with Raina slogging to Lee in the deep for a 38-ball 73. Unfortunately for Chennai, Bisla and Kallis played better innings.