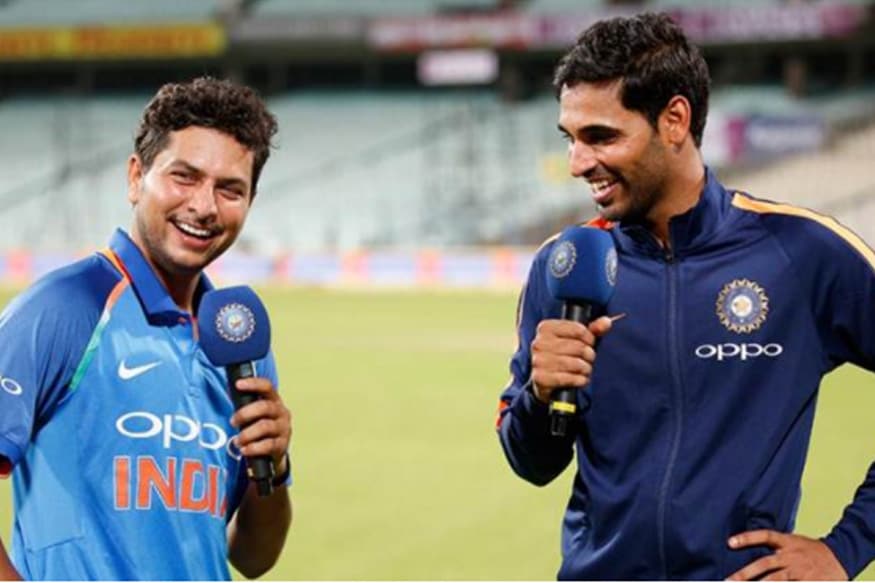 Bhuvneshwar Kumar and Kuldeep Yadav were the stars with the ball for India as it crushed Australia to take a 2-0 lead in the series.
Bhuvneshwar rocked the top order, while Kuldeep Yadav took a stunning hat-trick - only third Indian to do so in ODIs - as India won yet another one-sided contest.
"It feels really special now, as that start was not good. With the kind of start I had, I never thought I would end up taking a hat-trick. I did not bowl well from one end and it was getting difficult to grip the ball as it was getting wet. When my end was changed, I wanted to pick one wicket to put the pressure back on Australia. A partnership was built and it was crucial for us to get a breakthrough at that moment. I wanted to try out my variations, but was looking to land the ball in the right areas." Kuldeep told Bhuvneshwar as the two spoke for the BCCI channel.
Revealing the thinking behind the hat-trick ball, where he dismissed Pat Cummins, Kuldeep said, "I didn't think I would get a wicket if the ball spun in. The only way in that scenario would have been a bat-pad opportunity. There was a slip in place so I chose the wrong'un."
Bhuvneshwar, who is Kuldeep's team-mate in the domestic circuit said he didn't put any extra pressure on himself and was only looking to bowl dot balls, "I try not to put extra pressure on me and not get too desperate for a wicket. I wanted to swing the ball and bowl as many dots as possible."
The pacer also added that it was always challenging bowling to David Warner as they both know each other's strength and weaknesses well, "I know what his strengths and weaknesses are as I bowl a lot to him in the nets. He also knows my weaker areas. He knows what length I am going to bowl, but a lot depends on how well you execute your plans. During Test matches, catches had gone down and today his catch was taken and that is a part and parcel of the game. You need a bit of luck going your way."
Bhuvi also managed to clean up Hardik Pandya with a ferocious straight drive, talking about it, he said "I checked my bat just to reconfirm that it was indeed me who struck the ball with so much power. When he got hit, we were all worried. It looked like a serious blow, but thankfully he was alright. Once he was back on his feet, we began planning about building a partnership."