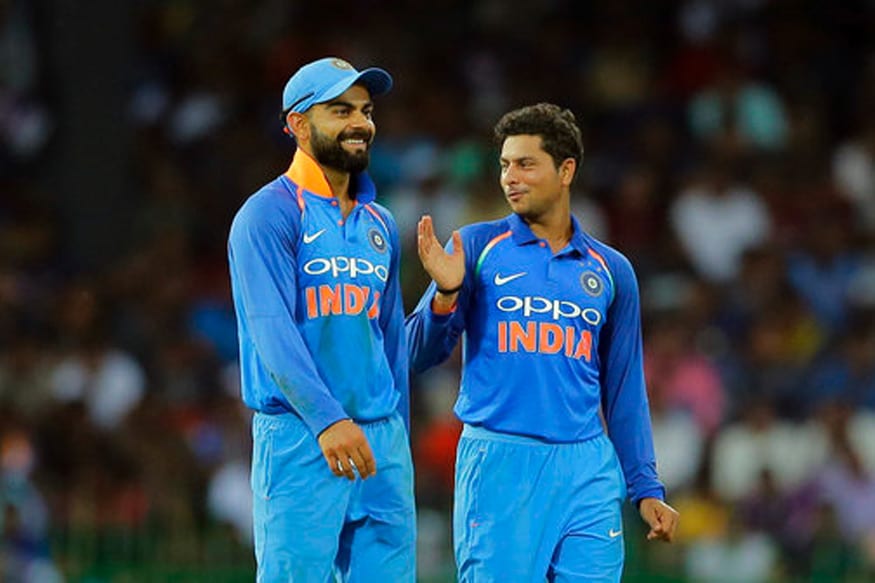 New Delhi: India's Kuldeep Yadav has spun a web across the Australian batsmen in the current limited-overs series between the two teams. After picking a hat-trick in the second ODI of the five-match series at the Eden Gardens, Kuldeep once again derailed the Aussie innings by picking two wickets from his four overs, giving away just 16 runs. And the chinaman bowler has revealed how playing the aggressive brand of cricket has helped him shine on the international stage.
Speaking after the game, Man of the Match Kuldeep said: "I'm very happy. This is my first Man of the Match. First couple of balls I saw what he (Finch) was trying to do and set him up with an overpitched ball. I always think about wickets and that's what really matters to me and the team. I'm getting more confident day by day and game by game. Performing well against a top side like Australia, I'm very happy for myself."
The plan to go for wickets comes from the top as both skipper Virat Kohli and chief coach Ravi Shastri believe in going for the kill. The two have often spoken about how even in Test matches, playing to draw a game is not their aim. They go out to win games.
After the win in the Test series against Sri Lanka in the Island Nation, Kohli had spelled this out clearly when he said: "Well, it's obviously nice to win this series again. We won this last time also, in 2015. Yes, we do have that chance, but honestly speaking, we are not looking at Test matches or Test cricket now as home and away anymore. We are just looking at Test matches as Test matches and we want to win anywhere that we play.
"If we can believe enough in our abilities then we are not really bothered about where we are playing. That kind of energy I can sense in the team, and the team believes that as well. We are creating a habit of winning that I think can be carried on in future as well. In the dressing room we feel really proud of each other's efforts, that we're really putting in those consistent, convincing performances, and winning Test matches more often than getting the other results. We really feel good as a team that we're able to win consistently right now, but we realise that it's very important to keep carrying on the same way as well."
The Indian bowlers once again came to the fore as Australia's batting woes continued on Saturday as they once again failed to read Kuldeep's left-arm wrist spin. Meanwhile, Jasprit Bumrah (2/17) and Yuzvendra Chahal (1/23) also played their part to perfection at the JSCA Cricket Stadium in Ranchi.
With this victory, the 'Men in Blue' have now taken a 1-0 lead in the three-match T20I series and the second match will be played in Guwahati on Tuesday.
The hosts were given a target of 48 runs to chase in 6 overs after rain played spoilsport right at the end of the Aussie innings. Kohli finished the game off in style in Dhoni's homeland, as he hit a boundary to get India over the line. Kohli and Dhawan put on an unbeaten 38-run partnership for the hosts and India won the match with no further jitters after Rohit Sharma's wicket.