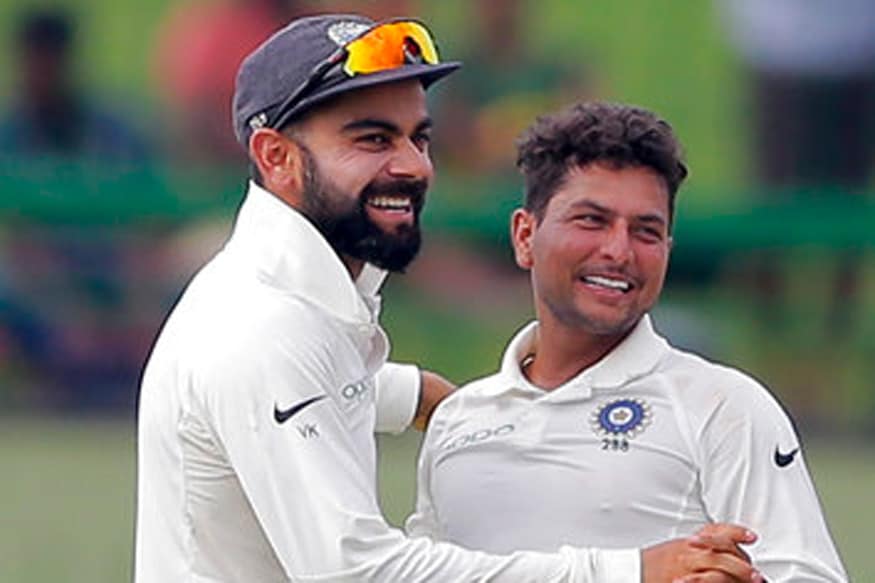 Pallekele: The core group of Indian team management wants to have a proper plan in place for young chinaman Kuldeep Yadav, who is expected to play a big role for the national team across formats in the long run.
With Ravichandran Ashwin and Ravindra Jadeja plying their trade in English county circuit, young Kuldeep will lead the spin attack against Sri Lanka.
However skipper Virat Kohli, chief coach Ravi Shastri and chairman of selectors MSK Prasad want to handle the UP youngster with a lot of care.
Kuldeep is certainly in mix for the 2019 World Cup in England.
"We have a keen eye on both short and long term objectives. We cannot ignore the forthcoming home cycle wherein India will play Australia and New Zealand in limited-
overs' cricket and we also have to build for England in 2019," Prasad told mediapersons.
"We wanted to start this process with the limited-overs' tour to West Indies' itself, but we couldn't do it because of the short change-around time after the Champions Trophy. We had to send the same team to the Caribbean as we did to England," Prasad added.
While limited overs cricket can't be ignored, India's gruelling away season will kickstart with a tour to South Africa in early 2018.
"We also have to consider Test cricket and India have three tough challenges in South Africa, England and Australia in 2018. We have to prepare for all formats simultaneously, and in hindsight, this county stint for our senior bowlers opens a great window of opportunity for us," Prasad added.
While he is still the third choice spinner in Test squad, Kuldeep seems to have made it his own after some good performances.
"A chinaman bowler is slightly different from what people usually face so they can make an impact longer than other bowlers. But you still have to keep working on your game, keep finding ways to make batsmen think twice and take those wickets, giving the team breakthroughs.
Kohli has a word of caution for Kuldeep -- work hard in order to maintain consistency in form and top level fitness.
"Kuldeep will have to keep working hard on his game. He is a great talent, we know that, but to keep that fitness and form going, he has to keep working hard. He has the desire to do so. We have faith in him, and he has delivered every time he has played. So it is a great sign for him," said the skipper.