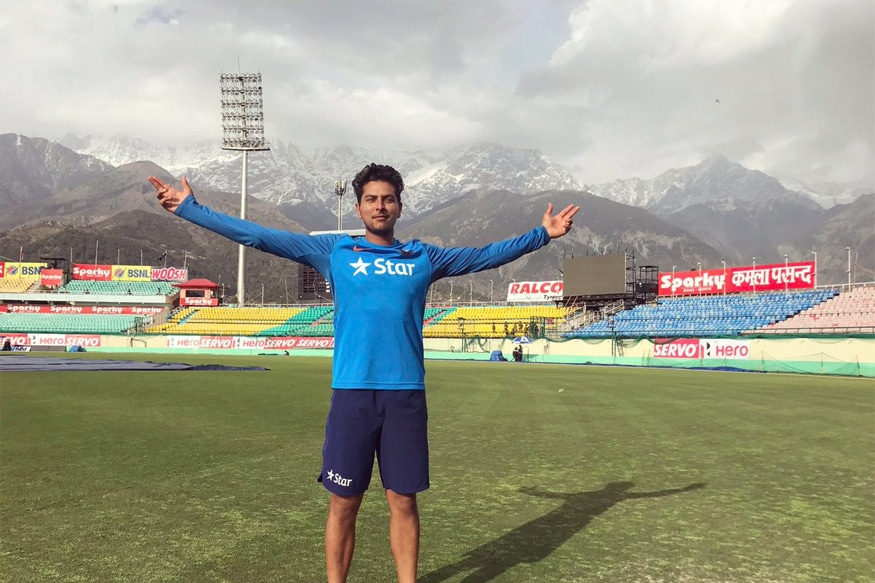 New Delhi: Kuldeep Yadav became the third Indian to take a ODI hat-trick after he scalped the wickets of Matthew Wade, Ashton Agar and Pat Cummins off three balls during the second ODI between India and Australia at Eden Gardens in Kolkata on Thursday.
While pundits have been talking about how he could play a vital role for India as teams prepare for the 2019 World Cup, it has not been an easy ride for the 22-year-old.
From having to warm the bench for Mumbai Indians in his initial days in the Indian Premier League — he did not get a chance to play for the Mumbai franchise before Kolkata Knight Riders picked him up — to having to wait for his opportunity to break into the Indian team, it has been a bumpy ride for the chinaman bowler.
Speaking to CricketNext during this year's IPL, the youngster revealed that he shall forever remain grateful to Kolkata Knight Riders skipper Gautam Gambhir for backing him when he was a raw product waiting to be nurtured.
"I shall always be grateful to Gauti bhai (Gambhir) for backing me when I was a nobody. He backed me when no one knew me. It has been a great ride under him and with my KKR teammates. I always wanted to play for India across all formats, but to channelize that desire I needed the guidance of someone like him," Kuldeep had revealed.
In fact, former KKR assistant coach Vijay Dahiya has an interesting story to tell when it comes to the skipper backing the young chinaman bowler. This after Mumbai Indians had not realised his potential. "Gambhir was very bullish and felt that Kuldeep was a rare talent. In fact, if you go by the records over the past few seasons, there were times when Kuldeep made the cut ahead of some of the more recognised names in the KKR playing XI. The reason was that Gambhir felt that Kuldeep was a match-winner. The moment we saw him, we realised that he is a special talent.
"I am nobody to speak on their behalf (Mumbai Indians). All I know is that the moment we saw him we knew he was a raw talent who needed to be nurtured and that is what we did over the years. Gambhir played an integral role in giving Kuldeep that confidence. It is not often that you come across such talent, but it is just as important to spot them and have confidence in their ability."
But it is not just Gambhir who has backed the spinner. Even Virat Kohli played an integral role when the spinner played for India in the fourth Test of the series against Australia in Dharamsala. It was incidentally the first time in 85 years that a chinaman bowler was playing for India. And he did the country proud as he picked the wicket of David Warner with his 25th ball in Test cricket.
Interestingly, even though skipper Kohli wasn't playing the match due to injury, he was seen constantly talking to Kuldeep at the boundary. And the spinner says it was all about calming the nerves. "He kept speaking to me and calming me down. I was desperate to play for the country and often you lose the plot and get overawed by the situation. After all, it was a dream I was realizing. But Virat bhai kept asking me to enjoy the moment and not think too much about the situation. He kept asking me to focus on my strengths and bowl in the right areas. It was a good feeling to have him egg you on from the sidelines," the spinner said.
While Kuldeep managed to dismiss Warner again in the first ODI, his love affair with Australia goes back to KKR bowler Brad Hogg. The spinner revealed that he kept eating the senior campaigner's head to fine tune his own skills further.
"I would keep picking on his brain. Our art is anyway rare. I feel I was lucky to have someone like him in my own team. It helped to get to see him from close quarters. I was always open to his ideas and tried to learn as much as I could," he signed off.