In Rajkot, while three Indian batsmen got hundreds and another too almost reached the milestone, one man missed out despite getting a solid start. Ajinkya Rahane laboured to 41 in 92 balls before falling to the innocuous off-spin of Roston Chase, missing out on the opportunity to tuck in against a mediocre Windies attack.
Rahane's career is in an interesting phase. He's constantly in and out of the Indian One-Day International set-up. A poor Indian Premier League 2018 and questions over his ability to score quickly has virtually ended his T20I hopes, at least for the immediate future.
There is absolutely no doubt though over his position in the Test set-up. He is India's vice-captain after all, and given the changes in the batting set-up in the Indian top order in recent times, Rahane is one of the most senior batsmen. But as he found out in South Africa, even being Virat Kohli's deputy isn't a guarantee of a steady future. The Rahane of 2017-18 is not the same strong force as Rahane of 2014-15.
Curiously, Rahane is one of the rare batsmen – especially given the times - who performs better abroad that at home.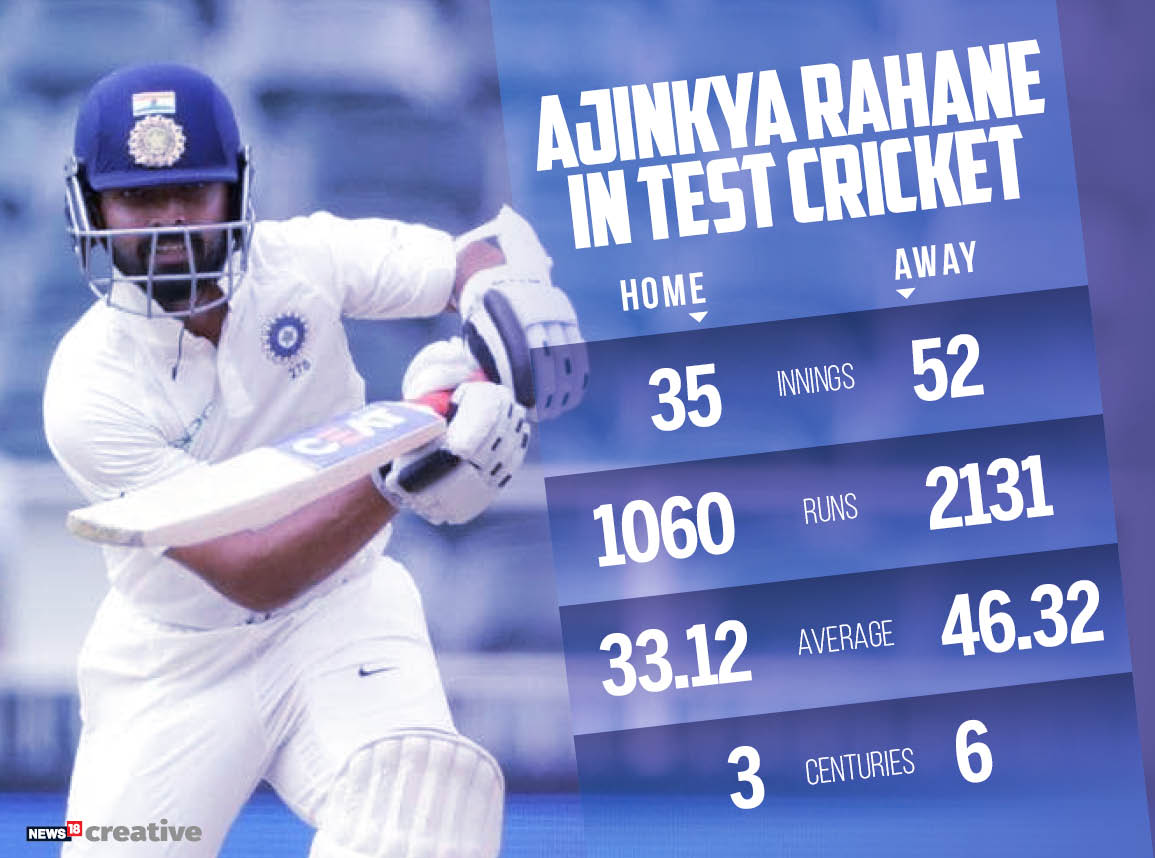 A closer look at the home stats shows how average Rahane has been over the last two years. Two of his three centuries came in one Test – against South Africa in Delhi in 2015-16 – and the other against New Zealand at the start of the 2016-17 season. Since then, Rahane has played 13 Tests at home, averaging only 21.95. His numbers in Asia are slightly better, boosted by performances in Bangladesh and Sri Lanka.
Rahane last scored a ton in Sri Lanka in August last year, and has averaged only 28 in Tests over the last two years.
It was this string of poor performances that cost him a place in the XI for the first two Tests in South Africa although he entered the overseas season with the reputation of being India's most consistent performers in such conditions.
The team management justified Rahane's exclusion – and Rohit Sharma's inclusion – for the first two Tests in South Africa citing form. Whether it was right or wrong, the series had already been lost by the time Rahane got in for the third Test. He grabbed the opportunity immediately, showing why he was rated big for overseas conditions by top-scoring in the second-innings with a fluent 48 on a pitch that was close to being termed too dangerous for play.
Perhaps it should have never got to this, but that knock – and Rohit's failures – ensured Rahane would be untouched in England. Given Kohli's struggles in England in 2014, Rahane even entered the tour as one of the batting mainstays. By the end of it, he managed only 257 runs from 10 innings. A little more support for Kohli, a little more of the Rahane from four years ago, a little more consistency could have made things so different for India.
The lack of opportunities in South Africa and the subsequent poor tour of England also brought down Rahane's numbers in the newly coined SENA countries (South Africa, England, New Zealand and Australia). Prior to the start of this overseas cycle, Rahane averaged 48.59 – the highest among current Indian batsmen. Now, the average has dropped down to 40.67.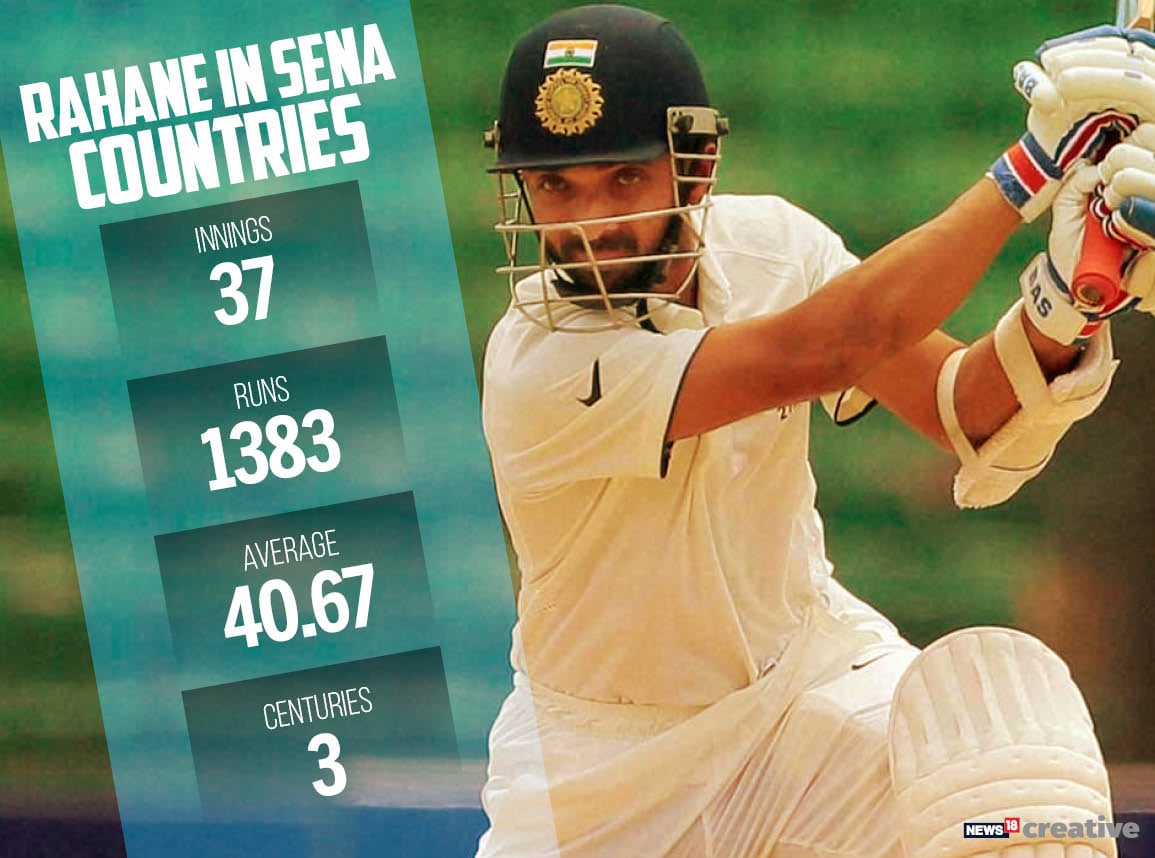 One clear indicator of how well Rahane is batting is his strike-rate. His success in SENA is largely down to his backfoot play; Rahane is strong square of the wicket and collects plenty of runs through punches and cuts. The faster pitches in such countries suit his style perfectly; Rahane's strike-rate in SENA is 52.32, and that at home is 48.40. Before the latest tours to South Africa and England, his strike-rate in SENA was nearly 56.
It's this aspect of his batting that has helped him in each of his big knocks abroad. Unlike a Cheteshwar Pujara, who prefers grafting his way out of trouble, Rahane counter-attacks. His 96 in Durban (2014-15) came at a strike-rate of 61.14. The 118 in Wellington was scored at 74.68. The Lord's 103 had a strike-rate close to 67. The stunning 147 in Melbourne, against the likes of Mitchell Johnson, Ryan Harris and Josh Hazlewood, was scored at a clip close to 86. In that tour of Australia, Rahane struck at an average rate of 63.53 – the highest among all Indian batsmen.
Rahane hasn't been able to replicate that striking form in the current cycle yet as the conditions have often bordered on being extreme. The pitch in Johannersburg was a minefield, India batted at the worst of times under severely damp conditions in Lord's.
But to write off the failures due to conditions wouldn't be correct either. Unlike in 2014-15, Rahane is now often seen as a one-format player. With intermittent chances in ODIs, Rahane often warms the benches or is out of the squad, which means there is fewer and fewer international exposure. Almost all the exposure he got during the period was in Tests at home, where the slower pitches makes him force his way into scoring runs - something that doesn't come naturally for him.
Rahane is perhaps caught between improving his white-ball game and focusing on his Test game. The white-ball game is no longer what it was four years ago, with run-scoring increasing rapidly with every passing year. It leaves the slower batsmen behind; Rahane himself faced it in the IPL where he struggled to match his peers. It also cost him a place in the Indian ODI team for the tour to England the subsequent Asia Cup, although he had done decently when he got the chance in the format in South Africa.
But it's perhaps a blessing in disguise, for the Indian Test team will need Rahane of 2014 more than ever given the inexperience at the top and bottom. India cannot expect Kohli to be the lone warrior all the time. It's time the deputy steps up and does what he has done in the past.