The M Chinnaswamy stadium in Bangalore is hardly a ground to judge a bowler's performance on. Particularly if he's a spinner. India's captain Virat Kohli himself said as much after his bowlers failed to defend 190, explaining the large amount of dew, the flatness of the pitch - a return to the old times - and the dimensions of the ground meant he wouldn't be 'harsh' on his bowlers. The T20I series anyway was pretty pointless given every team is focusing solely on the World Cup, and India are unlikely to read too much into the performances.
One bowler who had a rough outing on Wednesday (February 27) was Yuzvendra Chahal. He went wicketless in his four overs and conceded 47 runs, suffering at the hands of Glenn Maxwell. Chahal has historically had the better of Maxwell in the past, but on Wednesday, it was the batsman who won the battle; Chahal conceded 34 runs from 15 balls to Maxwell, including two sixes.
It was no doubt an off-day, but if any spinner has impressed consistently even in the Chinnaswamy stadium, it's Chahal. It was here that he made a name for himself with the Royal Challengers Bangalore in the IPL. His 21 wickets in IPL 2016 - the second highest in the tournament - propelled him to the national side. He has never looked back since then.
Chahal, along with Kuldeep Yadav, has been preferred for his wicket-taking abilities thanks to his wrist spin. But the wickets have slightly dried up in his last few T20s; Chahal has just five wickets from his last eight T20Is, though he has bowled four overs in each of the games. His average economy rate in these games - against England, Windies, New Zealand and Australia - is 8.34, compared to his career figure of 8. The latest spell against Australia is an extension of the pattern.
Chahal has in fact had only average returns throughout 2018. He began the year with spells of 1 for 39 and 0 for 64 - the joint third most expensive T20I spell - in South Africa, before having a good Nidahas Trophy in Sri Lanka. However, the form waned in the IPL, where he picked just 12 wickets from 14 matches. Since then, he has struggled for wickets in the shortest format, barring a couple of T20Is against Ireland.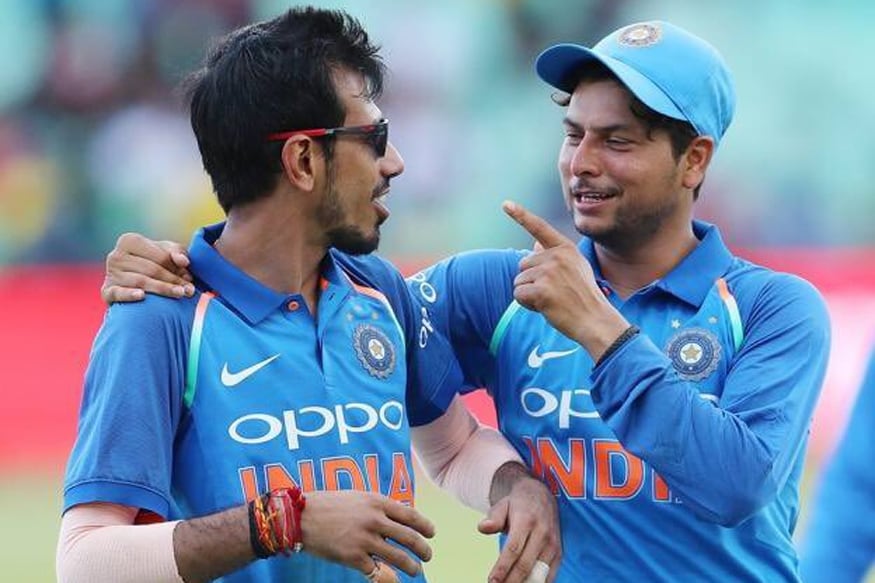 It's not just a coincidence that Chahal's partner-in-crime, Kuldeep, hasn't featured in six of Chahal's last eight matches. The legspinner's numbers improve drastically when Kuldeep is around; in the 10 matches they've played together, Chahal has picked up 19 wickets at an average of 15.73 and strike-rate of 11.8. Without Kuldeep, Chahal's average is 24.92 and strike-rate is 18.6.
Kuldeep too benefits from having Chahal around, but only marginally as compared to the reverse scenario. With Chahal around, he has picked up 22 wickets from the 10 matches at an average of 11.68 and strike-rate of 9.6. The corresponding numbers without Chahal are 15.15 and 14.7 - a relatively lesser difference compared to Chahal's.
What it shows is that Chahal has needed Kuldeep more than Kuldeep has needed Chahal. It also shows that India have benefited hugely when they bowled in tandem; they have won eight of the 10 matches the two spinners played together.
The successful partnership extends to ODIs too - India have won 19 of the 27 ODIs Kuldeep and Chahal have played together. Unlike in T20Is, they almost always feature together, unless one of them is rested. Even in such a scenario, Chahal has managed to step up in ODIs as the prime spinner: he recently picked up his career-best 6 for 42 against Australia in Melbourne in Kuldeep's absence, and followed it up with a 3 for 41 in Wellington.
Interestingly, Kuldeep has struggled slightly when Chahal is absent, his average and strike-rate jumping up significantly. When they have played together, Kuldeep has been the deadlier partner, picking up 59 wickets from 27 games compared to Chahal's 42.
It's the ODI numbers that India will care about, and pleased with, for now, for obvious reasons. There's plenty of time for the T20 World Cup, but as and when they do begin preparations for that, Chahal would want to step up and once again become a strike bowler in the shortest format too.