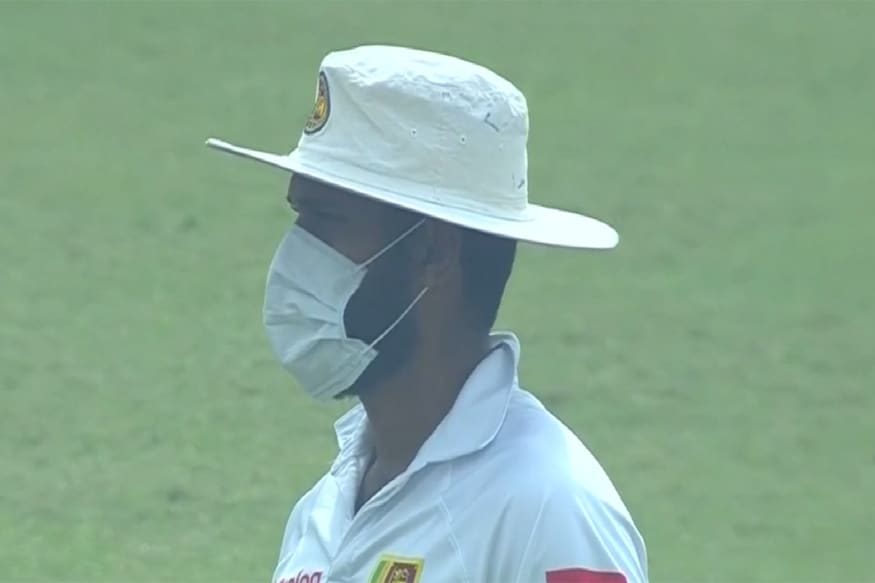 Indian captain Virat Kohli was forced to declare the innings at the score of 536 for the loss of 7 wickets after the Sri Lankans continually complained about the effect that smog was having on their fielders. The Sri Lankan players took a break after almost every over as their players were unable to deal with the smog and polluted air, even though they were wearing protective masks. At one point, the Lankans had only 10 players on the field as one by one the players were forced to go off citing sickness due to the conditions.

After many such breaks, a rather unhappy and miffed Kohli decided he had enough and he declared the Indian innings much to the surprise of the batsmen Wriddhiman Saha and Ravindra Jadeja.

The problems with the conditions began earlier in the day when the Lankans were having a hard time dealing with the toxic air while fielding. The Lankan fielders all resorted to wearing masks so as not to breathe the polluted air, but that wasn't helping them too much. Add to that the fact that they had been fielding for more than a day with no sign of things letting up, just did not help matters.

The national capital has been plagued with the problem of smog and pollution a problem in recent weeks. So bad was the situation in the recent past that it was a pollution emergency with toxic smog hanging over the city for days.

It is not just the Sri Lankans who have been affected deeply by this, in fact recently the Indian captain Virat Kohli also made it a point to talk about the smog and the pollution. Kohli, who is from the national capital took to social media to ask the people of the city to help reduce the toxic pollution and smog cover over the city.

In a video posted by Kohli on Twitter, he describes measures that the public could adopt to help our environment.


#Delhi, we need to talk! #MujheFarakPadtaHai pic.twitter.com/Q5mkBkRRIy

— Virat Kohli (@imVkohli) November 15, 2017


"Hi guys! We all know what the situation of pollution is like in Delhi, I wanted to bring your attention towards it because a lot of people are debating as to what's causing it. But what are we actually doing about it? Agar hume yeh match jeetna hai pollution ke against, hum sab ko saath mein mil ke khelna hoga. Kyunki hum sabki zimmedaari hai pollution ko kam karna. Specially jo log Delhi mein rehte hain, un sabki yeh responsibility hai."

"If we have to win this match against the pollution, we all have to come forward and fight against it. It is our responsibility to reduce the pollution levels. Especially the people from Delhi, it's their responsibility."












First Published: December 3, 2017, 12:36 PM IST