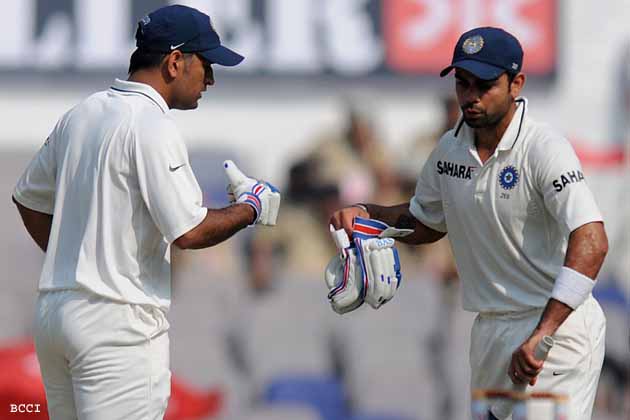 Today, Virat Kohli and MS Dhoni showed a trait that was sadly missing from most of India's batting performances since Ahmedabad. It's what the iconic gruff yet loveable American television newspaper editor Lou Grant called 'spunk' – even though he didn't much like the stuff.
A sloppy final 45 minutes of play, including the run out of Dhoni for 99, took the sheen off a stubborn alliance that almost made it India's day in entirety, but there was much to be gleaned from the 507 balls that Kohli and Dhoni batted together.
Many will harp on the benign nature of the Nagpur pitch, and how it is not in the interest of Test cricket. Yes, it was a bad advertisement for the game. Yes, there was nothing in it for the bowlers. But it demanded patience and concentration, two characters that these two batsmen had both lacked in the series. And to watch them locate these two necessary attributes of successful Test batsmen was engaging.
This is Test cricket, the operative word being 'test'. It is supposed to test players. That's why it is the toughest format, and the longest. It was a substandard pitch, but this was a situation to test the ability of the batsmen to curb their natural game. To stonewall, shun your instincts is delicate business. It is, almost, a kind of dying art within this Indian team.
Getting out early was not an option for Kohli and Dhoni, because the next batsman in was on debut and India's predicament would not have improved. The first objective would have been to prevent a collapse. Then, to avoid the follow-on. That accomplished, a way of heading toward a result. On this pitch, all the batsmen had to do was defend, play straight, hang around, be patient. And that is precisely what Kohli and Dhoni did. It made for interesting viewing, to watch two natural stroke-makers curb their enthusiasm. It was a struggle, and it was oddly refreshing.
In James Anderson's first over of the day, Kohli was beaten. He grit his teeth, refined the shadow shot. The back leg went across, the front foot stretched further, the ball was defended. Kohli was on 11 off 41 balls then. The ball did not beat his bat for another 61 deliveries, when Monty Panesar turned one sharply. The temptation to drive was there, with Panesar and Graeme Swann tossing it up outside off stump, but Kohli resisted until truly confident.
In the morning Dhoni was troubled briefly by Anderson – he edged through the vacant slip cordon early on - and before tea by Tim Bresnan's pace and movement. He cramped up, Alastair Cook put spin from both ends to make Dhoni use his feet more. Emotionless, he batted on. Runs didn't matter as much as occupation of the crease. The odd boundary – there were six in the morning, three to each batsman – helped release the tension for when the bowlers worked up pressure.
It's not easy for attacking batsmen to drop anchor. But Kohli and Dhoni took it over by hour, block by block, session by session. At first - drip, drip, dot, dot, block, block, leave, leave. Then - push, push, tap, tap, scurry, scurry. On Friday, Matt Prior and Joe Root had scored 42 runs in 17 overs in the first hour's play. On Sunday, India scored 26 runs in the first hour; 33 in the next. India went in to lunch at 146 for 4, trailing by 184. Their run rate was exactly two per over. In the first hour of the afternoon session, 45 runs were added in 16 overs; 36 in the next 11.
By the second half of the afternoon session, Kohli was cutting with a flourish and Dhoni hitting Swann for six over midwicket. There were even controlled pull shots when Tim Bresnan dished out some short stuff in an aggressive burst. As the runs came, the confidence grew. Stripped down, batting is that simple. Runs and time spent at the crease bring self-assurance.
Kohli's century came off 290 balls (a strike-rate of 34.50) but he was unable to press on. This innings of 103 must have been a character-building lesson. After being heralded as India's next great middle-order hope, and riding on a phenomenal run in ODIs for two years, Kohli's burgeoning career had hit a major roadblock during five chastening innings against England. His getting out to a full toss in the second innings in Mumbai was damning, and given his recent run of form this was an innings Kohli can be proud of.
In the immediate context of his career, this was a significant innings for Dhoni. It is not a coincidence that during the toughest phase of his captaincy and with India battling to save face as a rare home series defeat looms, he batted the longest he ever has in Test cricket. Today was the first time in 115 innings that he faced more than 200 balls (the previous most being the 187 he faced against South Africa in Kolkata in 2010). He had to. There was a match to be won and, after innings of 5, 29, 6, 52 and 0 in the series, Dhoni shunned his natural ways to play the patient game. It was about time. The toughest period for Dhoni was once he crossed 90, off 216 balls. For 75-odd minutes he remained in the nineties, and it seemed that Dhoni was intent on finishing the day on 99 until a mad dash resulted in his downfall. He missed three figures, but those 99 runs should be seen as no less than a century.
A collapse of 4 for 28 in the final hour turned India's innings downwards again, but they owe much to Kohli and Dhoni for averting a disaster. From holding the advantage for most of this match, England will now have to work hard to draw it. And that is because two men showed some character and mettle.