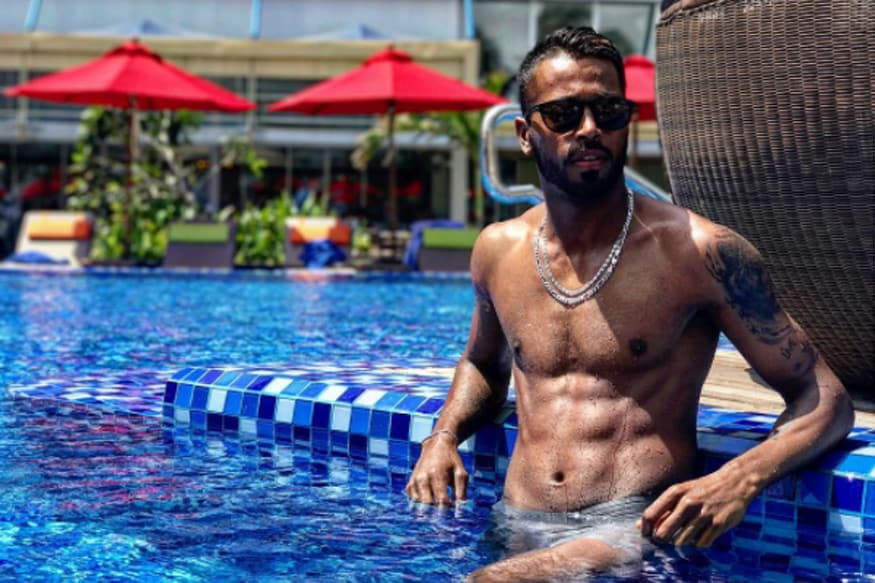 Hardik Pandya's has been one of those 'fairytale' stories in Indian cricket. The all-rounder shot to fame in the Indian Premier League a couple of seasons back and since then he has never looked back. Pandya has improved with every international outing and his rise has been meteoric, from being looked at as a T20 specialist to becoming a mainstay of the ODI team and then making his Test debut.
News18 India's Vimal Kumar caught up with the star who has been 'rested' for the Sri Lanka. Here's a transcript of the interview.
Q: Are you surprised that you have been rested for the first 2 Tests against Sri Lanka?
A: To be honest, I asked for it. My body wasn't up for it, I have some niggles because of the amount of cricket that I have played. I want to play cricket when I am totally up for it, when I can give my 100 per cent. I am lucky that I have got this break. I will train in the gym during this break and improve my fitness. I won't lie, I am really excited for the South Africa series. I would like to use this break to improve my fitness for the series.
Q: You have hardly played international cricket! Then why rest?
A: I have played 30 ODIs, 25 T20s and 3 Tests in last one year. If they are saying I have played less cricket then I want to tell them 'I am sorry.' As an all-rounder it's even more difficult.
Q: So the preparations for the South Africa tour starts right now?
A: Yes, I am really excited. People are talking about it. It's a hyped series. I like challenges in life, they keep me going. I want to make a difference for the team. I am sure we are going to play well.
Q: How do you look back on your career? What are your feelings?
A: Yes, things have changed. I am not the same person I was three years back. The amount of love and respect I received, I would say that god has been kind to me. Obviously, I have worked hard for it. Confidence is everything. MS Dhoni had told me that there is a fine line between confidence and over-confidence. Make sure that you put your foot on this side and not that side.
Q: Who has influenced you most, MSD or Virat?
A: I have learned from both of them, they are amazing. I take a lot of advice from Dhoni.
Q: We heard that you're a big fan of Wasim Jaffer?
A: I was always a fan. I used to copy him and I even told him that I am his fan, he replied that there is not much left of him. But yes I would like to meet him again if I get the opportunity.
Q: So who has been your hero as far as big hitting is concerned?
A: I don't believe in heroes. I don't like comparisons. I respect people but don't try to follow them because things that worked for them wouldn't necessarily work for me.
Q: Your coach told me that you didn't bowl fast till the age of 19, when somebody didn't turn up you came to the fore?
A: The credit goes to my coach Sanath Kumar, he gave me the confidence that I can bowl fast. It's funny that I even got a message from him when I played for India, saying that I should try my hand at leg spin as well.
Q: I heard that when your parents took your elder brother Krunal Pandya to Kiran More's academy, More saw you and he insisted that your parents leave you at the academy?
A: I was a restless kid. So he told me why am I wasting my energy, instead I should use it to play cricket.
Q: What has been the biggest turning point in your life?
A: My life changed when I got a chance to play for MI(Mumbai Indians) and then I never looked back. I had a failure and that's when I learned to be even more professional. You need to go through the bad experiences. That's how you improve in life.
Q: What are the biggest compliments that you have received?
A: Sachin Sir (Tendulkar) once said that I can play for India. I thought that if Sachin sir is saying this then I can definitely play, I was very happy.
Q: So no problem when people compare you with Kapil Dev?
A: I have always said that what he did in his life was tremendous. Even if I do 10 per cent of what he did, I will be happy.
Q: But there were reports that you intend to move out of Mumbai Indian?
A: I was disappointed when I heard this news because this is false. This team has given me everything. Why would I leave it?
Q: It has been a roller coaster ride but what about your interaction with India 'A' coach Rahul Dravid. What role did he play in your revival?
A: He told me a lot of things and I learned a lot from him, How to maintain my discipline, how to maintain my fitness, how to think positively.
Q: Your personality is such that I guess Ravi Shastri must be a big fan of yours?
A: He might be the coach, but he is the real rockstar. He is the cool dude. He gives me the freedom and the confidence at this level. We gel pretty well with him.
Q: Fans keep chanting your name. You have grown popular.
A: I just want to say Hardik is the same, it's the people who have changed. Earlier they used to call me over-smart and now they call me fashion conscious.
Q: Any particular reason why you target the spinners?
A: My strategy is to target a few bowlers, spinners are among them.
Q: But in the T20 series you were not that successful, would you say it's because your batting order keeps changing?
A: No! It's all about the situation. And one more thing, we can't be successful all the time. Cricket is not that easy a game that you keep on scoring all the time.
Q: But do you prefer any particular batting position?
A: No, Even if I bat at number 3, I have the license to go for the kill.
Q: What is your relationship with Virat Kohli? He seems to be very fond of you?
A: Virat is a gem of guy. We keep on laughing, we keep on pulling each other's legs. We have a very strong bond.
Q: Is this India's most varied bowling attack?
A: I don't think a lot about these things. I just keep backing my bowlers. I have played in a number of teams but the atmosphere is the best in this team.
Q: Do you have any future goals?
A: I don't have any future goals, I just want to become better every day, that's my only goal.
Q: Does criticism affect you?
A: No not at all. I don't read much into all of that.
Q: Anything you would like to say about your elder brother Krunal Pandya?
A: Super guy, he is going to play for India soon. I am very excited to share space with him in the Indian dressing room.
Q: You struggled a lot early, sometimes do you pinch yourself that this all this is just like a dream?
A: Yes, I thank those times, it's because of those days that I am sitting here and giving an interview. I learned a lot. I don't pinch myself but yeah I feel good when I buy big things like cars and watches. I am fond of watches.
Q: And Films?
A: Yes, there were days I used to watch the morning shows as they were the cheapest. They used to cost Rs 30-40 and those were the only ones I could afford to watch. It's funny now as I buy five tickets so that no stranger annoys me when I watch a movie.
Q: Who is your favourite actor?
A: Akshay Kumar.
Q: And what about Amitabh Bachchan?
A: He once told my father that he is my fan. He told him that you have given two outstanding sons to the nation and my father was on cloud nine. I have that moment recorded in a video. I keep watching it again and again.
Q: One final question, what is the road ahead for you?
A: I want to keep on doing what I am doing and also do good for the people.