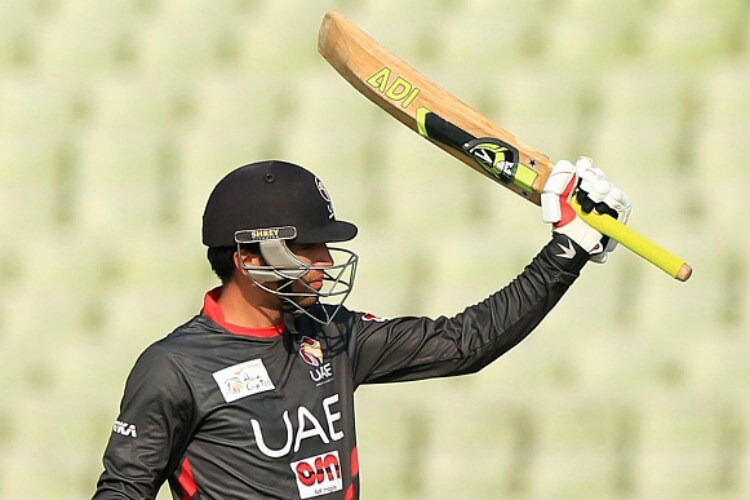 End of over 18.3:UAE 147/4 UAE lose Shahzad (52 off 39 balls) in the closing stages but Shaiman Anwar (25 off 22 balls, not out) and Amjad Javed 6 (1) take the team home with a six. UAE win the match by six wickets.
End of over 15:UAE 116/3 UAE lose Usman 41 (39) but Shahzad 43 (31) and Shaiman Anwar 9 (6) are at crease.
End of over 10:UAE 75/2 Muhammad Shehzad 26 (19b), and Muhammad Usman 27 (27b) are helping UAE stage recovery after they lose openers Rohan Mustafa (10) and Mohammad Kaleem (4) in quick succession.
End of over 5:UAE 39/2 UAE openers Rohan Mustafa (10) and Mohammad Kaleem (4) depart in quick succession. Hong Kong's Nadeem Ahmed and Tanwir Afzal take the wickets.
End of over 20:Hong Kong 146/7 Babar Hayat scored 45-ball 54 and while Mark Chapman (29) and Nizakat Khan (28) made some useful contributions but UAE bowlers bowled brilliantly in death overs. Mohammad Naveed picked up three wickets while Amjad Javed took two.
End of over 16: Hong Kong 126/4 Farhan Ahmed dismissed Hyat in the 16th over to give Hong Kong another blow but they were looking all set to put up a fighting total against UAE.
12 overs: Babar Hayat is playing some brilliant shots out here. He is closing in on fifty and HK have improved their run rate. They are three down for 93 in 12 overs.
Out! Chapman falls as he is out for 29. Ahmed Raza picks up his first scalp
5 overs: It has not been an ideal start for Hong Kong. they have lost Mohammad Naveed and Anshy Rath in the first five overs with just 26 on board. Babar Hayat and Babar Hayat are in the middle.
Out! KD Shah is out for duck. Not a good start for Hong Kong.
TOSS: Hong Kong win toss and opt to bat against UAE.
Teams:
United Arab Emirates: Rohan Mustafa, Muhammad Kaleem, Shaiman Anwar, Amjad Javed(c), Mohammad Usman, Swapnil Patil(w), Mohammad Shahzad, Saqlain Haider, Ahmed Raza, Farhan Ahmed, Mohammad Naveed
Hong Kong: Anshuman Rath, Kinchit Shah, Babar Hayat, Tanwir Afzal(c), Mark Chapman, Christopher Carter(w), Haseeb Amjad, Nizakat Khan, Nadeem Ahmed, Waqas Khan, Aizaz Khan