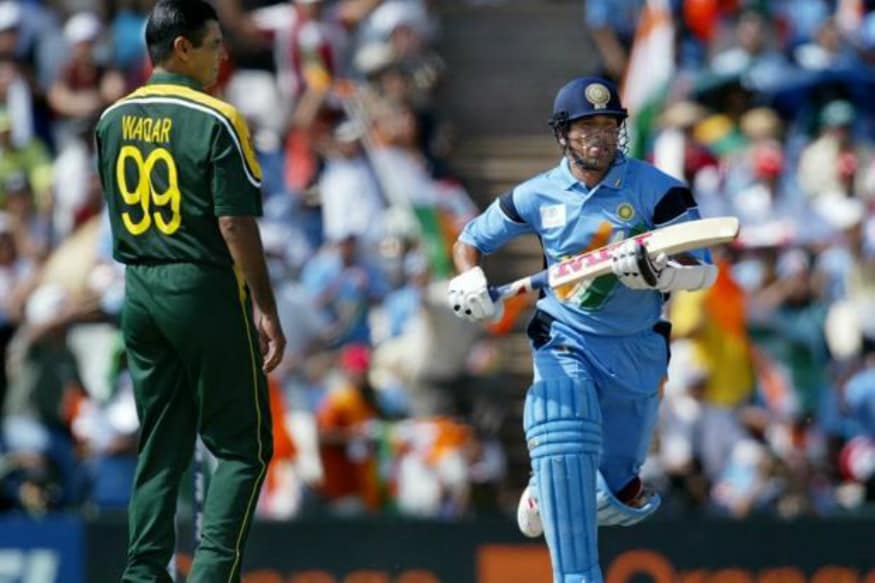 There was a time Australia vs England was considered the greatest cricketing rivalry, but that has gradually been overshadowed by India vs Pakistan, which is now considered the mother of all cricketing battles. The history between the 2 teams, and the palpable tension, means that it is the most eagerly awaited contest, even if the two teams do not play each other in bilateral series due to political strife. India and Pakistan have played each other 131 times in ODIs, with Pakistan winning 73, India winning 54 and 4 ending in a No-result. Even though Pakistan have won more matches overall, India famously have the edge in World Cup encounters. Let's face it, there is never a dull moment when these 2 cricketing giants face off on a cricket field. In this podcast, we relive 10 of the most memorable and eventful contests between cricket's two great rivals.
India vs Pakistan, Rothmans Four-Nations Cup, Sharjah Cricket Stadium, Sharjah, 22nd March 1985.
India were fresh off a win over Pakistan in the final of the World Championship of Cricket in Australia 12 days earlier. Just a few days after that win, the two teams squared off in Sharjah. That the game of cricket is such a great leveler is borne out by the fact that Ravi Shastri, who was declared the Champion of Champions in Australia, was dismissed LBW for a duck off the very first ball of the match by Imran Khan. Imran ran through India's top order to leave them tottering at 34/5 before Mohammad Azharuddin and Kapil Dev staged a mini-recovery. However, India were dismissed for 125 and an upset looked imminent. In reply, Pakistan appeared to be coasting at 35/1 before they also suffered a collapse with Javed Miandad and Imran Khan scoring ducks. Kapil Dev and Madan Lal wiped out the tail to dismiss Pakistan for 87 and India won by 38 runs. Till date, India's 125 remains the lowest score ever defended by a team batting first in a full 50 over match.
India vs Pakistan, Final, Australasia Cup, Sharjah Cricket Stadium, Sharjah, 18 April 1986
This gave us one of the most famous matches in ODIs between the 2 teams, as well as one of the most iconic moments in cricket history. It also led to Pakistan establishing a psychological superiority over India throughout the late 1980s well into the 1990s. India were off to a flier with Krishnamachari Srikkanth blazing away in typical fashion and Sunil Gavaskar providing reliable support. The duo put on a century partnership for the 1st wicket before Srikkanth was dismissed. Dilip Vengsarkar joined Gavaskar, and the two added 99 before Vengsarkar was bowled by Wasim Akram for 50. At one stage, India looked on course for a total of 280, but they could not capitalize in the death overs and scored just 42 runs in the last 11 overs. They finished on 245/7 off their 50 overs, with Gavaskar scoring 92. In reply, Pakistan lost wickets at regular intervals but stayed in the hunt thanks to the belligerent Javed Miandad. Even as he kept running out of partners, he scored a century to take Pakistan close to the target. Pakistan needed 11 off the last over and the equation came down to 4 off the last ball. Pace bowler Chetan Sharma attempted a yorker but ended up offering a full toss that Miandad struck for a six. Pakistan won by 1 wicket off the final ball, a victory that crushed the spirits of India's cricketers. Because of that win, Pakistan maintained something of a cricketing hegemony over India in ODIs for a long time, particularly at Sharjah.
Pakistan vs India, Final, Wills Trophy, Sharjah Cricket Stadium, Sharjah, 25th October 1991
Pakistan batted first and got off to a cautious start, before Zahid Fazal who retired hurt on 98, and Saleem Malik, who scored an enterprising 87, propelled them to 262/6 in 50 overs. In their chase, India were 47/1 before disaster struck. Aaqib Javed took a hat-trick, dismissing Ravi Shastri, Mohammad Azharuddin and Sachin Tendulkar - all LBW to contentious decisions. India never recovered, and were dismissed for 190, losing by 72 runs. There were allegations of bias leveled against the neutral Sri Lankan umpires and the furore refused to die down. India refused to play at Sharjah for the next 3 years because of this controversy.
India vs Pakistan, Group Match, Benson and Hedges World Cup, Sydney Cricket Ground, Sydney, 04th March 1992
Even though 1992 marked the 5th cricket World Cup, it was the first time the 2 arch rivals were playing against each other in a World Cup. India were off to a poor start before Sachin Tendulkar and Kapil Dev provided a finishing kick to the innings, dragging the score to 216/7 off 49 overs. Kapil and Manoj Prabhakar struck early to dent Pakistan's reply, before Aamir Sohail and Javed Miandad repaired the damage. Miandad was always known to be someone who used to chat a lot with the batsmen when he was fielding, but never liked being disturbed when he was batting. India's wicketkeeper Kiran More was chatting loudly with the Indian fielders and Miandad took exception to this. He stopped the bowler from running on and complained to the umpires that More was disturbing him. Later on, he sarcastically mimicked More by jumping up and down like a frog. This incensed the Indian captain Azharuddin. Pakistan lost a flurry of wickets, including Imran Khan to a run out, and were bowled out for 173, losing by 43 runs.
India vs Pakistan, Quarter-final, Wills World Cup, M. Chinnaswamy Stadium, Bangalore, 9th March 1996
Another World Cup, another dynamite contest. It was the second meeting between the two teams in World Cups, and India were off to a cautious start. Navjot Sidhu gave the innings impetus, but India still looked to be on course to a par total. However, Ajay Jadeja played a blinder towards the end of the innings, scoring 22 runs off an over from Waqar Younis. His 45 from 25 balls helped India post a commanding 287/8. Thanks to Jadeja's heroics, India scored an incredible (for the 90s) 51 runs off their last 3 overs. Pakistan rose to the occasion, with Aamir Sohail and Saeed Anwar putting on 84 in the first 10 overs, before Anwar was caught by Anil Kumble off the bowling of Javagal Srinath. A few overs later, there was an altercation between Sohail and bowler Venkatesh Prasad. Sohail struck Prasad for a boundary and then taunted him by pointing the bat towards Prasad and the boundary, implying he would do it again. But that was not to be. Prasad bowled Sohail off the very next ball, and waved him towards the pavilion. In the heat of battle, Pakistan lost their way from a position of strength as Kumble and Prasad ran through the middle and lower order, taking 3 wickets each. India won by 39 runs to notch up a second consecutive victory over Pakistan in the World Cup.
Pakistan vs India, 3rd Final, Silver Jubilee Independence Cup, Bangabandhu National Stadium, Dhaka, 18th January 1998
Pakistan batted first and piled up a massive 314/5 off 48 overs batting first. Saeed Anwar led the way with a blistering 140 off 132 balls, while Ijaz Ahmed scored a brilliant 117 as the Pakistan batsmen put the Indian attack to the sword. Until that day, India had never chased a target in excess of 282, and therefore, the target seemed a daunting one, particularly when one considered the quality of bowling at Pakistan's disposal. Tendulkar scored a quick 41 and Sourav Ganguly scored a century as India made a real fist of the target. Robin Singh was promoted as a pinch hitter and he responded with 82 off 83 balls as India edged closer. Then, India's batting suffered a collapse in fading light but Hrishikesh Kanitkar kept his cool, striking Saqlain Mushtaq for a boundary as India won by 3 wickets with one ball to spare. Until that evening, a target in excess of 300 had been chased down just once in ODIs and India's win became a world record.
Pakistan vs India, Group Match, ICC World Cup, Super Sport Park, Centurion, 1st March 2003
Pakistan batted first and Saeed Anwar, that old nemesis, led the way with a century as they looked to post a formidable total on the score board. Unfortunately, apart from Anwar's 101 off 126 balls, no other batsman scored even fifty, as they finished with 273/7. In those days, a total of 270 was still considered a daunting one, and India needed a quick start if they hoped to overhaul the target. Tendulkar and Virender Sehwag got India off to a brisk start that deflated the famed Pakistan attack. They put on 53 in less than 6 overs as Shoaib Akhtar, Wasim Akram and Waqar Younis were rendered nearly toothless. Later, Sachin Tendulkar rated that innings as one of his best, saying he was able to pick the line and length early despite the express pace. His 98 off just 75 balls was one of his greatest ODI innings. Though he was dismissed with India still 97 away from victory, the ever-reliable Rahul Dravid and Yuvraj Singh took India home with 26 balls to spare. It was India's 4th consecutive victory over Pakistan in the World Cup and one of their most memorable.
Pakistan vs India, Group match, Asia Cup, Rangiri Dambulla International Stadium, Dambulla, 19th June 2010
Pakistan chose to bat first, and Salman Butt top scored with 74 off 85 balls as Pakistan once again attempted to bat India out of the match. Shahid Afridi and Kamran Akmal made sizeable contributions down the order, scoring 32 and 51 respectively, as Pakistan reached 267 in 49.3 overs. Gautam Gambhir got India off to a good start but India lost the wickets of Virender Sehwag and Virat Kohli cheaply. Gambhir and Mahendra Singh Dhoni put on 98 runs for the 3rd wicket to put India in the driver's seat. During the course of his innings, Gambhir was involved in an altercation with Kamran Akmal. He was fed up with the incessant appealing of Pakistan's wicket-keeper and the two charged aggressively at each other before Dhoni separated the two. When Harbhajan Singh came out to bat, he hit Shoaib Akhtar for a six over long on and the two had another minor altercation that saw umpire Billy Doctrove intervene. The equation came down to 7 runs required off the last over, then 3 off 2 balls. Harbhajan struck Mohammad Amir for a six over mid-wicket and India won by 3 wickets with a ball to spare.
India vs Pakistan, Semi-Final, ICC World Cup, Punjab Cricket Association IS Bindra Stadium, Mohali, Chandigarh, 30th March 2011
India's Prime Minister, Manmohan Singh, extended an invitation to his Pakistani counterpart, Yousuf Gilani, to come and watch the semi-final in a bid to break the diplomatic deadlock between the 2 countries in the aftermath of the 2008 Mumbai terror attacks. With Virender Sehwag in a ruthless mood, India were off to a flier. However, Wahab Riaz brought Pakistan back into the contest as India's middle and lower order failed to press home the advantage. India finished on 260/9 off their 50 overs with Sachin Tendulkar being reprieved many times before scratching his way to 85. In reply, Pakistan were coasting at 70/1 before they lost a flurry of wickets. Misbah-ul-Haq and Umar Akmal repaired the damage, but Pakistan were running out of overs. Harbhajan Singh took the wicket of Umar Akmal to give India the upper hand. In the end, India won by 29 runs to maintain their 100 % record over Pakistan in World Cups. It was their 5th consecutive victory against Pakistan in World Cups.
Pakistan vs India, Final, ICC Champions Trophy, Kennington Oval, London, 18th June 2017
Virat Kohli won the toss but, in a moment that can only be described as inexplicable as per cricketing wisdom, made the decision to field first. Pakistan's opener Fakhar Zaman made the most of a reprieve off a Jasprit Bumrah no ball, scoring 114 while Mohammad Hafeez played a cameo, making an unbeaten 57 off 37 balls as Pakistan posted a mammoth 338/4. India got off to a shocking start and were reduced to 54/5 and it was all over bar the shouting. Hardik Pandya scored a stupendous 76 off 43 balls, studded with 4 fours and 6 sixes before he was run out. At one stage he looked to give India an outside chance but it was always a case of too little too late. After Hardik's dismissal, India were rolled over cheaply and were dismissed for 158. Pakistan won by 180 runs and took home the Champions Trophy for the first time.