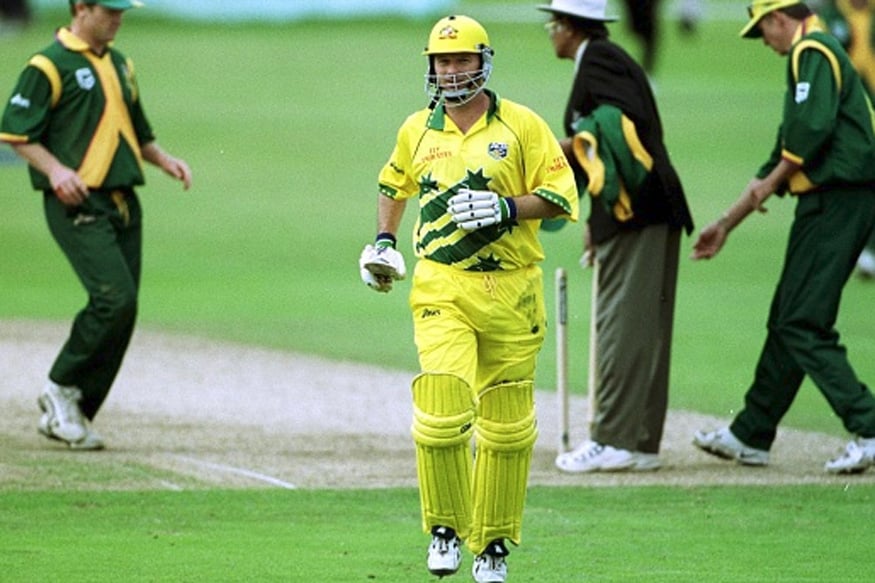 The Men's 50 overs World cup is almost up on us. Come the 30th of May, and the teams will vie to take what is viewed as the most prestigious honour in world cricket at this time. Many a cricketer, most notably Tendulkar, has stated that it was his life-long dream to win a world cup. Many players have stepped up their performances during a world cup and some of these performances have gone down to be regarded as some of the most outstanding individual performances in the world cup.
We take a look at some of them –
Kapil Dev 175* vs Zimbabwe – World cup 1983.
Considered by many to be the most defining ODI knock ever, certainly for the Indians. Till the 1983 world cup, Indians were non entities in the world ODI game with a dismal ODI record and no performance to speak of in the two preceding world cups. But, in 1983 things seemed a bit different when they won their first match of the group stage by beating WI. So, by the time it came into the match against Zimbabwe, it was a must win game for the Indians. It started off poorly for them though in cold conditions with the ball moving around and soon they found themselves at 9 for 4 and then 17 for 5. That is when the Kapil Dev Show started, he smashed 16 fours and 6 sixes in dominating fashion to score 175 no. and take the team score to 266. It proved enough for the team to defend. What that innings did was lift the team spirits and give them a sense of belief that they could win from any position. It bode well for what was to follow in the rest of the tournament and from looking like getting all out for 70-80 against ZIM, the team went on to defend 183 in the final and start the love affair of Indians with cricket.
Making a statement in the finals – Clive Lloyd, Vivian Richards, Ricky Ponting and Adam Gilchrist
There is scoring a century and then there is scoring a century batting in a world cup final. It is the dream of many players to score a century in a world cup final to lead their team to victory in a world cup final and these men achieved it, in commanding fashion. While Lloyd(102 of 85 deliveries)  in 1975 and Richards in 1979 (138 no. of 157 deliveries) showed just why the West Indies were the dominant force in the 70s and 80s and took the game away from the opposition, Ponting did the same to India in 2003 ( 140 of 121 deliveries)  and Gilchrist repeated the dose against Sri lanka 4 years later ( 149 of 104 deliveries). Gilchirst scored the fastest century in an ODI final, getting to his hundred of only 72 balls.
The Wasim Show – World Cup final 1992
Wasim Akram is not just a modern great but would make the all-time world XI of many of his contemporaries, that just shows how he was viewed by his peer group. He was a wily character and could move the ball at pace. Being a left arm fast bowler made him a rare commodity as well. He could also hammer the ball when he was in the mood. And boy was he in the mood in the 1992 final against England. When his team was batting he came in down the order and smashed a quick fire 33 of just 18 balls to help his team put up a score of 249 and later picked up 3 wickets to help his side defend the total. His wickets of Lamb and Lewis of successive deliveries broke the back of England's chase.
Jayasuriya and Kalu Smash Machine – 1996
The starts that these two openers gave their team in the 1996 world cup gave nightmares to opposing captains, not just scoring well but scoring at strike rates well over 100 throughout, something unknown in 1996. It took the game away from the opposition in a hurry as it did against India and Kenya in the group stages and against England in the QFs, so much so that Jayasuriya was voted the man of the tournament for his aggressive unprecedented approach to batting and useful bowling.
Aravinda's Twin Man of the Matches in the Semi and Final of 1996.
It was the first and only time yet, when a player received the man of the match in both the Semi and Final of a world cup. In the semi-final against India, after losing 2 quick wickets, it was Aravinda's counter attack that got the Sri Lankans right back in the match and rattled the Indians. He scored 66 runs of just 47 deliveries to take the initiative back for his side and Sri lanka eventually put up a winning total of 251 on a dodgy Eden Garden Pitch. Then, in the final – he scored an unbeaten match winning century ( 107*) to take his side home chasing a tricky 241 against Australia in the final at Lahore. It was and remains the only century to have been scored batting 2nd in a final.
Ganguly and Dravid shine on the world stage – 1999
In the 90s, Indian batting was all about Sachin Tendulkar. If a good score was to be put up, Sachin had to score big, if a big score was being chased, Sachin had to score big. But in the late 90s, Ganguly and Dravid started to become the players they would turn out to be, future greats of Indian and world cricket. They put on a batting display against Sri Lanka in a group match at Taunton. Ganguly hit sixers at will to smash 7 of them to score 183 of just 158 balls and Dravid who was the aggressor early on in their partnership  scored 145 of 129 balls. They scored a partnership of 318 runs, which was a world record at the time.
Zulu has the time of his life – 1999
Think of Lance Klusener and the 1999 world cup comes to mind. He had a stand out performance to be named the player of the tournament. It was not just the runs he scored or the wickets he took, but the manner in which he played that made him stand out. He became the crisis man of the team during the tournament bailing them out of tricky situations on many occasions. In the very first match he played in the tournament he scored 12 runs in the 3 balls he faced. That set the template for a tournament where he scored 281 runs at an amazing strike rate of over 120 and an average over 140. He also took 17 wickets at an average of 20.57. He bagged 4 man of the match awards and three of them in succession where he bailed his side out of trouble against Sri Lanka, England and Kenya. In the super six match against Pakistan too he scored an invaluable 46 no. to take his side home in a tricky chase.
Steve Waugh when it mattered – 1999
After a poor start to the tournament, Australia needed to win all their super 6s matches to get through to the Semis. In their final super six match against SA they were chasing a daunting 272 for victory against a quality SA attack and the team found itself at 48/3 in the 12th over with the man in form Mark Waugh out. It was time for a Steve Waugh special, who, first in the company of Ponting and later with Bevan and Moody just kept the runs flowing and compiled a gritty 120 no. of just 110 balls to take his team over the line. He followed it up with a 56 in the semi-final, forming a crucial partnership with Michael Bevan, the pair coming together with the score at 68 for 4.
Unheralded Success – Ashish Nehra, Andy Bichel and Andrew Symonds - 2003, Gary Gilmour 1975.
Its always great when bit part players take the centrestage and have the limelight all for themselves for a while. When it happens during the world cup, its all the more special.
Ashish Nehra and Andy Bichel were never the pace spearheads for their teams. In the 2003 World cup, Nehra was behind Zak and Srinath as the third seamer for India and Bichel was the support for MCgrath and Lee. But they both had a moment to shine. Nehra displayed rare speed, control and movement against England to pick 6 for 23 runs and lead his team to a win. Bichel did one better by picking up 7 for 20 runs against the same opposition to restrict them to 204. He then also did his part with the bat coming in at the fall of the 8th wicket at 135 and scored an unbeaten 34 of only 36 balls, keeping Michael Bevan good company. Andrew Symonds was a player the Australian team took a punt on to come good. He was chosen in the team when the likes of Steve Waugh were kept aside. He responded in kind in the very first match of the tournament for Australia. Coming into bat at 86 for 4. He hit an unbeaten 143 of just 125 balls to steer his side to a match winning total of 310 against Pakistan.
Decades earlier in 1975 in the very first tournament, Gary Gilmour of Australia put paid to any chance England had of winning the cup on home soil in the Semi finals by picking up 6 for 14 in 12 overs to help dismiss the English for 93 and pave the way for his side to win the match. But his side were soon tottering at 6 for 39 in reply when he came into bat he scored a handy 28 no. of 28 deliveries to see his side home. He played very well in the final too, picking up a fifer.
The Malinga 4 in 2007
Lasith Malinga was always a difficult proposition for batters with his slingy action, but the match that  enhanced his reputation was one against South Africa in 2007.
South Africa were cruising to victory at 206 for 5 in 44 overs in reply to Sri Lanka's 209. Malinga bowled the 45th over and bowled Shaun Pollock with the 5th delivery of the over. He dismissed Andrew Hall in the very next delivery. Thus, when he began the 47th over he was on a hat trick and South Africa on 207 for 7, just 3 runs shy. He got Kallis in the first delivery of the over to take a hat- trick and did not stop there. He yorked Makhaya Ntini, in the very next delivery to take 4 in 4. Now South Africa needed 3 runs with 1 in hand. They some how held on to score the winnings runs but Malinga walked away with his reputation enhanced.
Kevin O'brien does it for Ireland and the Associates - 2011
The Ireland team had punched above its weight by getting to the super 8s of the 2007 edition by knocking out Pakistan. They were hungry for a big scalp in the 2011 world cup too. The big moment came for them against England. England batted first and compiled an imposing 327 and the Irish were tottering at 111 for 5 when walked in O'brien. While most felt the result was a mere formality, he had other ideas. He smashed the fastest century in all World cups of just 50 deliveries smashing 6 sixes and 13 fours to finally score 113. Keeping him company was Alex Cusack who scored 47. It was a great innings given the situation he found his team in when he walked in and given that England was one of the favourites for the tournament.
The Yuvi Cup, 2011
Yuvraj Singh had dream world cup in 2011, he shined with both bat and ball for his team and had the good fortune to be at the crease when the world cup winning runs were scored. He scored 362 runs in the tournament at an average over 50 with one century  against West indies and 4 fifties and took 15 wickets in the tournament at an average of 25 and one fifer in it.
He scored his century against West indies coming into bat with India struggling at 2 for 51 and scored important knocks against England, Ireland and the Netherlands and scored a match winning 57 against Australia in the Quarter finals.
All this when even unknown to him at the time, he was suffering from Cancer.
Off 2 doubles, 2015
The game had moved a long way in 2015 and there were field restrictions which allowed for only 4 men outside the circle in the last 10 overs. This allowed for batters to go beserk  in the last 10 and for huge scores to be piled up. The rule has since been revoked but it did help batters who were set by the time the 40th over came around to make merry. Chris Gayle certainly did and became the first man to score more than 200 runs in a match in the world cup. He did that against Zimbabwe in Feb 2015 when he scored 215 with 16 sixes and 10 fours
Just under a month later, his score was surpassed by Martin Guptill of New Zealand who scored 237 no. against the West Indies with 24 boundaries and 11 sixes.
So those were just some of the outstanding individual efforts in the world cup and we can only wait and see what lies ahead in the 2019 edition. Who are the players that will shine at the world stage. That remains to be seen.