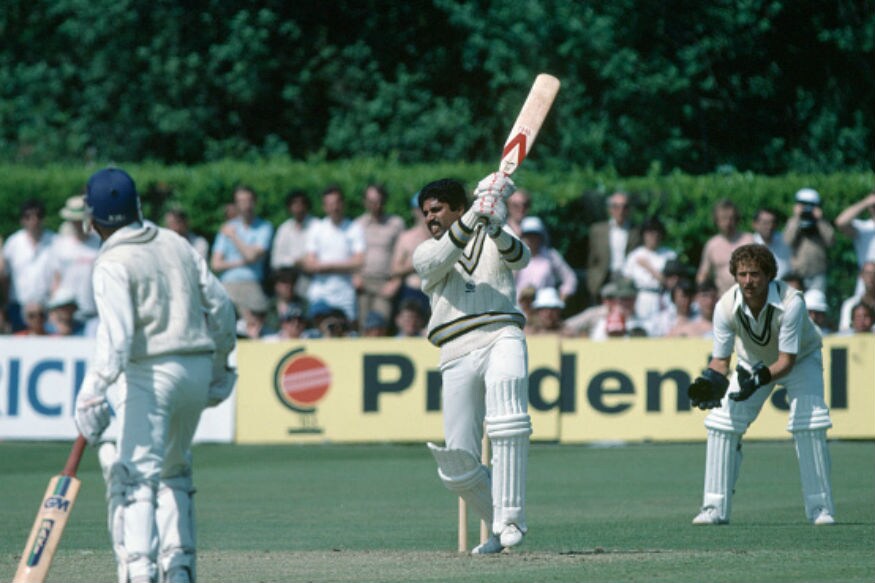 India are pegged as one of the front runners for the 2019 World Cup, right behind hosts England. They are 2 time champions, having won the tournament in 1983 and 2011. Two generations of Indian fans have seen their beloved team win the biggest prize in cricket. Needless to say, along the way there have been some fabulous performances which the fans will always cherish. Some of these wins were due to an individual brilliance, others have been collective efforts. Any win in a World Cup is important, of course. However, some are more pleasing than others. Over the years, the Indian team too has had their share of important wins. It's always enjoyable to take a look back at such victories.
The First Cup
June 25, 1983 - the date of the 1983 World Cup final, aka the day India arrived as a cricketing nation, aka the day that changed the course of cricket. It was the day that established cricket firmly as the number one sport in India. This passion would only grow stronger over time, with cricket stars earning demi-god like status in the minds of the public. All that started with this match.
India came into the finals after a couple of impressive wins in the run up but their opponents were the mighty West Indies. Led by the big cat Clive Lloyd, and with the likes of Viv Richards, Desmond Haynes, Gordon Greenidge, Michael Holding, Malcolm Marshall, Andy Roberts and Joel Garner in their ranks, the two-time defending champions were in no mood to relent.
In fact, the signs were ominous when India lost the toss and were put in to bat. The famed Windies bowling line up got to work and took wickets regularly. Sunny Gavaskar, Kirti Azad, Kapil Dev, Jimmy Amarnath all fell cheaply. Srikkanth top scored with 38 but India were soon 130/7. It took some useful batting from Madan Lal, Syed Kirmani and Balwinder Sandhu to get India to a total of 183. Still, West Indies had 60 overs to get 184 runs at just over 3 runs to the over. Almost everyone thought this was to be a mere formality. Not least the wives of the Indian cricketers who left the ground to go shopping, and left messages for their husbands to join them after the match. While West indies lost an early wicket, Vivian Richards seemed to be in a punishing mood. He was soon on 33 off just 27 balls, the team score reading 57/2. He then mistimed a hook but the ball still seemed like it would carry over the infield. Kapil Dev had other ideas and took an outstanding running catch to reduce the West Indies to 57/3. There is something about chasing in big finals which gets teams nervous and it got to the Windies too on that eventful day. Each batsman coming in tried to hit themselves out of their nervousness only to get out, leaving the defending champs 76/6. They eventually folded for 140 when Amarnath trapped Holding LBW. The mighty had fallen and rank no-hopers India were world champions. The rest, as they say, is history.
The spectacular individual effort
That India made it to the 1983 finals was, in large part, thanks to the innings-of-a-lifetime that Kapil Dev played against Zimbabwe one week earlier. India needed to win the game to have a chance at qualifying for the semis provided they also won their final group match against the Aussies. But first, they had to get past Zimbabwe. India won the toss and hoped to put a good score on the board to put pressure on Zimbabwe. However, both openers, Gavaskar and Srikanth, scored ducks. Even the likes of Sandeep Patil, Amarnath and Yashpal Sharma got out cheaply, leaving have India tottering at 9/4. When skipper Kapil Dev walked out to bat, India were 17/5 and looked out for the count.
But Kapil was in a different zone, and played a daredevil innings. He smashed all and sundry, reaching 175 not out in just 138 balls at a then unheard of strike rate of 126. He had an unbeaten 126-run partnership for the 9th wicket with Syed Kirmani, whose 24was the second highest score of the Indian innings. Only 2 other batsmen reached double digits. India ended up with 266, with Kapil scoring a whopping 66% of the runs. One can imagine the effect it has on the team when the captain plays a stirring innings like that! It surely must have fired up the troops to see a score like 266 from a situation of no hope. India went on to defend the score and win by 31 runs. The momentum they carried from that match helped them beat Australia in their final group match.
Joy after 28 years
India did not exactly dominate world cricket after the '83 win, and even though they made a couple of semi finals ('87, '96) and a final (2003), it was only in 2011 that they once again won the Cup, this time at home. It was the first time that a host nation had won the World Cup. The final was one of the most closely contested World Cup finals. India were up against a Sri Lankan side which had played the entire tournament in dominant fashion and brushed aside England and New Zealand with ease in the quarters and semis respectively.
Sri Lanka won the toss in the final and chose to bat. India struck early but Sri Lanka started piling it on thereafter, with best pals Kumara Sangakkara and Mahela Jayawardene showing their class. Even after Sanga got out after scoring a fluid 48, a composed Mahela looked fully in control out in the middle. However, the quick wickets of Thilan Samaraweera and Chamara Kapugedera saw the Sri Lankans reduced to 182/5. Mahela then guided the lower middle-order very deftly and scored a chanceless century, remaining unbeaten on 103. A useful 32 from Nuwan Kulasekara and a typically rapid 22 off 10 balls by Thisara Perera saw the team put up a daunting 274.
If India were to get there, they'd have to overhaul the highest score chased successfully to win a World Cup. The pressure of a billion passionate and expectant fans raised the stakes for the hosts, if they could get any higher.
India got off to the worst possible start - Sehwag was out on the second ball of the innings for a duck, courtesy of Lasith Malinga. Sri Lanka's premier fast bowler also had Sachin caught behind and the score read 30/2. Gautam Gambhir and Virat Kohli steadied the ship, and got the chase on track. But Kohli fell on 35 and the team score read 114/3 off 21.4 overs. While India had kept pace with the required run rate, there was still a lot to be done.
It was then that out-of-form captain MS Dhoni took matters into his own hands. He shouldered the responsibility of guiding the chase, rotating strike masterfully in the company of a fluent Gambhir who was calm under pressure. They struck boundaries regularly to ensure the run rate didn't pile up. By the time Gambhir got out on 97, playing a needless shot three shy of a well-deserved century, the game was India's to lose. Yuvraj walked in and ensured there were no further hiccups for India as they got home with 10 balls to spare. Dhoni struck a six over long-on to clinch the final for India, giving us one of the most iconic sights in World Cup history. It was a fitting farewell to Sachin in his final World Cup match-  after 6 World Cups, he was finally a World Cup winner, and at home no less.
Knocking out the fierce rival, twice
India has a good record against Pakistan in cricket tournaments. The fans certainly seem to enjoy a win over them more than that over some other teams. So when that win comes at a crucial stage of a World Cup, its even more special.
One such win came in the quarterfinal of the 1996 edition in Bangalore. In the 90s, India v Pakistan matches usually saw Pakistan come out on top. So when the defending champions with Inzamam-ul-Haq, Saeed Anwar, Aamer Sohail, Saleem Malik, Javed Miandad, Waqar Younis, Aaqib Javed and Mushtaq Ahmed came to play, the only reason they were not overwhelming favourites was that ace bowler Wasim Akram had to pull out of the match due to injury. And the match was being played in India, so India had home crowd support. India batted first and got off to a solid start with openers Navjot Sidhu and Tendulkar putting up 90 before Tendulkar got out. Despite Sidhu scoring 93, none of the other batsmen like Kambli, Manjrekar or Azhar got going. India looked to be headed for a sub par score until Ajay Jadeja went Hulk Smash on the Pakistan bowlers. He tore into them all, especially Waqar Younis who had perhaps never faced an onslaught like that before. Jadeja smashed 45 from just 25 balls, and aided by cameos from Anil Kumble and Javagal Srinath, India compiled 287 runs. Daunting but still chaseable.
As if angered by the treatment meted out to their bowlers, the Pakistan openers went about dishing the same to the Indian bowlers, particularly Srinath. They reached 80 in just 10 overs and it truly was game on! Even after Saeed Anwar was dismissed Aamer Sohail kept it going. He even got into a finger-pointing match with Indian bowler Venkatesh Prasad, who, as fate would have it, dismissed him off the very next ball. Sohail fell when the score read 113. With Inzi, Malik and Miandad still to come, the quiet Bangalore crowd erupted with joy at the fall of his wicket. Pakistan kept losing wickets regularly thereafter, and fell short in the end by 39 runs.
The second instance came in 2003. India came into the 2003 edition short of confidence and played like that to begin with, scoring 204 in their first match against the Netherlands, and dismissed for 125 by Australia in their next match. They picked up a good win against Zimbabwe and went on a bit of a roll from there, beating the likes of Namibia and England comfortably. When Pakistan and India met in the last match for India, and the second last match for Pakistan, in the group stage, India had already qualified for the next stage while Pakistan needed to win their final two.
Pakistan won the toss and batted like a team desperate for a win, led by a Saeed Anwar century. They compiled a challenging 273 runs. A confident India needed 274 against their arch rival. The two Indian openers were expected to lay a sound foundation to chase down a big total as well as see off the opening bursts from the likes of Akram, Waqar and Shoaib Akhtar. But Sachin and Sehwag had other ideas. They went after the bowling from the get go. They smashed 50 runs in no time and, though India lost Sehwag and Ganguly in the same over, Sachin Tendular seemed in no mood to relent. He kept attacking the bowling in the company of Mohammad Kaif. When Sachin got out at 98, India were 4 down and 97 runs adrift from their target. Yuvraj Singh and Rahul Dravid were out in the middle and, instead of being fazed by the task, played beautifully, with Yuvraj compiling an elegant 50 not out and getting India home with over 4 overs to spare. That match will always be remembered for the fireworks of the Indian openers at the start of the innings and Sachin's dominant show following pre-match hype about Akhtar's dangerous pace. Sachin's famous six over third-man off Akhtar's express pace changed the way India played against Pakistan's famed pace bowlers ever since.
Defeating the Hat-trick Winners
When India and Australia met in the quarterfinals of the 2011 edition, Australia had won 3 successive cups and were the defending champs. The last time the Indians had beaten them in a World Cup was way back in 1987. Since then, they had lost 4 matches to the Aussies.
In the 2011 quarterfinal, the Aussies batted first and, thanks to a masterful century by, who else, Ricky Ponting, as well as useful contributions by Brad Hadden and Mike Hussey, they compiled a competitive 260 runs. India started well and, thanks to fifties by Sachin and Gambhir, looked well placed. But they suddenly lost a few quick wickets to be 187/5. Suresh Raina then joined Yuvraj in the middle, with only the bowlers to come (R Ashwin was not known for his all-round abilities then). There were a tricky 74 runs to get, and Australia were known to bring on the choke. Not this time, though. Yuvraj, who was having the tournament of his life, saw off all challengers and helped India finally get one over Australia.
Getting off the mark
Coming into the 2015 edition, India had never beaten South Africa in a World Cup. When the two teams met, South Africa came with the tag of tournament favourites.  India got off to a poor start with Rohit Sharma run out early. Then, Shikhar Dhawan got going, smashing an impressive 137 while Ajinkya Rahane joined the party, scoring 79 of just 60 balls to get India up to 307. A target of 308 was not oput of bounds for South Africa's impressive batting line up consisting of AB DeVilliers, Faf Du Plessis, Hashim Amla, Quinton de Kock, David Miller and JP Duminy. But Mohammad Shami, Mohit Sharma and R Ashwin bowled intelligently, never allowing the batsmen to settle. South Africa kept losing wickets and were skittled out for 177. A famous win for India.
Those, then, were some of India's best wins at the Cricket World Cup.