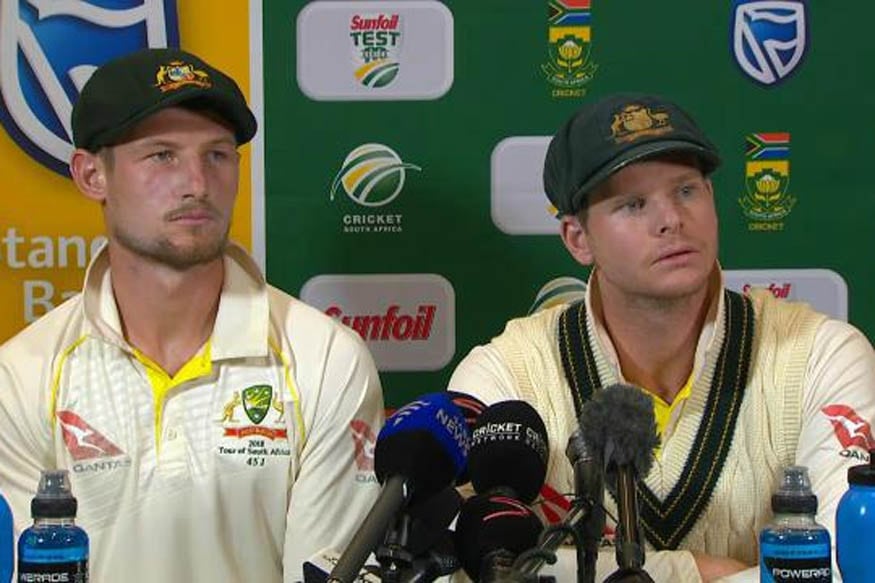 Ball tampering. That thing cricketers do to alter the way the cricket ball moves - with dirt, with mints, even with the metal in their pants' zippers. Some think of it as innovating but the ICC calls it cheating. Some iconic players have been caught messing with the ball while others came clean later that they did so too. Even someone like Imran Khan did it. He admitted in his autobiography that he uses bottle-tops to gouge cricket balls. He wrote, "The ball was not deviating at all...So I got the 12th man to bring on a bottle top and it started to move around a lot. I occasionally scratched the side...and lifted the seam."
Despite the stigma around it, and on cheating in cricket in general, ball tampering never seems to go away. Today, we're looking at the most infamous instances of ball tampering in recent times.
Something Yellow
Earlier this year, ball tampering reared its ugly head during the Australia-South Africa cricket series. This year's fiasco could easily be the most prominent ball tampering incident for a few decades, unless some desperate cricketers choose to outdo the silliness of this incident in the future. The Australian cricket team was caught cheating during South Africa's tour of Australia. We had plenty of ex-Australian players drawling how it was so "un-Australian" to cheat so blatantly. Things got so bad, even Ian Healy criticized the Australian team. Former Australian Prime Minister Malcolm Turnbull also weighed in with an emotional response to the incident.
So what exactly happened in South Africa that left even a seasoned politician stunned at the brazen cheating?
This was the sequence of events:  On 24th March, day three of the 3rd test match between Australia and South Africa in Cape Town, South Africa were batting comfortably at 65 for the loss of one wicket in their second innings. They had a lead of 121 runs, and things were looking ominous for the Aussies. They were faced with the prospect of a difficult chase in their second innings.
Reports indicate that during the lunch break, Australia's senior players discussed the idea of altering the ball to gain an advantage in an attempt to not lose the match. What advantage does that provide? Early reverse swing. Reverse swing makes the ball move in the opposite direction as Conventional swing. While Conventional swing makes the ball swing towards the non-shiny (heavier side), Reverse swing makes it swing towards the shiny side (lighter side).
Cameron Bancroft, playing his eighth Test match, was given the task. Did they forget that there are, on average, between 28 and 30 television cameras when an international cricket match is played? Some are ultra-slow motion cameras. Almost nothing on the field remains unseen.
Enter, yellow tape. Well, yellow something. Some say it was sandpaper. Let's just say it wasn't regular cricketing gear. Bancroft used the yellow whatever to pick soil off the pitch that was used to rough up one side of the ball, which could produce the reverse swing. Such an action is illegal and warrants a one-match ban, by the way.
Fanie DeVilliers, the former South African bowler who was commentating during the match, asked the broadcaster to keep an eye on the ball. He suspected the ball was swinging too much too soon. And soon, Bancroft was caught on camera messing with the ball.
Video footage of Bancroft rubbing the ball was played on the big screen at the cricket ground. Further footage later that day suggested head coach Darren Lehmann spotted it and sent substitute Peter Handscomb to alert Bancroft.
Bancroft was shown on TV loosening the drawstring of his pants, taking a yellow object out of his right pocket and placing it down the front of his trousers. He was confronted by the on-field umpires, and he produced a black sunglasses case from his pocket for the officials. The umpires checked the condition of the ball and deemed it suitable for play to continue.
Meanwhile, the incriminating footage is broadcast repeatedly on the big screen at the venue. By this time, social media had done its thing. An outrage storm swept the interwebs, with various past players expressing their opinions. On the field, nothing much changed for Australia as South Africa outplayed them. South Africa finish the day 294 ahead even as Steve Smith spent over 30 minutes of the final session's play in the dressing room.
By this time, outrage over the incident had upstaged all the cricket. Bancroft was charged with a Level 2 offence for attempting to alter the condition of the ball. Steve Smith and Bancroft faced the media, and admitted to wrongdoing. Bancroft seemed contrite while Smith said something about senior leadership and integrity which, if we're honest, looked farcical. There was an outpouring of disgust from Australian fans, and rank schadenfreude by others.
Ultimately, the cheating didn't even work. No dramatic turn of fortunes. No wickets tumbling. Crime didn't pay on that day. Some analysis by CricViz claimed that between overs 15 and 25, Australia found 0.5 degree of swing. Post the 25th over, this grew to 1.5 degrees of swing.
Following the incident, the Australian press took the players to task, and wanted them to atone. Steve Smith was suspended from international and domestic cricket for 12 months by Cricket Australia, and will not be eligible for any team leadership position for 12 more months after the suspension. He went from being captain of Australia to not being eligible for any team leadership for two years. Darren Lehmann resigned from his role as head coach. David Warner, the brains behind the plan as per CA's investigation, was suspended for 12 months. CA said he will never be considered for any leadership positions in Australian cricket. For a player who won the IPL as captain of the Hyderabad team, that had to have hurt. Cameron Bancroft was handed a nine-month suspension. His ban ends on December 29, when India will be touring Australia. All three are allowed to play club cricket but no higher than that during the course of their suspensions.
Mint condition
We generally think of Francois Du Plessis as a stand-up fella – dependable batsman, great fielder, and an all-round good guy. It came as a bit of a surprise to many non-South African cricket followers when the South African captain was found guilty of ball tampering in 2016. He was caught on camera sucking on mints before using his saliva to shine the ball during the second Test match in Hobart against Australia.
In the 54th over of Australia's batting, with the score at 150/5, cameras showed the skipper of the Proteas, who had a white mint lozenge on his tongue, licking his finger before rubbing the ball. He repeated this at least two more times, as per a report by Cricket.com.au.
The very next ball Australia's wicketkeeper Peter Neville got out. He tried to fend off a short-pitched delivery but ended up giving an easy catch at gully. Another batsman, Joe Mennie, was given out lbw off a low, inswinging full toss.
So here's the deal with ball tampering: Cricket rules forbid any artificial substance being used to help shine the ball in an attempt to make it swing. The ICC is clear that that the banned list includes mint-laced spit. DuPlessis was found to be in breach of Test cricket law 42.3, which deals with The Match Ball and changing its condition.
Match referee Andy Pycroft charged Faf with changing the condition of the ball after being caught on camera. He docked the Proteas captain his full match fee of 2500 dollars. Du Plessis appealed against the charge, which disappointed Dave Richardson, CEO of ICC and a former South African player.
Richardson said, "The ICC is disappointed that Faf du Plessis has chosen not to accept the findings of match referee Andy Pycroft and will instead exercise his right to appeal. A judicial commissioner will now be appointed to hear the appeal at the earliest opportunity."
Pycroft's decision was upheld by the ICC's independent commissioner Michael Beloff. An ICC statement said, "...Mr Du Plessis was represented by legal counsel in the appeal hearing convened in Dubai on Monday that lasted two-and-a-half hours, which the player himself joined via video link. Having carefully considered the legal submissions made by the player and the ICC, Mr Beloff QC confirmed that Du Plessis was guilty of breaching article 2.2.9 and that the original sanction of 100% of his match fee was appropriate."
Cricket South Africa accepted this verdict, but added, "... we hope that further reviews of the Code of Conduct and the laws of the game takes place as players will no doubt continue to seek clarification as to what is or is not permissible…"
The man at the centre of one of the  most high profile ball tampering cases insisted he was innocent. He said, "I still completely disagree with [the verdict]...I felt like I've done nothing wrong.It's not like I was trying to cheat or anything, I was shining the ball. It's something that all cricketers do. Our mouths are always full of sugar, I think it's such a grey area in the laws of cricket."
Du Plessis found some support from unexpected quarters. Steve Smith, commenting on the episode said, "We, along with every other team around the world, shine the ball the same way." Some former England players admitted to using mints to help shine the ball during the 2005 Ashes series. Hashim Amla came out in support of his skipper, saying, "Faf has done absolutely nothing wrong. I chew bubblegum while I'm fielding. Do you want me to brush my teeth after lunch every time I come out to field?"
There's a delicious irony in the Faf angle: he was not given any grief by any of the Australian players. But Aussie vice-captain David Warner had told reporters at the time: "We hold our heads high and I'd be very disappointed if one of our team members did that." That worked out well. A Holier than thou attitude never augurs well, does it?
Du Plessis had a kind word for Smith when it was the turn of his Australian counterpart to be involved in a ball tampering fiasco. He said, "I have compassion for what he's going through. I think he's one of the good guys and he's just been caught in a bad place... From a really deep place in my heart, I feel for the guy. I don't want to see guys going through that stuff. It's going to be incredibly hard for him over the next days so I sent him a message of support, saying he'll get through this and he must be strong."
However, that wasn't Faf's first run in with the ICC when altering a cricket ball. He was docked half his match fee for scuffing the ball on the zip of his trousers when playing against Pakistan in 2013. On that occasion, Faf pleaded guilty and was fined half his match fee. David Boon, the match referee for the second Test in DUbai, said he was satisfied that Du Plessis' action "was not part of a deliberate and/or prolonged attempt to unfairly manipulate the condition of the ball."
AB De Villiers was unimpressed and told the media, "...we don't cheat...I know Faf very well. He is the last man on the field who will try anything like that...t is part of his responsibility to shine the ball, in order to get it swing, and look after it. It is not an easy job and I thought he did a very good job of it."
South Africa were penalized five runs on the third day of the match.
The dirt in Michael's pocket
The next is a rather famous one. Infamous, rather. Remember Mike Atherton? Commentator and ex-captain of the England cricket team. He found himself in some hot water in 1994 when he was accused of ball-tampering during the Lord's Test against South Africa.
Wait, is there something karmic about South Africa and ball-tampering?
The 1990s were times when the phrase ball tampering roused a lot more suspicions than it does today. Ball tampering was considered a corruption of the very fabric of cricket, one that could destroy the soul of the gentleman's game. We're probably relatively more forgiving these days. Dock some match fees, twitter outrage, sentimental mea culpas, some dudes gets banned for a while, but cricket moves on. That's a fan's non-objective perspective, of course. Earlier this year, Kevin PIetersen said Mike Atherton's career would have been ruined by a ball-tampering scandal had social media existed in the 1990s.
MIke Atherton was made captain of the England Test team during the 1993 Ashes. Graham Gooch had quit in disgust after four consecutive losses. Atherton lost his first Test as captain but  won the next. In 1994, South Africa's tour of England was a historic one. The country had been re-admitted into world cricket after 21 years, following the end of apartheid. A South African cricket team had last visited England in 1965.
The first Test was played at Lord's in London. South Africa had scored 357 in their first innings. England were bundled out for 180 runs in just 60 overs. A certain Allan Donald took a fifer on the third day, South Africa, were working their way towards a big lead. Meanwhile, television footage (what else) showed Atherton removing something from his pocket and rubbing it on the red cherry. The England captain was questioned by match referee Peter Burge. Atherton denied using any substance to alter the condition of the ball in his whole career. He said he "put some dust in my pocket from a used pitch... to keep my hands and the ball dry." His explanation was that his attempt to keep the moisture off the ball was meant to maintain its condition, not alter it.
It later emerged that Atherton had dirt in his trouser pockets. He said, "I did take my trousers to the meeting....He asked me if I had resin in my pocket; I replied, no. He asked me if there had been any other substance. I replied, no. That is where I made my mistake. I was thinking of other substances such as iron filings or Lipsyl. There was absolutely no other substance [apart from earth] in my pocket."
Cricket writer Andrew Miller wrote in Cricinfo in 2004, "...it is unclear quite what Atherton was playing at, or whether, indeed, he was contravening the rulebook, which was suitably ambiguous. Law 42.5 states: "No-one shall rub the ball on the ground, or use any artificial substance, or take any other action to alter the condition of the ball," and seeing as dust is neither artificial, nor in this particular case, on the ground, the only issue at stake was Part No. 3. And it was on that point that opinions differed wildly."
In the event, the England captain was found guilty, and fined 2000 pounds by Ray Illingworth, then chairman of selectors with the ECB for not being honest with the match referee.
The Tendulkar incident which divided the cricketing world:
This is the big one. Sachin Tendulkar, in 2001, was accused of ball tampering.
India were touring South Africa in 2001. The hosts had beaten India by 9 wickets in the first of two Tests. The second Test in Port Elizabeth was a high scoring affair on a flat-ish pitch.
On the third day, Tendulkar bowled four overs of his usual mix of spin and medium-pace. But he ended up swinging the ball a lot more than other bowlers. Piqued by this, a local TV producer asked the cameras to take a closer look at how Tendulkar was gripping the ball. Martin WIlliamson, recalling the incident, wrote, "Instead, on two occasions he was spotted working on the seam of the ball with the thumb and forefinger of his left hand. The commentators went into overdrive and close-up replays were shown ad nauseam."
Mike Denness took notice of these images and asked for a copy of the video, and was convinced something was amiss. Williamson wrote, "...lost in the maelstrom that followed was the fact that Tendulkar stood accused of not informing the umpires he was cleaning the ball under Law 42.3 (b), rather than tampering with it."
The next day, Denness informed the Indian team that he was banning Tendulkar for one match. It would be a suspended ban. Denness had already taken exception to excessive appealing from many Indian players during the match. Captain Sourav Ganguly, Virender Sehwag, Harbhajan Singh, Shiv Sunder Das and Deep Dasgupta would be handed one-match bans for excessive appealing. However, there was no action against the bad behaviour of some South African players as the on-field umpires did not report them – this did not go down well with the Indian players and media – and rightly so.
After he found six Indian players in breach of cricket laws during the same game, Denness found himself accused of racism. The Indian team, angry and unwilling to continue, eventually took to the field. The match referee compounded his problems by refusing to explain his decisions to the Indian media. WIlliamson wrote, "ICC regulations specifically prevented him from discussing the matter."
BCCI president Jagmohan Dalmiya demanded that Denness be removed as match referee for the third and final Test of the series. The cricket boards of Australia, New Zealand and England sided with the ICC while other boards seemed to support the Indian board. For a while, it seemed like there was a racial divide in the gentleman's game. There were dissenting voices as well. Ehsan Mani, a Pakistani who had just been elected president of the ICC, said he saw no racism in the incident.  He said the issue was "... a big cultural gap between Asian culture and the white culture."
Matters escalated as both the ICC and the BCCI stood their ground. Hosts South Africa expressed sympathy for the Indians but didn't take sides. Gerald Majola, then CEO of the United Cricket Board of South Africa, said, "South African cricket could not have afforded a cancellation of the final Test of a series that is still open." Malcolm Speed, CEO of the ICC, said, "Denness' record has been one of fairness and consistency...On the previous nine occasions where Denness has acted in a match involving India, no Indian players have been reported or penalised."
However, India was having none of it. Tendulkar wrote in his biography, "Mike Denness's decisions had led to a crisis that had ended up dividing the cricket world down the middle. It was an avoidable incident and one that left everyone bitter in the end...I was prepared to abandon the tour if need be but wasn't ready to be labelled a cheat. It was about honour and there was no way I would allow a match referee to cast aspersions on my credibility."
The story took a racial turn in India. The Hindu said Mike Denness had behaved like a member of the British Raj. Soon, even politicians became involved.
The BCCI and the South African cricket board asked Mike Denness to step down as match referee for the third Test. He refused. The two boards ignored him as well as the ICC, and made Denis Lindsay the match referee. The ICC repaid the favour by declaring the match unofficial. To this day, that series is officially recognized as a two-Test series.
South Africa won that third Test easily on the back of a Shaun Pollock century. WIlliamson wrote, "...Shaun Pollock, who scored a century, admitt(ed) it had not felt like a proper international."
Former BCCI president Raj SIngh Dungarpur broke ranks and was a lone voice of dissent in India's cricket establishment. He said "I am an ardent admirer of Tendulkar and I know that he always plays straight and would not indulge in ball tampering, but I feel Denness went by what the video clippings showed...probably Tendulkar was absent-minded while trying to clean the ball."
After the infamy of the second Test, Mike Denness served a match referee in only two Test matches and three ODIs. He later said, "There was a reduction from the part-time referees, of which I was one, to the full-time referees. I wasn't included in that full- time list but I don't think it was anything to do with the Tendulkar thing."
The incident divided the cricketing world like never before.
Smelling the ball, and the armpit ball
And we'll wrap up this deep dive with a couple of funny ones.
Shahid Afridi. The enfant terrible of Pakistan cricket. And also the talisman. The man who can turn matches on a dime. And who, on occasion, also slips on the dime and fall flat on his face.
Playing the final ODI of a series in Australia at the WACA in Perth, Pakistan captain Shahid Afridi was found guilty of ball-tampering. He was caught by, you guessed it, television cameras - apparently biting the ball.
I say apparently because the footage looks like he was trying to swallow the thing. Well, that's one way to bring the evening's proceedings to an end. Or perhaps not. There's a spare or two usually lying around.
Afridi was reported to the on-field umpires by the TV umpire and, after discussing with Afridi, the ball was changed. Pakistan lost the game, and series, 5-0.
Afridi's initial explanation was that he had been "trying to smell it and how it was feeling" but he admitted later he was "ashamed" of his actions, which had been "in the heat of the moment." He was banned for two T-20 matches subsequently.
Another funny incident worth remembering. Pat Symcox and the arm ball. Or armpit ball, if we are precise. Pretty self-explanatory, isn't it?  It is probably not even tampering but it certainly was out of the ordinary!
Playing against Australia, Pat Symcox, the off spinner, stuck the red ball into his left armpit and rubbed it generously. And the cameraman generously focused on Pat.
The clincher was Richie Benaud's commentary. He said, "…some people use deodorant, sometimes they try to get the… uh…the leather of the ball."