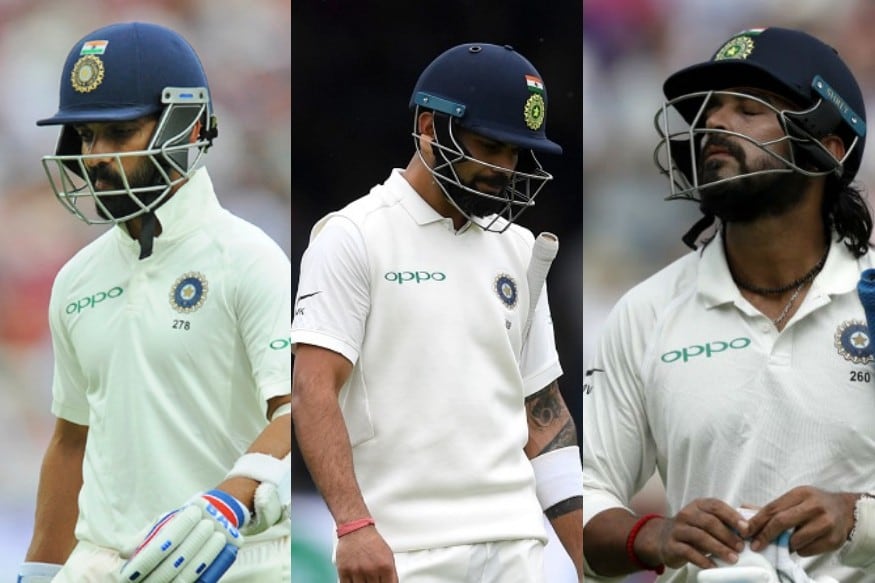 Almost nothing went right for India from the moment they stepped foot at the Home of Cricket for the second Test against England. Virat Kohli's men fought tooth and nail against the hosts before going down by 31 runs in the series opener at Edgbaston. However, at Lord's, India's batting fell apart in both the innings as they suffered an embarrassing innings-and-159-run defeat to give England a 2-0 lead in the five-match series.
The visiting side was bundled out for just 107 in the first innings before a brilliant 137 not out and 93 from Chris Woakes and Jonny Bairstow respectively gave England a 289-run lead. The story was no different in India's second essay as James Anderson and Stuart Broad shattered their batting line-up to bowl them out for 130.
Here's Cricketnext report card of the Indian players:
M Vijay - Rating: 0/10, Verdict: Very Poor
Vijay has been a pale shadow of the batsman who had some tremendous overseas outings in the past. He hardly made an impact in the first Test and things only got worse for the 34-year-old as he became the sixth batsman to register a 'pair' in England. Ravi Shastri had spoken about wanting his openers to play 20-25 overs but that hasn't happened till now. The Tamil Nadu opener was outclassed by Anderson on both occasions. In the first innings, he looked clueless against Anderson's outswinger and got his off-stump knocked over. In the second, he went nowhere with his footwork and ended up edging it to the keeper. With Mayank Agarwal and Prithvi Shaw making waves in the 'A' team, time seems to be running out for Vijay.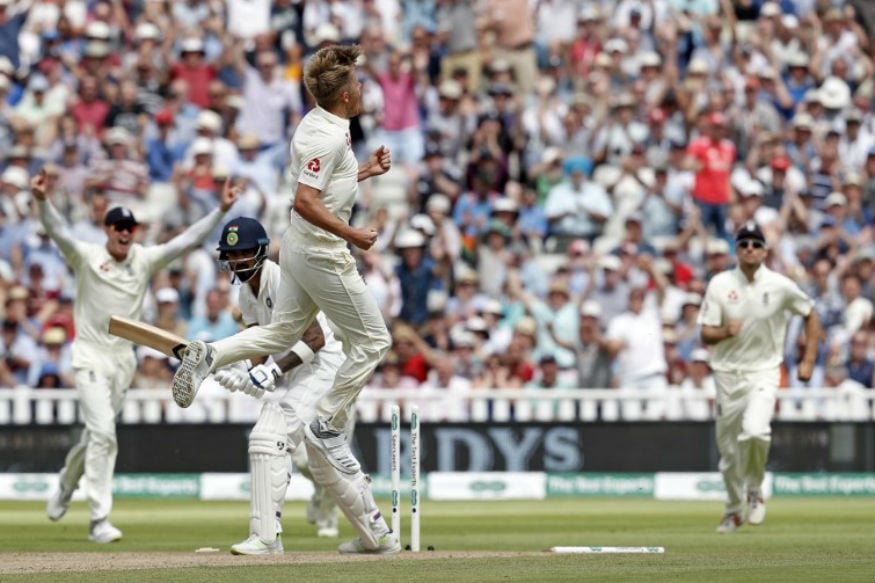 KL Rahul - Rating: 1, Verdict: Very Poor
This could have been the tour where Rahul could have established himself as India's next multi-format player, but after his century in the first T20I, he seems to have faded away. The Karnataka batsman played a couple of gorgeous shots in this Test but failed to carry on. In the absence of Shikhar Dhawan, he was given the opening slot after having batted at No. 3 in the first game. But he too fell to Anderson in both the innings, edging one to the keeper in the first, while getting trapped plumb in front in the second. There's no doubt over Rahul's talent or potential but he will have to come up with a solid game plan to survive against the English seamers.
Cheteshwar Pujara - Rating: 3, Verdict: Poor
The No. 3 batsman was unfortunately run out in the first innings on his comeback Test. He showed signs of grittiness in the second dig where he faced 87 deliveries before getting knocked over by Broad. Pujara has never looked comfortable against incoming deliveries and he was found wanting once again. His average in SENA countries (South Africa, England, New Zealand and Australia) is far from impressive. If India want to bounce back from these two defeats, they will require much more stability from Pujara.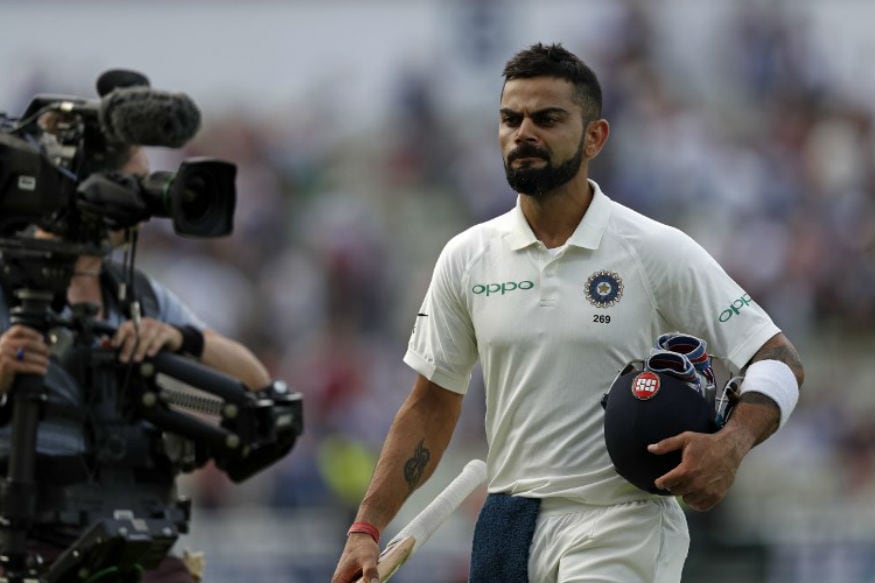 Virat Kohli- Rating: 3, Verdict: Poor
The only reason India were able to give England a tough fight in the opening encounter was because of Kohli's resilience. There have been talks about India's over-reliance on Kohli, and when he failed at Lord's, the Indian batting fell like a pack of cards. The captain did manage to survive the much-awaited battle against Anderson, but instead, was dismissed by Chris Woakes. Did Kohli underestimate his Royal Challengers Bangalore-teammate? We are not sure about that but he did go for too many shots against the right-arm seamer. He batted with a lower back pain in the second innings and could only score 17. He is confident of regaining full fitness ahead of the next game, and India can ill afford to lose Kohli the batsman.
As a captain, Kohli opted to play two spinners despite making his intentions clear of bowling first if he would have won the toss, which didn't happen. The English batsmen looked fairly comfortable against both R Ashwin and Kuldeep Yadav, scoring around four runs per over against the spinners. Maybe Umesh Yadav would have been a better option.
Ajinkya Rahane - Rating 2, Verdict: Poor
It was at Lord's, in 2014, where he scored a brilliant century and helped India pull off a memorable win. Fast forwarding to 2018, Rahane has looked completely out of touch in this England tour. He is constantly making the mistake of poking at deliveries which are pitched outside off, and has paid heavily for it. Even in this Test, he was caught in the slip cordon in both innings, making 18 and 13 runs respectively. Rahane has been India's most trusted overseas batsman, and is someone who can hold the middle-order together. His constant failures are only going to add more pressure on Kohli.
Dinesh Karthik - Rating 2, Verdict: Poor
Having got a spot in the side in the absence of regular wicketkeeper Wriddhiman Saha, Karthik has done nothing to justify his inclusion. In Birmingham, he was bowled for a duck in the first innings and also failed to make an impact in the second. It didn't really change much in the second Test where he was unbeaten by inswingers from Sam Curran and Stuart Broad respectively. However, he looked a bit more comfortable behind the stumps, taking a flying catch to dismiss Bairstow. With Rishabh Pant around, time might be running out for Karthik, and it won't come as a huge surprise if India do decide to play the former in next Test.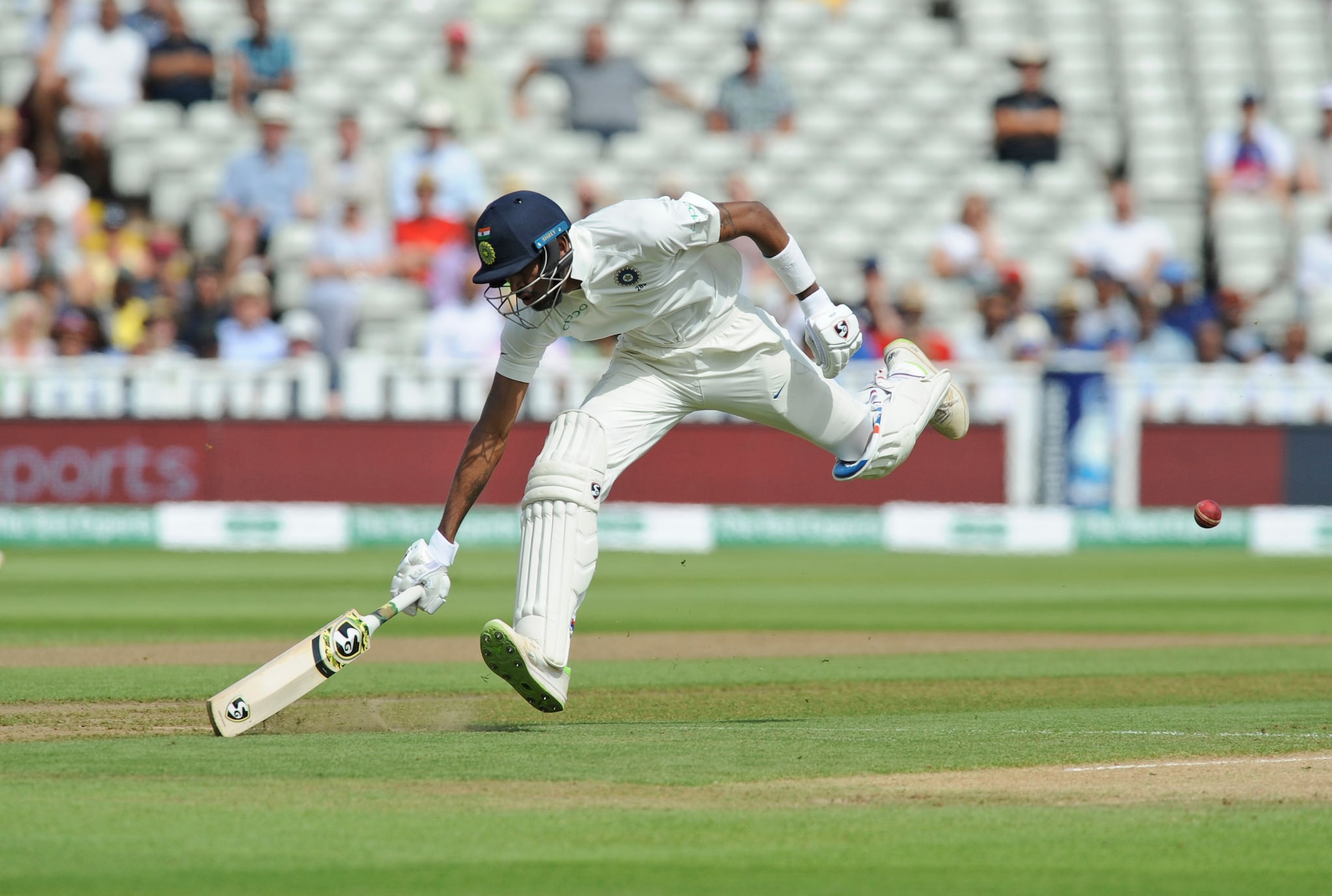 Hardik Pandya - Rating 5, Verdict: Average
Pandya is no Kapil Dev, but he wasn't as bad as his teammates. He didn't have the worst of Test matches, scoring 11 and 26 in two innings. Doubling up as the third seamer, he did play his part by picking up three wickets. He also shared a 55-run association with R Ashwin in the second innings.
R Ashwin - Rating 5, Verdict: Average
Ashwin didn't make any impact with the ball, but he was the only one who showed the stomach for a fight in the batting department. The 31-year-old top scored in both the innings (with 29 and 33*). He was the only one who played most of his shots on backfoot and looked decent against the English attack. Rather than reaching for the deliveries, he waited for the ball to arrive and reacted accordingly. He wasn't too defensive as he pounced on every little scoring opportunity. In the process, he also became the fourth Indian to complete the international double of 3000-plus runs and 500-plus wickets.
Kuldeep Yadav - Rating 1, Verdict: Very Poor
He only bowled nine overs in the entire match and was taken for 44 runs. The left-arm wrist spinner found no assistance from the pitch and that allowed the England batsmen to score freely against him. He was slightly quicker through the air but that was still not enough to outfox any of the batsmen. Kuldeep also bagged a pair in the match.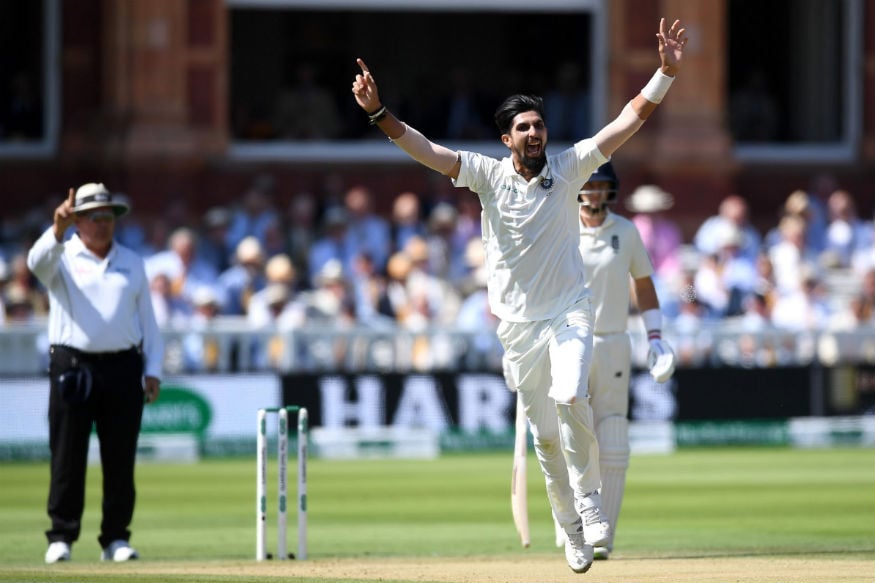 Ishant Sharma - Rating 3, Verdict: Poor
The right-arm pacer wasn't as bad as his figures (1 for 101) suggest. He had no other option than to look for wickets after India's abysmal show with the bat. When he came to bowl on the third day, it was quite sunny, and the conditions weren't as favourable. However, he did bowl some poor deliveries down the leg side, and India will hope for a much better performance from his senior paceman in the remaining matches.
Mohammed Shami - Rating 5, Verdict: Average
He was hands down India's best bowler in this game. The 28-year-old seamer bowled long spells and got enough movement off the pitch. He didn't allow Keaton Jennings, Joe Root and Jos Buttler to score big and ended the match with figures of 3 for 96. If Shami manages to stay fit throughout this series, India will look up to him whenever they're in need of quick wickets.
*Rating chart: Very poor 0-1, Poor 2-4, Average 5-6, Good 7, Very good 8-9, Excellent 10.