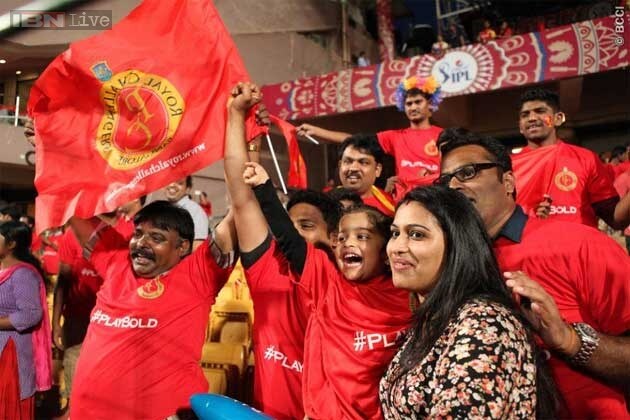 Royal Challengers Bangalore had to wait for their second game of the Pepsi Indian Premier League 2015 to have their first game at home, and it was a team victorious in Kolkata who returned to the M Chinnaswamy Stadium to take on Sunrisers Hyderabad.
What greeted the home team were a few partially empty stands. Tickets were still available on match day and the sea of red was missing.
Bangalore went on to lose the match by eight wickets but that didn't deter the fans to turn up for the next game against Mumbai Indians. Although the stands weren't packed for that high-scoring encounter, the turnout was impressive.
It took the new-age Cauvery derby to really set the stage alight.
A packed house hoped for Bangalore's first win at home on Wednesday (April 22), even as the rain threat loomed, the inky sky with occasional lightening. Empty stands are never a good sign for a franchise and with two home games already done, the team would have been glad for the support of their vociferous fans.
As the game went on, you could see the smattering of yellow challenging the sea of red, even as Raina tonked the bowlers all over the park for his 62 off 32. Decibel levels were at a peak in the fourth over, when Faf du Plessis took a splendid catch running back to dismiss Manvinder Bisla. As the giant screen flashed "Faf-ulous!!" many would have wondered why the red flags were waving. The cheers were for Kohli, who walked in to bat at No. 3.
Krishnan and Krupa, husband and wife, were among the crowd. "I am here to see RCB play CSK," insisted Krupa. "I wouldn't have come here if Kolkata Knight Riders or any other team was playing. I am hoping RCB bounce back." Krishnan, meanwhile, had different loyalties: "I would have come if KKR was playing and not Chennai."
Then there was Naveen, an HSBC employee and a Chennai loyalist. He wasn't there for the prospect of watching the South Indian derby, but to watch Mahendra Singh Dhoni play. "I am supporting Chennai because Dhoni plays for Chennai. If Dhoni started playing for Bangalore, I'll start supporting Bangalore. I've travelled to watch Dhoni play. I was in Pune when Chennai played Pune Warriors. I was in Hyderabad at that time but I travelled to Pune to watch the game," he said.
Wearing a Chennai jersey and with the logo painted on his face, he wasn't shy of some friendly banter with his friend, a Bangalore supporter. "Chennai, no doubt, has the best crowd-pulling ability," he pointed out.
Naveen wasn't the only one there to see Dhoni play. There's Bharat, a 21-year-old Bangalore student, and his brother for whom the Indian captain is the biggest draw. "We have been born and brought up in Bangalore, but we support Chennai. My parents are from Tamil Nadu and that's why we support Chennai," he explained, adding, "Apart from that and apart from Dhoni, we also support them because of Suresh Raina. But, wherever Dhoni will play, we'll support them. If he plays for any other team, we'll support that team."
So while many were there to support their team in what has become a rivalry to savour over the years, a few were there just for the experience. An experience of watching a cricket match live in a country where cricket and cricketers are worshipped. A country that would stand still if Sachin Tendulkar was a shot away from his nth century.
Meet Frank. A 26-year-old Dutch national who works with an IT firm in Bangalore, he came in touch with cricket recently. "A lot of my friends have told me that the atmosphere at the IPL games is amazing and I wanted to experience that myself. It's not so much about of the rivalry. I work in Bangalore so I have to support the home team, don't I?"
While those at the stadium might have considered themselves lucky to get a ticket for a match like this, some were there because of work. There are around 60 'Ask Me Anything' volunteers, who help the fans with any information they might need about the game. One of them is Shalini CK. She's a Bangalore supporter, but her work at the stadium doesn't let her watch too much of the match. "I wish I could watch RCB play and especially against Chennai," she admitted with a glimpse of regret in her eyes. "Maybe next year, when the Chennai team visits us."
"Yes, watching players like Dhoni, Suresh (Raina), Kohli and (Chris) Gayle is a reason (for being a volunteer), but I want to be a part of the sea of red supporting the home team. The opposition doesn't matter to me."
By the end of the game, most of the local fans were left disappointed as Bangalore slipped to their third straight defeat, this one by 27 runs. One of the happier faces was that of a young Sikh schoolboy, the only one with a Chennai jersey in the Diamond Box among the Bangalore fans. He had looked disappointed when AB de Villiers hit two sixes - one of them just to his left - in the tenth and 11th overs. In the end, he walked back after the game, pumping his fist, knowing that his team was the better one that day.
The match was about so much more than the Bangalore-Chennai rivalry. The IPL has bound the cricket-crazy fans, not limited by geography or even regionalism. Where else will you find a Sikh kid, in Bangalore, supporting Chennai?