58 in 38 balls – at a strike rate of 152.63 including five boundaries and three sixes – that was Rishabh Pant with his first defining knock for India in T20I cricket – against the Windies in Chennai on Sunday in the final game of the series to ensure India completed a 3-0 clean sweep.

But no one should be surprised. Pant is a natural fit in the format. In his brief playing career so far, he has already given enough evidence of his T20 prowess.

Delhi Daredevils vs Gujarat Lions, IPL: Rajkot, May 3, 2016

Pant, playing in just his third match since T20 debut (against the same side a week ago), opened the innings with Quinton de Kock and blasted 69 in just 40 deliveries. His maiden T20 fifty came off just 25 deliveries. His knock included nine fours and two sixes and came at a strike rate of 172.50. The Daredevils chased down 149 with 16 balls and 8 wickets to spare.

Pant had arrived. He was all of eighteen years old.

Pant tasted reasonable success in IPL 2017. He scored 366 runs in 14 innings at an average of 26.14. Only Samson scored more for the Daredevils in the season.

But what stood out was his phenomenal strike rate of 165.61. It was not only the highest strike rate for the Daredevils but also the second-highest strike rate for the season after Maxwell (for a minimum of 300 runs).

His highlight during this season was his 97 in just 43 deliveries – against Gujarat Lions (again). His nine sixes, once again, stood out.

He fluctuated between Number 3, 4 and 5 for a majority of the season – also showcasing his flexibility to adapt to the situation of the match.

Overall, he hit 24 sixes in the season – only Warner and Maxwell hit more (26).

But Pant was just getting started.

Highest Strike Rate in an Innings (for all T20 scores of 100 or more)




Pant smashed the second-fastest T20 hundred in history (the record still stands; after Chris Gayle's 30-ball ton for RCB against Pune in IPL 2013) off just 32 deliveries for Delhi against Himachal Pradesh in the Syed Mushtaq Ali Trophy in Delhi in 2018. Opening the innings, he hammered 116 in just 38 deliveries – a knock which included 8 fours and a whopping 12 sixes! And came at a strike rate of 305.26.

This remains the highest strike rate innings in T20 history (domestic and international, combined) – for all scores equal to or above 100.

IPL 2018

If IPL 2017 launched Pant, IPL 2018 defined him. He was a T20 powerhouse – made for this format.

Pant scored 684 runs in 14 innings at an average of 52.61 in the season. He registered one hundred and five fifties. And he scored his runs at a mind-boggling strike rate of 173.60!

Only Williamson (735) scored more runs than Pant in the season.

Only Dhoni, AB, Buttler and Rahul averaged more (min. 250 runs in the season).

Only AB de Villiers (174.54), Narine (189.89) and Russell (184.79) had a better strike rate (min. 150 runs in the season). But AB scored 204 runs less, Narine 327 less and Russell 368 less than Pant.

It got better.

No one hit more sixes than Pant (37) in the season. Not even Rahul (32), Watson (35), AB (30), Dhoni (30) or Russell (31)!

His stand-out performance in the season came against Sunrisers Hyderabad in Delhi when, batting at number four, he smashed 128 in just 63 balls (15 fours and 7 sixes) albeit in a losing cause. It is the highest score by an Indian in IPL history.

His other knocks included a 25-ball 47 and 44-ball 64 against Mumbai Indians, a 26-ball 43 against Kolkata Knight Riders, a 48-ball 85 against Royal Challengers Bangalore and a 29-ball 69 against Rajasthan Royals.

A majority of his top knocks came from the Number 4 position this season.




Overall, that is the position from where he has got the majority of his IPL runs and had the maximum success (as a combination of runs scored, average and strike rate). The Indian team management seem to be cognizant of this fact - it is the same position where he batted against the West Indies at Chennai.

Pant - IPL Batting - Position Wise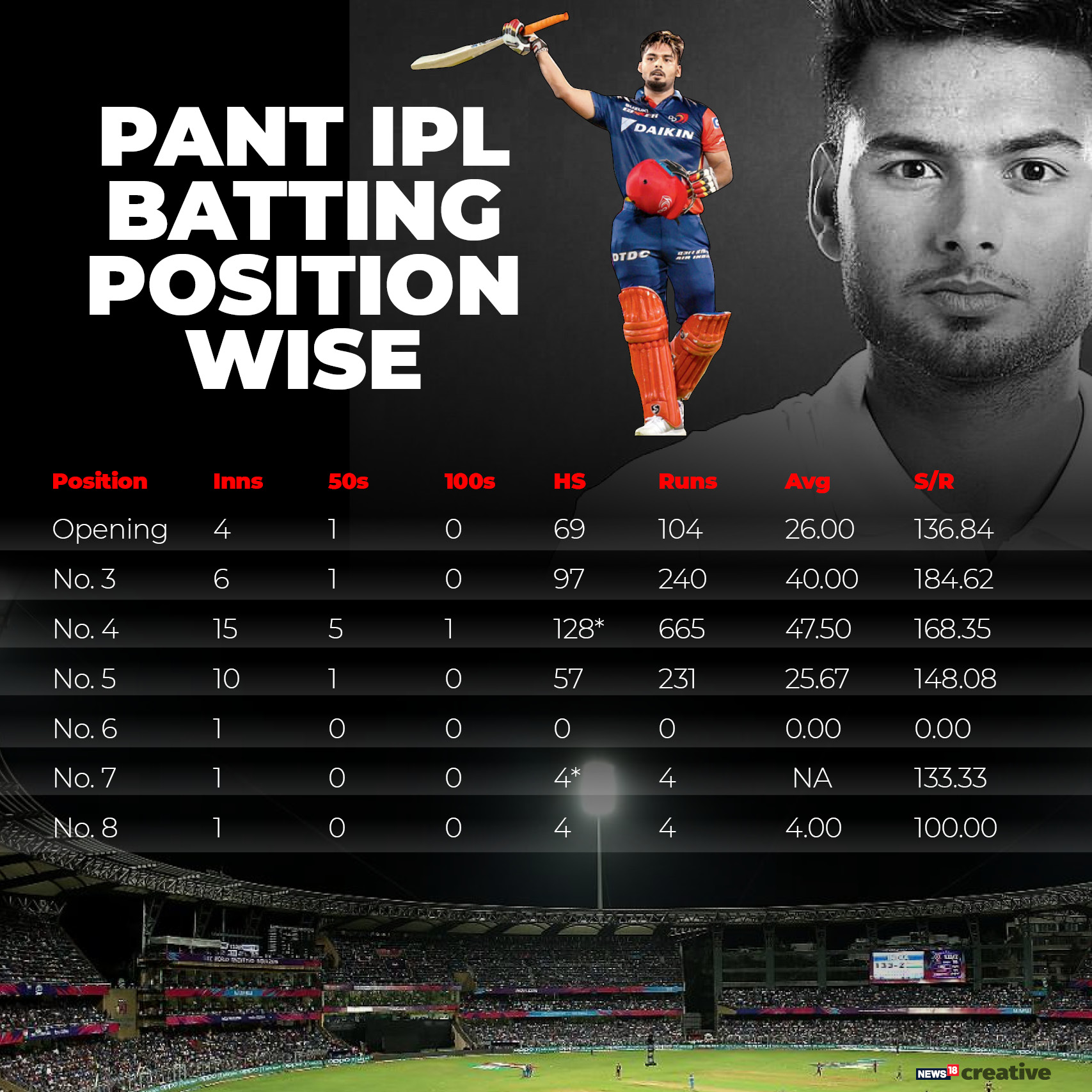 What is even more impressive is that Pant stood out in an under-achieving Daredevils team – he did not let the poor performance of other team members let him bog down - they finished last in the season.

He won the Emerging Player of the Tournament Award for his efforts in IPL 2018.

Pant has scored 1248 runs in 38 innings in three seasons of the IPL. Only 15 batsmen average more (min. number of innings 35) than Pant (35.66) in IPL history.

Only three – Russell (177.29), Narine (168.81) and Morris (166.66) have a higher strike rate than Pant (162.71).

Pant is a six specialist. His ability to hit the long ball at will makes him absolutely lethal in T20 cricket.

Amongst the 50 batsmen who have the highest strike rate in IPL history, only two – Gayle (2.63 sixes every inning) and Evin Lewis (1.84 sixes every inning) – have a higher frequency of sixes than Pant (1.76 sixes every inning).

A Future T20 Great

Pant has scored 1856 runs in 58 T20 innings (domestic and international) at an average of 35.69 and strike rate of 163.95.

Best Strike Rate in T20 History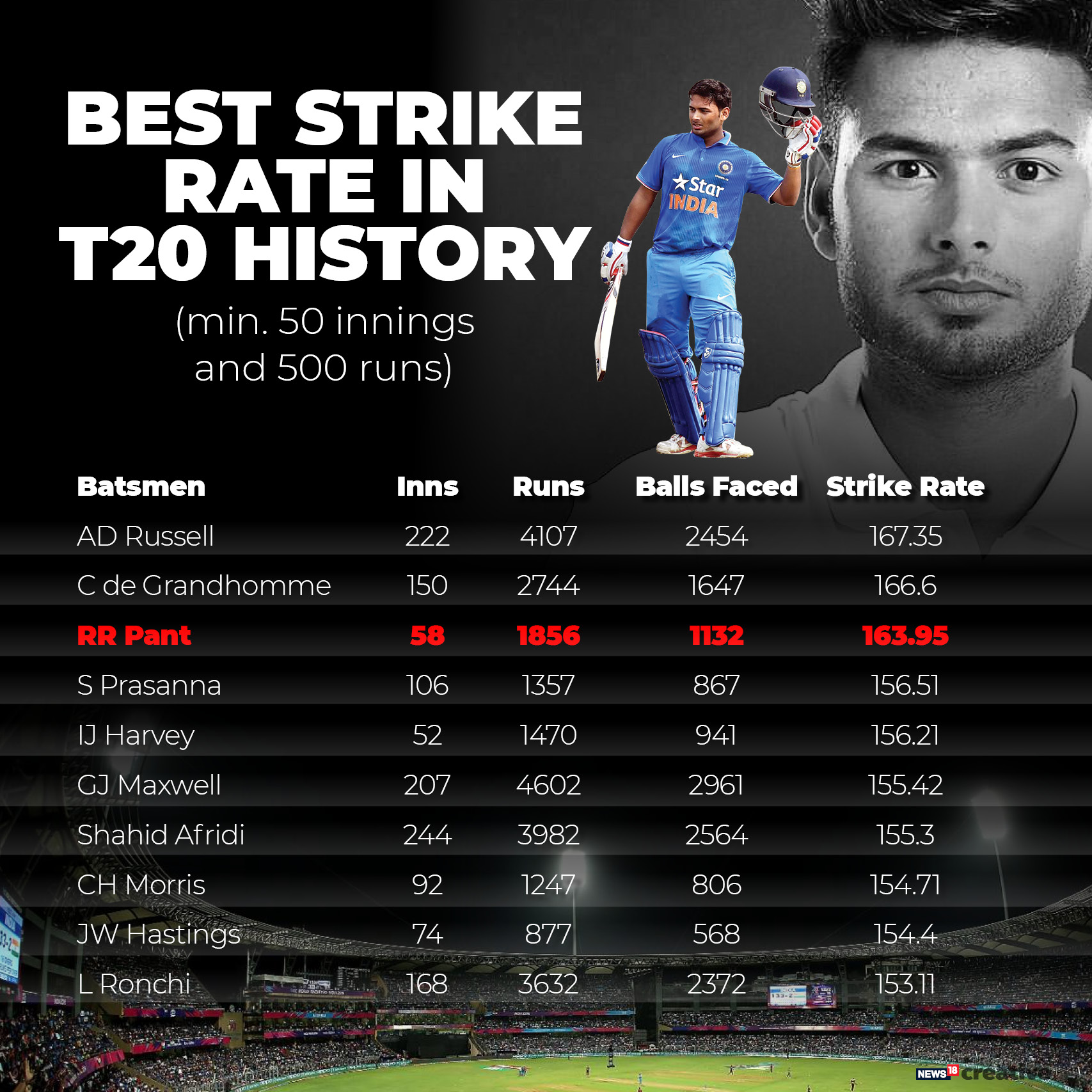 Pant has the third-highest strike rate in T20 cricket history. Only Russell and Grandhomme have scored quicker. But the West Indian averages 24.44 and the New Zealander 24.94 – this puts Pant's strike rate into perspective. That is how good he has been in his relatively short career.

Comparing Pant to some all-time great T20 batsmen from India – Virat scores at a strike rate of 133.33, Rohit Sharma – 133.52, MS Dhoni – 136.18, Sehwag – 147.83 and Yuvraj Singh – 129.01.

Again, it is his propensity to hit those towering sixes that separates him from other good T20 batsmen.

Only 16 batsmen in T20 cricket history (min. 50 innings and 500 runs) have scored a higher percentage of their runs in sixes than Pant (600 runs out of 1856 runs, ie a percentage of 32.33 – almost a third).

Amongst Indian batsmen, only Yuvraj has a higher (barely) sixes percentage (32.39%). Just for perspective, the corresponding percentage for Rohit is 25.11, Dhoni – 26.37, Sehwag – 21.72 and Kohli – 18.83.

Pant has already made his statement in T20 cricket – of playing bold, attacking and an aggressive brand of cricket. He has also displayed maturity in building an innings and while chasing and a great temperament and got big runs in the format – showcasing a method to his madness.

He could be the game changer for India from Number 4 with the ability to score big at a breathtaking pace. The three T20s coming up against Australia could yield something very special.

First Published: November 14, 2018, 10:31 AM IST